VSA's 8th Annual Heart of Vietnam: Tôi Là Người Việt Nam
Oct 11, 2015 @ 6:30 pm

-

10:00 pm

$7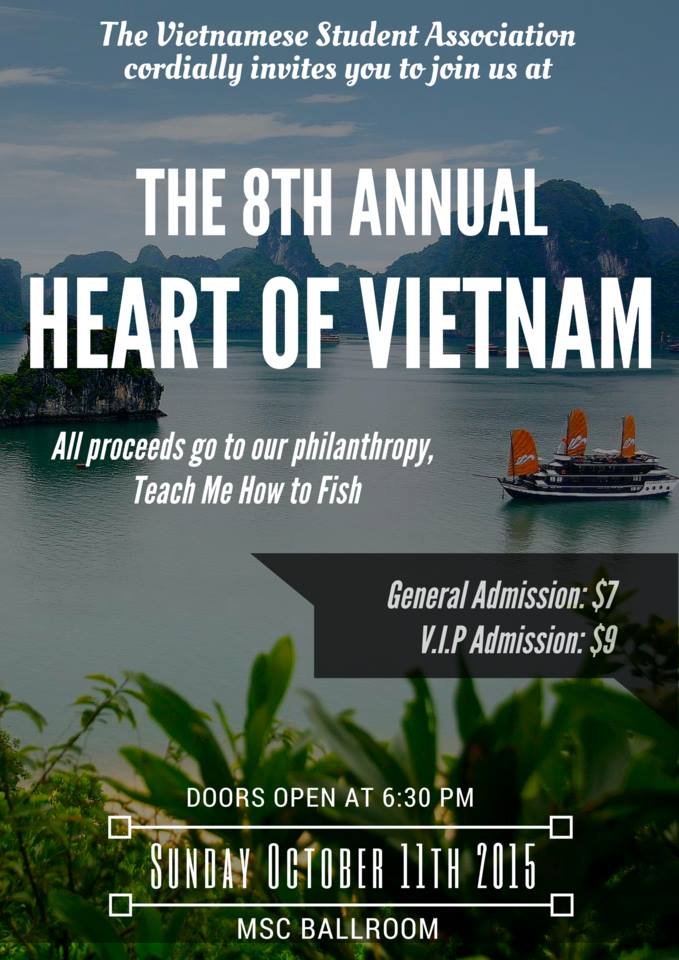 It's that time of year again! The Vietnamese Student Association at the University of South Florida would like to cordially invite you to our largest charity banquet of the year, Heart of Vietnam! Heart of Vietnam will be taking place this year on Sunday, October 11th in the MSC Ballroom at 6:30 PM. Dress your best (formal attire!) with your anh, chi, em, or whole gia dinh for a night full of entertainment, performances, and food!
~~~~~~~~~~~~~~~~~~~~~~~~~~~~~~~~~~~~~~~~~~~~~
What is Heart of Vietnam?
Heart of Vietnam (HOV) is VSA's annual charity banquet that takes place every Fall semester. Each year, the Union of North American Vietnamese Student Associations (UNAVSA) selects one charity that all VSAs across the United States and Canada donate to. Heart of Vietnam is one of the largest annual events at USF and guests are treated to a night of entertainment from different organizations and performers, great food from sponsors from the surrounding area, and the opportunity to make a difference in Vietnam through philanthropy. All sales (100%) made from HOV go directly to UNAVSA's chosen charity for the year.
~~~~~~~~~~~~~~~~~~~~~~~~~~~~~~~~~~~~~~~~~~~~~
What is this year's annual charity?
This year's annual charity is Teach Me How to Fish! Teach Me How to Fish is a program started by the organization Kids Without Borders. With the aim of providing a sustainable and successful life for children in Vietnam, Teach Me How to Fish supports orphanages through academic resources and philanthropy. In Vietnam, once orphan children turn 18 they are no longer required to be in the care of an orphanage and are kicked out to fend for themselves. Many of these children do not have the academic resources or support system necessary to live a well meaning and productive life. Unfortunately, many of these children will fall victim to human trafficking or live in poverty for the rest of their lives.
Kids Without Borders aims to change this by working with 3 local orphanages in Vietnam, providing the new adults with resources that will help them live a stable life once out of the orphanages. This aid comes through academic resources such as tuition and school textbooks, as well as housing resources that will ensure that the young adults do not have to worry about a place to stay while pursuing an education. ALL ticket sales made from HOV will go directly towards funding a better future for children in Vietnam!
More information about this year's charity can be found at: http://www.kidswithnoborders.org/make_a_difference1.aspx
~~~~~~~~~~~~~~~~~~~~~~~~~~~~~~~~~~~~~~~~~~~~~
What is this year's theme?
This year's theme for HOV is Tôi Là Người Việt Nam, or "I Am Vietnamese". Many of us growing up as Asian American students often deal with what exactly it means to be "Asian", especially for those with immigrant families growing up in a society so different from our parents'. Despite the struggle, many AAPI youth find coming to terms with their own Asian American identity rewarding and empowering. Join VSA at this year's Heart of Vietnam as we explore what it means to be "Asian American"!
~~~~~~~~~~~~~~~~~~~~~~~~~~~~~~~~~~~~~~~~~~~~~
Will there be a headliner?
For the first time in USF VSA history, Heart of Vietnam will be having a special guest speaker! You do NOT want to miss this headliner. Stay up to date with HOV when we reveal the special guest!
~~~~~~~~~~~~~~~~~~~~~~~~~~~~~~~~~~~~~~~~~~~~~
How much is the entrance fee?
The entrance fee to HOV will be $7 for general admission and $9 for VIP admission. ALL PROCEEDS from ticket sales will be donated DIRECTLY to this year's charity, Kids Without Borders.
~~~~~~~~~~~~~~~~~~~~~~~~~~~~~~~~~~~~~~~~~~~~~
If you have any questions about the this year's Heart of Vietnam, feel free to contact this year's director Sabrina Lour at [email protected] or VSA President Devin Tran at [email protected]