APAHM 2018 Closing Ceremony: APAC Hidden Lotus Awards
Apr 18, 2018 @ 9:00 pm

-

11:00 pm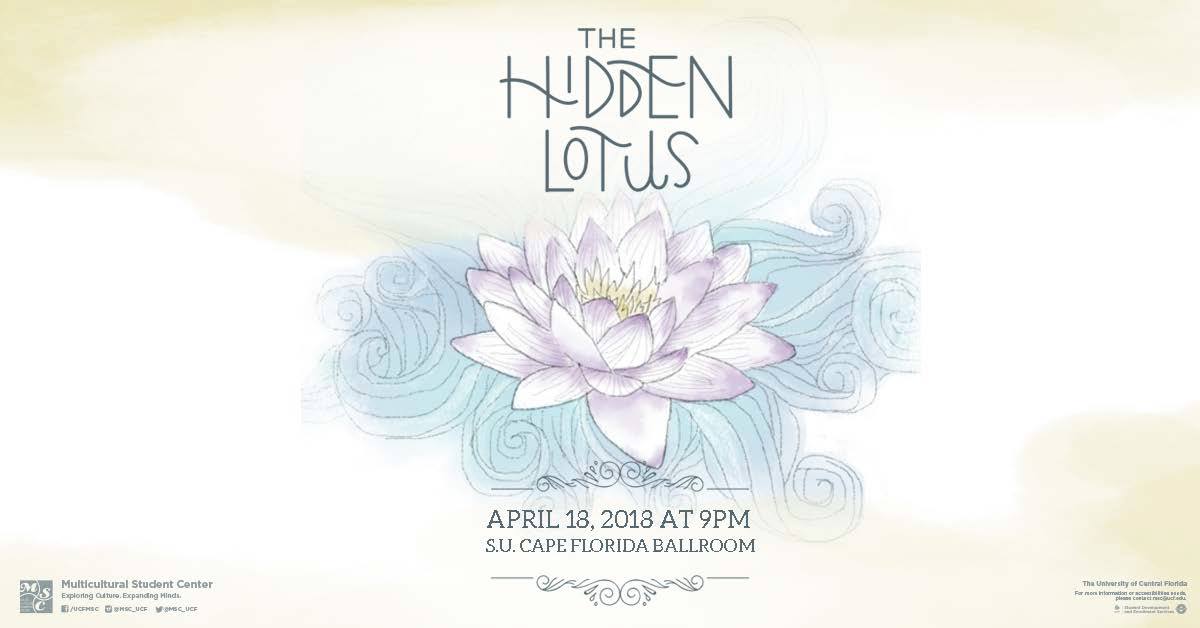 As revealed at APAHM Opening Ceremony, we are having an awards show! Just as the theme states, there are many hidden figures and underrated organizations that put immense passion for its culture and values. IT'S TIME to acknowledge, celebrate, and recognize the APAC community at UCF and really enjoy a night looking back at these last few semesters.
Please submit the application and required essay/supplemental materials on KnightConnect, by Monday, April 16th, 2018 at 11:45 PM. Winners will be announced at the inaugural Hidden Lotus closing ceremony will be held on Wednesday, April 18, 2018 at the University of Central Florida's Cape Florida Ballroom in the Student Union at 9:00 PM and is a FORMAL event.
The mission of the Asian Pacific American Coalition at UCF is to develop leadership, to be a source of political and social advocacy for issues facing Asian Americans, and to promote unity and a voice for the campus and community at UCF. Asian/Pacific American Heritage Month is our first ever annual student-run heritage month in conjunction with the Multicultural Student Center at the University of Central Florida. It is one of the many events that APAC holds to unite the Asian-American community and give them a chance to show what their organizations are about. We are bringing back awards to celebrate and recognize all the affiliated organizations efforts in bringing awareness to our culture, identity, and history.
There are multiple awards available for nominations, all nominees will be contacted. The Hidden Lotus was created in an effort to recognize organizations and individuals who have contributed to campus life and the Asian Pacific Islander American community at the University of Central Florida. All nominees must be from student organizations registered with the Office of Student Involvement or Office of Fraternity and Sorority Life (unless stated otherwise) in the Summer 2017, Fall 2017, and Spring 2018 semesters. If submitting supplemental materials (if the award allows), please be sure to upload this documentation through KnightConnect.
Awards:
Organization of the Year
Outstanding Member (Unsung Hero)
Best Event of the Year -Small Group (Less than 50 members)
Best Event of the Year -Large Group (more than 50 members)
Outstanding Service Project of the Year
Most Involved Organization of the Year
Most Innovative Organization of the Year
Bridging the Gap
Distinguished Officer -President
Distinguished Officer -Vice President
Distinguished Officer -Chief Justice/Warden
Distinguished Officer -Secretary
Distinguished Officer -Public Relations
Distinguished Officer -Media/Creative
Distinguished Officer -Webmaster
Distinguished Officer -Cultural
Distinguished Officer -Chairs [any position not listed]
Honorable Mention(s)
Application:
https://ucf.campuslabs.com/engage/submitter/form/start/172188
Performance Sign Up:
https://ucf.campuslabs.com/engage/submitter/form/start/173987
We can't wait to have a night of unity and celebration and the reveal of APAC's 2018-2019 Executive Board!