Buddha's Birthday Celebration 2016
May 1, 2016 @ 10:00 am

-

3:00 pm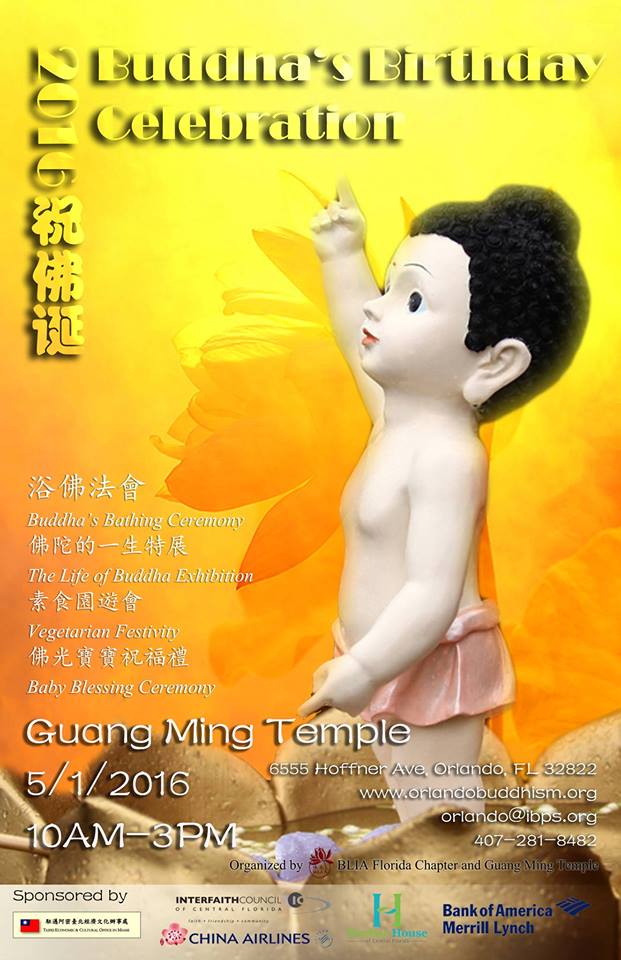 Orlando Guang Ming Temple Invites You to Join the celebration on May 1st!
About Buddha's birthday:
Sakyamuni Buddha, the founder of Buddhism, was born 2,639 years ago, on April 8th, 623 B.C.E. in ancient northern India/Nepal as Prince Siddhartha. After he was born, he pointed one hand towards the sky and the other towards the earth and proclaimed: "In heaven and on earth, I am the Supreme One." "I" refers to the inherent Buddha nature in all beings. After the prince finished these words, two streams of pure water poured down from sky, bathing the prince. His last birth in the human world was for the purpose of becoming the Buddha, the Awakened One, to show the way to save all sentient beings. He shows us the path to transcend the endless cycles of suffering caused by our ignorance of or refusal to face the truth about the meaning of birth and death.
Buddhists throughout the world celebrate Buddha's birthday every year by bathing a statue of Prince Siddhartha (Buddha) with water, wishing to get rid of the defilements of greed, hatred and ignorance. In this ritual, we are inspired and encouraged to reflect on the meaning of our life to truly get to know the Buddha-nature waiting to be born in each of us. We wish to purify our bodies, speech and minds, and wish for a peaceful and harmonious world.
Buddha's Birthday will be celebrated in Guang Ming Temple with a special blessing service in the morning followed by the Buddha's Bathing Ritual and a Dedication of Merit. There is an offering ceremony at the beginning of the blessing service, with the symbolic offerings being made to the Buddhas and Bodhisattvas, giving rise to contemplative gratitude and inspiration:
Offering of Incense: When incense is lit, its fragrance spreads. Incense symbolizes the fragrance of pure moral conduct. This reminds us to cultivate good conduct.
Offering of Flower: The freshness, fragrance and beauty of flowers are impermanent. Fresh and beautiful flowers will soon become withered, scentless and discolored. This reminds us of the Buddha's teaching that all things are impermanent. We should value what we have now and live in the present.
Offering of Light (Lamp/Candle): Light symbolizes wisdom. Light drives away darkness. Similarly, the light of wisdom dispels the darkness of ignorance.
Offering of Fruit: Fruit symbolizes the ultimate fruit of Enlightenment which is our goal. Fruit also reminds us that all actions will have their karmic effect.
Offering of Treasure: Treasure symbolizes the Dharma. Treasure offerings represent the transformation of knowledge into wisdom. It tells us to rid ourselves of greed and chase the real gem of wisdom.
Contact: (407) 281-8482  Email: [email protected]