Free Film Screening: Kokoyakyu-Japanese High School Baseball & My Life In China
May 1, 2016 @ 1:30 pm

-

6:00 pm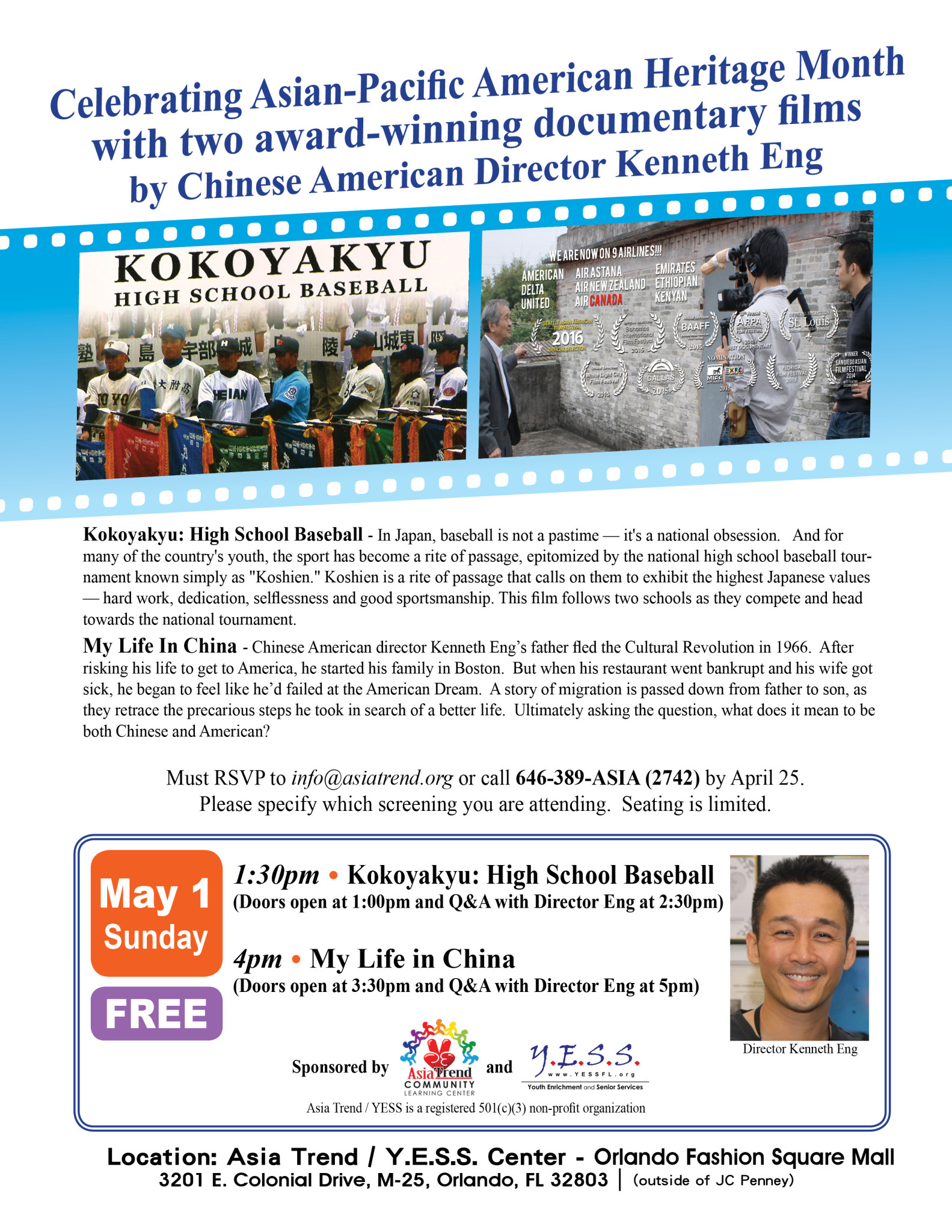 Kick-off Asian-Pacific American Heritage Month with 2 super cultural documentary films by awardwinning director, Kenneth Eng. He and the producer will join the screening.
Kokoyakyu: High School Baseball – In Japan, baseball is not a pastime — it's a national obsession. And for many of the country's youth, the sport has become a rite of passage, epitomized by the national high school baseball tournament known simply as "Koshien." Koshien is a rite of passage that calls on them to exhibit the highest Japanese values — hard work, dedication, selflessness and good sportsmanship. This film follows two schools as they compete and head towards the national tournament.
My Life In China – Chinese American director Kenneth Eng's father fled the Cultural Revolution in 1966. After risking his life to get to America, he started his family in Boston. But when his restaurant went bankrupt and his wife got sick, he began to feel like he'd failed at the American Dream. A story of migration is passed down from father to son, as they retrace the precarious steps he took in search of a better life. Ultimately asking the question, what does it mean to be both Chinese and American?
---
Asia Trend / YESS center is proud to host this community screening to celebrate the Asian Pacific Heritage Month. Doors open at 1pm, one-hour discussion with Director Eng will be followed immediately after the film. Seating is limited.
Event is free.

Must RSVP to [email protected] or call 646-389-ASIA (2742) by April 25.
Please specify which screening you are attending. Seating is limited.