Exhibition of the Buddha's Ancient & Sacred Relics
Nov 20, 2015 @ 11:00 am

-

Nov 22, 2015 @ 6:00 pm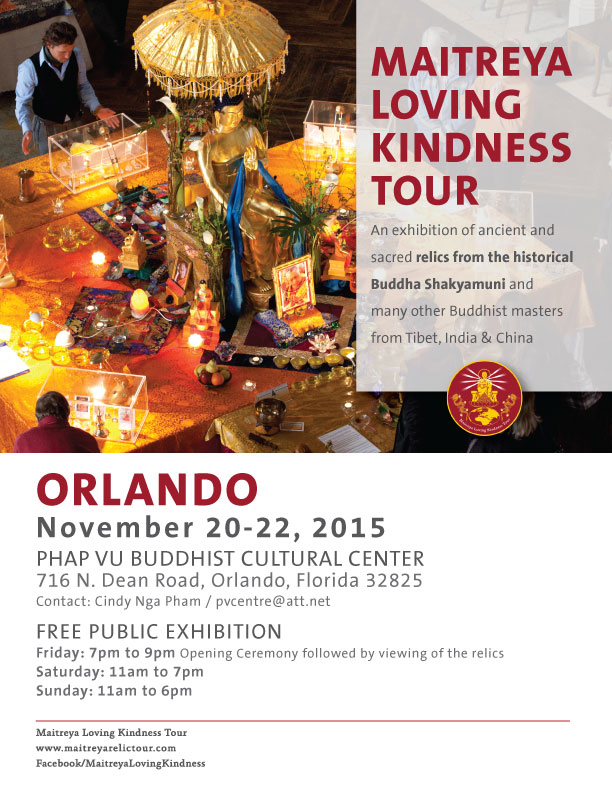 Maitreya Loving Kindness Tour, a free public exhibition of ancient and sacred relics of the historical Buddha Shakyamuni and 44 other Buddhist masters from India, Tibet & China is currently touring the world.
The exhibit will be on display at Phap Vu Buddhist Cultural Center, 716 N. Dean Road, Orlando, Florida 32825. Exhibit dates are November 20, 21 & 22, 2015.
 In all there are 3,000 relics in this collection including those offered to the tour by His Holiness the Dalai Lama which are more than 2,600 years old, a collection from the Sakya Reliquary in Tibet and also from Meiktila Museum in Burma. Most of the relics in this collection resemble multi colored pearl-like crystals that in Tibetan are called 'ringsel' and in Sanskrit they are known as 'Sarira.' It is believed that relics embody the master's spiritual qualities of compassion and wisdom and are deliberately produced by the master at his death. The crystal relics were found among the cremation ashes of these masters.
Public exhibit hours:
November 20
: 7:00 pm to 9:00 pm, Opening ceremony followed by relic viewing
November 21
: 11:00 am to 7:00 pm, relic viewing
November 22
: 11:00 am to 6:00 pm, relic viewing
###

Local contact:
Cindy Nga Pham, Email:
[email protected]