Free Virtual CLE: The Legal Limbo of Filipinos Who Served In WWII
August 8 @ 12:00 pm

-

1:00 pm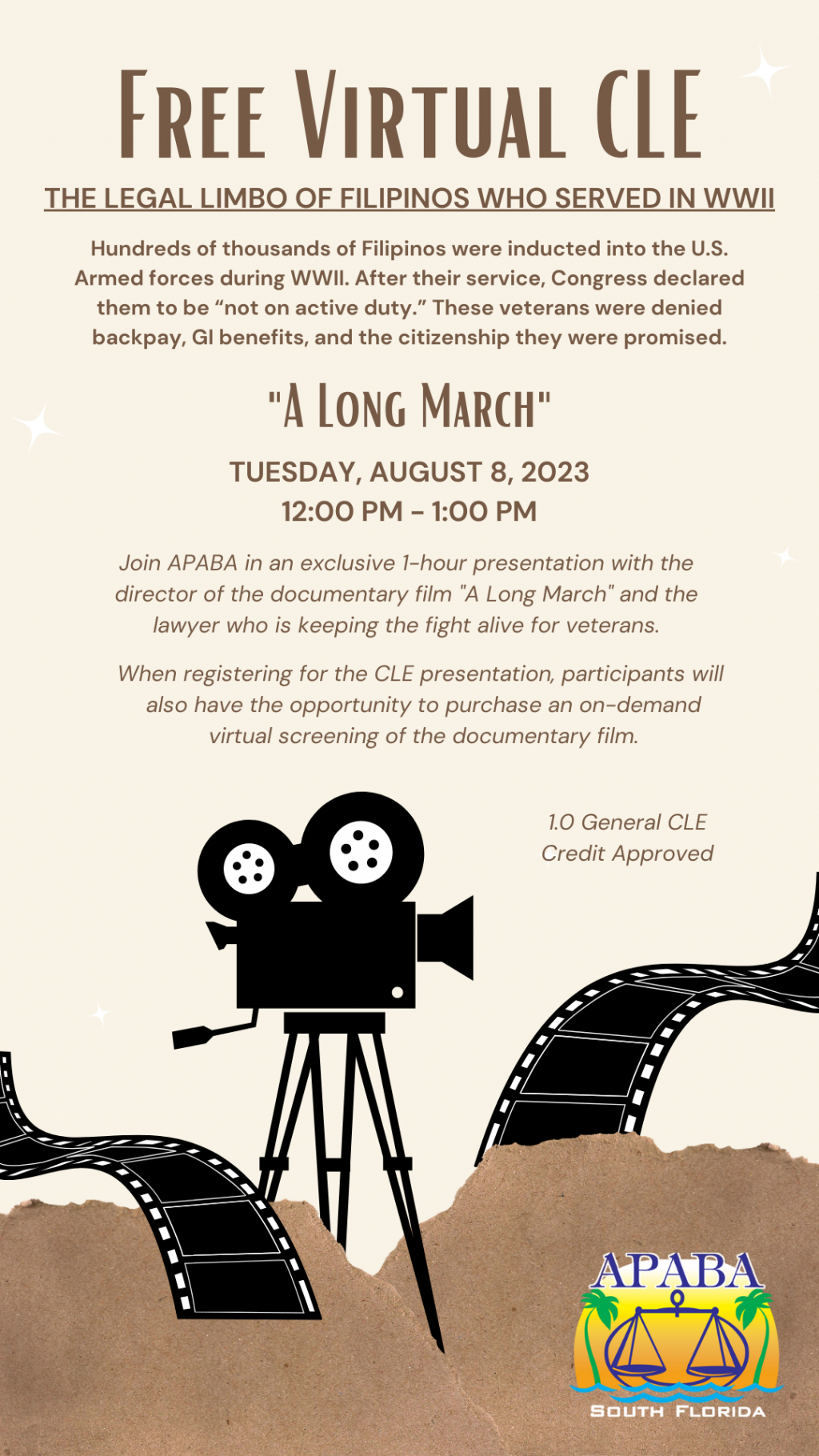 Many Philippine migration stories across the United States are linked to the thousands of Filipino and Filipino American soldiers who went to war to defend the United States and the Philippines during World War II. The documentary film A Long March follows Filipino American veterans as they emotionally trace their paths from war to erasure, marching from an obscured history right up to the steps of Congress in search of promises denied.
Join APABA in an exclusive 1-hour presentation with the director of the documentary film "A Long March" and the lawyer who is keeping the fight alive for veterans. When registering for the CLE presentation, participants will also have the opportunity to purchase an on-demand virtual screening of the documentary film.
1.0 General CLE credit approved in Florida
Speakers:
Seth A. Watkins, J.D., Ph.D.
Seth Watkins' pro bono practice includes representing Filipino and Filipino American claimants before Veteran and Federal Courts. His is considered an expert on the topic of Filipino veterans seeking restored recognition for service to the United States during World War II. Mr. Watkins also represents clients concerning a diverse array of issues before courts and administrative agencies, in transactional and counseling matters, and in other considerations that lend themselves to legal advice and advocacy.  His law practice has included bench and jury trials, appellate briefings and arguments, and high-stakes advocacy from the perspectives of both small and large clients.  He represents plaintiffs, defendants, intervenors, and amicus parties, handling matters of a private, sensitive nature as well as those subject to the public's scrutiny.
T.S. Botkin
Ms. Botkin has been producing in film and television for seven years. Her directorial debut is the Better Angels Lavine Fellow documentary, GI Film Festival Best Documentary, and Best First Time Director nominee, A Long March (2022, feature) which she created with a diverse crew under the guidance of the Filipino American community. She also co-produced the award-winning documentaries Her Turf (2018, pilot) and Mary Janes: The Women of Weed (2017, feature). Botkin's indigenous writing has garnered recognition as a second-round selection at the Austin Film Festival (2016) and quarterfinalist at Atlanta Film Festival (2018). She is a supporter of diverse voices and Women in Film.
To register, please use the link below and click "Reserve Your Tickets Now."
Tickets must be secured using the link below. (No tickets are available on this webpage)
You will have the option to reserve a free ticket to the CLE presentation, purchase 

an on-demand virtual screening of the documentary film, and/or make a donation to the documentary team to help the film reach a larger audience.