Tampa Summer Talent Showcase
August 13 @ 3:00 pm

-

6:00 pm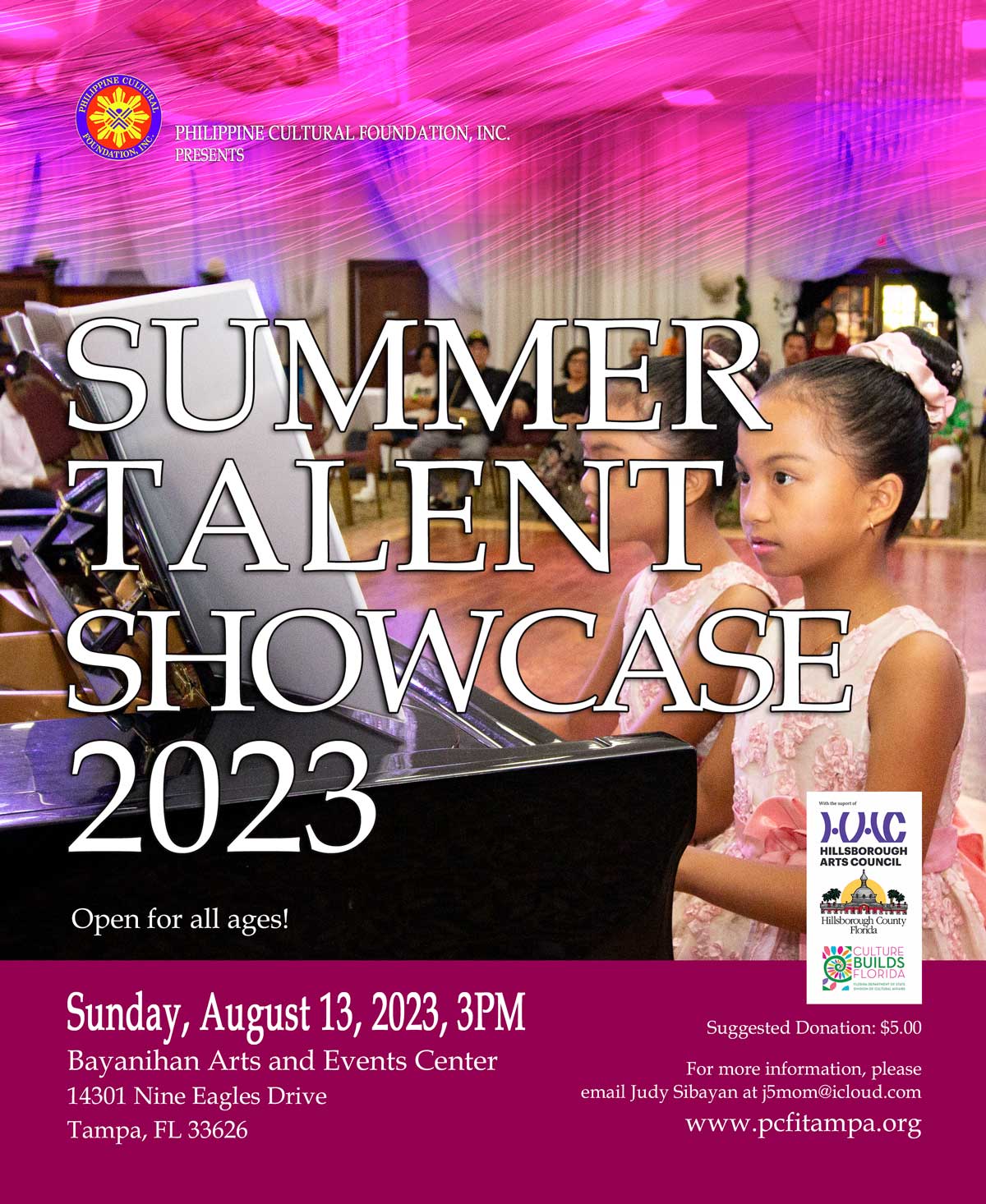 Show off your kids' talent, and sign them up now for our annual SUMMER TALENT SHOWCASE 2023! Anybody is welcome to join.
The Philippine Cultural Foundation, Inc. (PCFI) is set to host another highly-anticipated "Summer Talent Showcase 2023" on Sunday, August 13, 2023, at the Bayanihan Arts and Events Center at 14301 Nine Eagles Drive in Tampa, Florida. This will be another exciting venue captivating the variety of talents we Filipinos as known for. The event will commence at 3:00 PM.
Attendees eager to join in this remarkable celebration should note that a mandatory donation of $5.00 will be requested to watch the show, as the event is a vital fundraising initiative for PCFI in preserving our talents for generations to come.
This annual extravaganza, previously known as the "Summer Youth Recital," is now celebrating its remarkable 15th anniversary! Thanks to the visionary efforts of PCFI Board Member Dr. Melissa Santiano-Martinez and her husband, David Martinez III.
While the showcase has flourished under their guidance for over a decade, the past year has seen the expert coordination of Judy Sibayan, the esteemed choreographer of Indak Pambata. With her creative touch, this event has transformed into a spellbinding experience that promises an afternoon of amusement and awe.
No matter your age, background, race, or ethnicity, we invite all aspiring performers to embrace this opportunity and flaunt their talents in an atmosphere bursting with summer fun. Join us for a captivating event that will leave you inspired and enthralled as you witness diverse skills taking center stage. When we say ANY TALENT, we mean anything! Solo dancers of singers, duets, trios, groups, comedy, magic, Philippine folk dance, hip-hop, K-Pop, etc.
So, unleash your potential and be part of this extraordinary summer affair! Make sure to mark your calendars for the Summer Talent Showcase 2023 and immerse yourself in an afternoon filled with sheer delight and unparalleled talent.
Click on this link below how to SIGN UP: https://pcfitampa.org/summer-talent-showcase-2023/