HONG KONG CINEMA
Nov 14, 2015 @ 6:30 pm

-

Nov 18, 2015 @ 11:00 pm

$14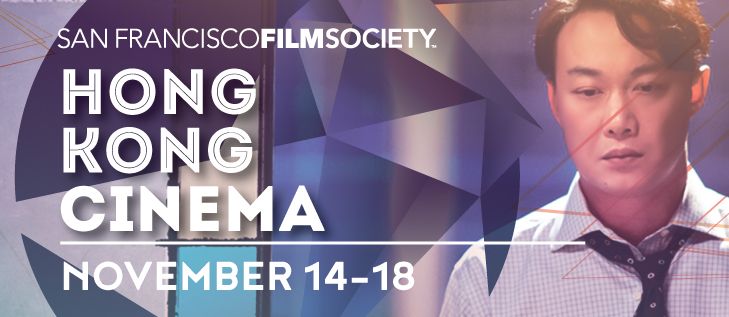 2015 marks the fifth anniversary of Hong Kong Cinema, which celebrates recent works from one of the world's most exciting filmmaking hubs and continues its tradition of offering a wild mix of genres and iconic performances from the region's biggest stars. Well-known filmmakers like Johnnie To and Dante Lam are on display with their latest films, along with a number of exciting new storytellers making their feature debuts. With enough characteristic zaniness to satisfy any adventurous filmgoer and even a surprise or two for die-hard HK enthusiasts, this year's lineup promises to delight and entertain.
Office  華麗上班族  – November 14, 2015, 6:30 p.m.  (Opening Night)
Screening in 3-D
Master director Johnnie To expands his genre repertoire with this extravagant, witty and incisive musical about corporate corruption and intrigue featuring superstars Chow Yun-fat and Sylvia Chang. Adapted from Ms. Chang's hit stage play Design for Living,Office is set amidst the initial public offering on a billion dollar company in the wake of the global financial collapse of 2008. Poised to make millions, the company's executives scramble to cover their scheming tracks during an audit. Read More
Based on the real-life story of Lillian Lui, Little Big Master is at turns genuinely heartwarming and heartbreaking. When Lui sees a news report about an impoverished school that is scheduled to close and the dire plight of the six children who attend it, she sets out to find new sources of education for the children. But, when faced with the hardscrabble lives and stigma of poverty that marks the children, she becomes more deeply invested. Read More
If you like your genre films bursting with dazzling action choreography and jaw-dropping melodramatic twists, this one is for you. Between numerous and thrilling botched arrests, nervy shootouts and pressure-packed car chases, a twisting story set amidst the murky illegal organ-trafficking trade emerges. Organized crime boss Hung needs a new heart, and prison guard Chai's daughter needs a bone marrow transplant. Both find donor matches in places that will test the morality of everyone involved. Read More
Director expected
In this (primarily English-language) sparkling romance, Ruby (Jamie Chung), a Chinese American toy designer from LA, visits Hong Kong for the first time on business. Finding herself stranded, she meets Josh (Bryan Greenberg), an American expat who shows her the city. Meandering through nighttime streets pulsing with energy and possibility, they fall into a winding and carefree conversation, buoyed by an undeniable attraction, but hindered by life's circumstances. Read More
Helios – November 16, 2015, 8:45 p.m.
Following their box office smash Cold War(SFIFF 2013), Longman Leung and Sunny Luk up the ante in this action-packed crime thriller. The eponymous Helios is an unscrupulous arms dealer who steals the DC8, the world's smallest nuclear weapon, invented by South Korean nuclear physicists. When discovered that the DC8 will be traded in Hong Kong, several intelligence and law enforcement agencies scramble to disrupt the sale and recover the doomsday device before it's too late. Read More
To the Fore – November 17, 2015, 6:15 p.m.
Hong Kong's Oscar Entry for Best Foreign Language Film
Dante Lam's (Unbeatable, Beast Stalker) latest film is an epic sports drama that captures the visceral intensity, speed and tactics of world-class competitive cycling. With twists and turns both literal and figurative, and relying on its stellar cast, the film centers on three cyclists, Ji-won (Choi Si-won), Ming (Eddie Peng) and Tian (Shawn Dou), and spins an exciting story about the rivalries, friendships and moral hazards that accompany pedaling one's way to the top. Read More
Two Thumbs Up – November 17, 2015, 9:00 p.m.
In a throwback nod to the golden years of wonderfully goofy action films that has so often marked Hong Kong filmmaking, Two Thumbs Up follows four lovable losers intent on pulling off the (im)perfect heist. The bumbling gangsters decide to disguise a minibus as a police vehicle, intending to use it to pull over and rob trucks that carry human carcasses stuffed with cash. Everything that could go wrong (and even some things that couldn't) does. Read More
Monster Hunt – November 18, 2015, 6:00 p.m. & November 18, 2015, 9:00 p.m. (Closing Night)
China's #1 Box Office Hit of All Time
Former Bay Area animator Raman Hui directed this box office–busting tale about a broken truce between the human and monster worlds. Blending brilliant live action with expertly rendered CGI, the action-packed and hilarious fantasy adventure is based on the idea that humans have forgotten the real existence of beasts and ogres. However, when a coup erupts within the monster world, forcing their queen to hide within the human world, the long-separate realms collide with comic fury. Recommended for ages nine and up. Read More
more info at http://www.sffs.org/exhibition/fall-season-2015/hong-kong-cinema#.VjEcJrerSUk