Japan: Food in Film "The God of Ramen"
Sep 16, 2015 @ 1:30 pm

-

3:30 pm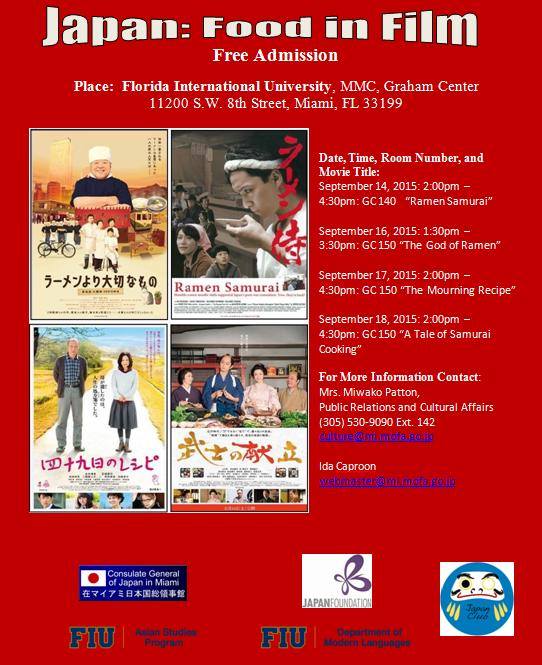 Join us at Florida International University for Japan: Food in Film "The God of Ramen"
Free Admission.
A different movie each day!
Florida International University, MMC, Graham Center
11200 S.W. 8th Street, Miami, FL 33199
Movie Synopsis:
The God of Ramen:
To ramen lovers, Kazuo Yamagishi – owner of Taishoken – is a god. His recipe may seem like the traditional Tokyo-style ramen, but there is great depth in his culinary practice. Since the shop's debut 50 years ago, Yamagishi managed to create his distinct and unique flavor. On a typical weekday, customers from all over Japan would queue outside the shop until they were served – a ridiculously long wait of over two hours. Yamagishi-san is also jolly chef with a joyful outward disposition, but deep inside is a sad man who is married to his work and carries the legacy of his deceased wife. Eventually, this takes a toll, and as his health declines his apprentices open competing businesses. In the end, "The God of Ramen" is a chronicle of one man's life and his impact on the community and the art of ramen itself.
Organized by: Consulate General of Japan in Miami
For More Information Contact: Mrs Miwako Patton, Public Relations and Cultural Affairs
(305) 530-9090 Ext. 142   [email protected]
Ms. Ida Caproon   [email protected]