Journey to the East
Sep 15, 2015 @ 5:00 pm

-

Sep 20, 2015 @ 8:00 pm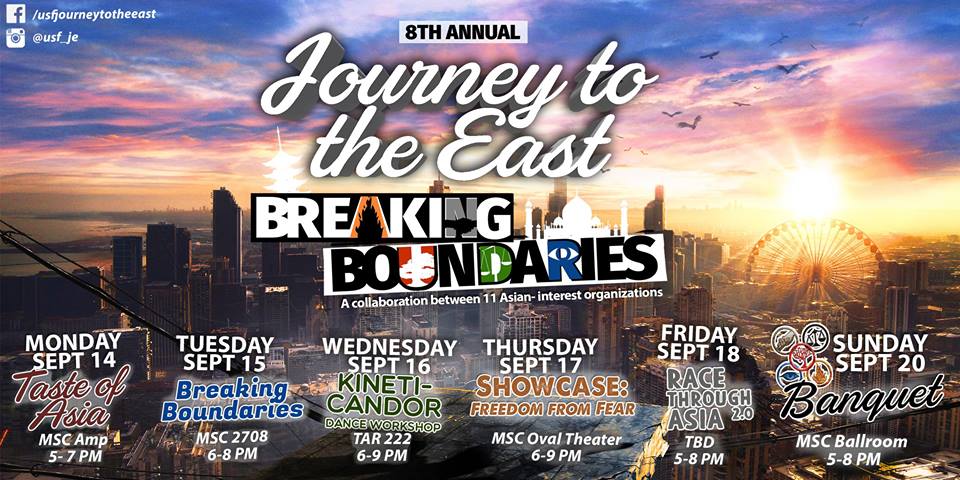 Journey to the East is a non-profit, Asian-interest week, held by 11 different Asian-interest organizations, to bring awareness to and celebrate Asian culture! All events are FREE to attend and are not USF-, nor Asian-exclusive. This year's Journey to the East is themed based off of the award-winning movie, Divergent, and the five factions: Amity, Erudite, Candor, Dauntless, and Abnegation.
////
TASTE OF ASIA
Mon 9/14, 5-7pm | MSC Amphitheater
Faction: Amity
+ A tradition to JE, Taste of Asia incorporates all of the participating organizations of this year's series of events. Come out and enjoy free food, snacks, drinks, and learn what is considered harmonic in countries like the Philippines, Vietnam, China, Korea, Singapore, Thailand, and more! Music provided by DJ Casper Yen from Bulls Radio!
SHOWCASE: FREEDOM FROM FEAR
Thurs 9/17, 6-9pm | MSC Oval Theater
Faction: Dauntless
+ Showcase is the opportunity for all of the Asian-interest organizations at USF to show you what they're all about! Watch organizations dance, stroll, and act in while incorporating our theme of bravery, performing for the 1st place or People's Choice prizes! People's Choice is up to you–so make sure to come out and support your organization(s)! "Bravery is the highest form of wisdom. The acknowledgement that life can and should be lived without fear."
////
This year's participating organizations:
Asian students in America
Association of Filipino Students
alpha Kappa Delta Phi International Sorority Inc.
Bengali Students Association
Chinese Culture and Language Club
Delta Phi Omega Sorority, Inc.
Korean American Student Association
Pi Delta Psi Fraternity, Inc.
Sigma Beta Rho Fraternity, Inc.
Vietnamese Student Association
Japanese Club
////
Any questions/comments/concerns/inquires to donate?
Contact this year's director, Jennifer Reed at [email protected], or at 727-723-4841.