Music on Mills
Nov 14, 2015 @ 5:00 pm

-

Nov 15, 2015 @ 2:00 am

$10 – $15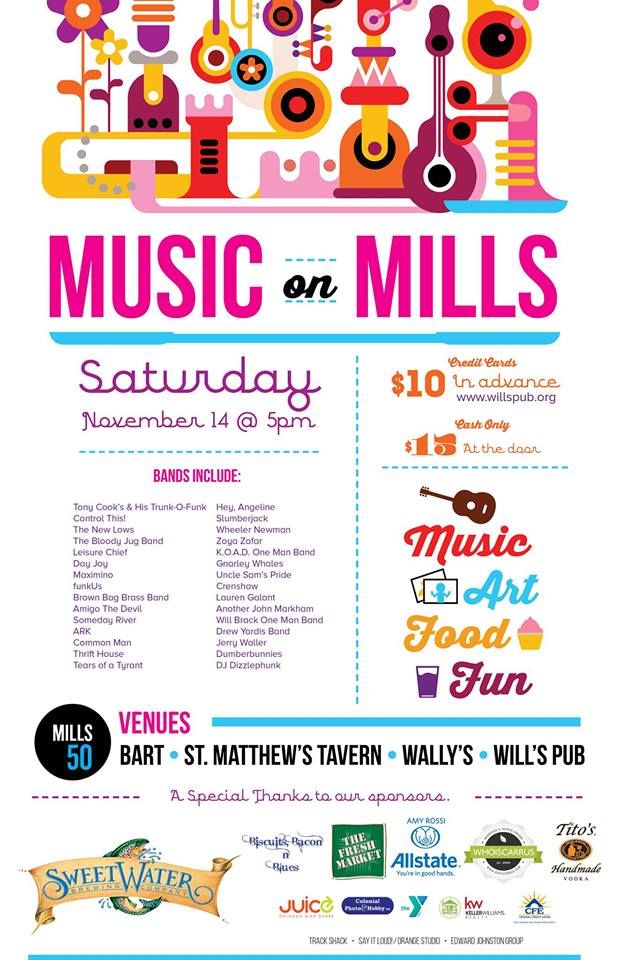 A one day benefit music festival featuring bands at four venues along Mills Avenue plus an art & vendor market, food trucks, shopping and more! This event will help to fund continuing public art and safety projects in the Mills 50 District! Tickets are $10 in advance at www.willspub.org or $15 day of at each of the venues (cash only day of the event).
BANDS: Control This, Brown Bag Brass Band, Tony Cook and His Trunk O Funk, Leisure Chief, Gnarley Whales, Amigo The Devil, The Bloody Jug Band, Tears of a Tyrant, Uncle Sam's Pride, funkUs, Dumberbunnies, The New Lows, Common Man, Someday River, Day Joy, Thrift House,Maximino, ARK, Hey, Angeline, The Drew Yardis Project, Jerry Waller,AJM, Will Brack, Wheeler Newman, Crenshaw, Zoya Zafar,SLUMBERJACK, Lauren Galant, K.O.A.D., and DJ Dizzlephunk.
VENUES: Wally's Mills Avenue Liquor, Will's Pub, BART and St. Matthew's Tavern at the Orlando Beer Garden.
SPONSORS: SweetWater Brewing Company, Allstate Insurance: Amy Rossi, CFE Federal Credit Union, Colonial Photo & Hobby, Think Downtown Orlando, YMCA of Central Florida, The Fresh Market,WHOISCARRUS, Track Shack, Edward Johnston Group, SAY IT LOUD!,Tito's Handmade Vodka, Juice Bike Share.