VASA x MVF Presents: Tết Trung thu 2020 – "Talking to the Moon"
Oct 30, 2020 @ 6:00 pm

-

9:00 pm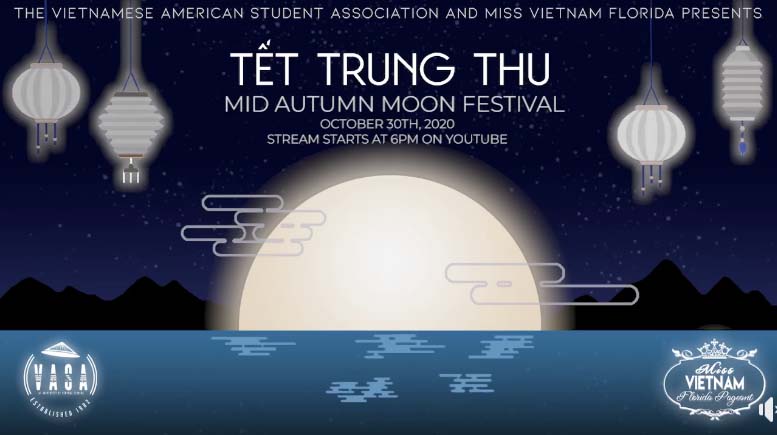 Vietnamese American Student Association (VASA) know that you guys have been just as excited as us, but we are proud to announce the upcoming 𝙏𝙚̂́𝙩 𝙏𝙧𝙪𝙣𝙜 𝙏𝙝𝙪 (TTT)!
✧✧✧✧✧
𝙏𝙚̂́𝙩 𝙏𝙧𝙪𝙣𝙜 𝙏𝙝𝙪 is an event traditionally celebrated in Vietnamese culture which is also known as the 𝙈𝙞𝙙-𝘼𝙪𝙩𝙪𝙢𝙣 𝙈𝙤𝙤𝙣 𝙁𝙚𝙨𝙩𝙞𝙫𝙖𝙡. It honors the time in which families spend time with their children and the harvest moon that represents fullness and prosperity of life. Due to the circumstances of the current year, we want to focus on the theme of "𝙏𝙖𝙡𝙠𝙞𝙣𝙜 𝙩𝙤 𝙩𝙝𝙚 𝙈𝙤𝙤𝙣". What VASA wants to display to everyone is that despite how far we are, when we look up at the night sky we all see the same moon which unites us as one.
✧✧✧✧✧
This year, VASA's take on celebrating the 𝙈𝙞𝙙-𝘼𝙪𝙩𝙪𝙢𝙣 𝙈𝙤𝙤𝙣 𝙁𝙚𝙨𝙩𝙞𝙫𝙖𝙡 strongly correlates with our philanthropy, 𝙈𝙚𝙨𝙨𝙚𝙣𝙜𝙚𝙧𝙨 𝙤𝙛 𝙇𝙤𝙫𝙚. We hold TTT as a philanthropy gala that includes many exciting performances and even our very own fashion show that recognizes the Vietnamese culture! All this will be hosted by our yet to be revealed emcees and collaborated with the beautiful women of the Miss Vietnam Royal 2020 Court!
✧✧✧✧✧
This event is something that you cannot miss out on! Be sure to tune in as we stream it live!
𝘿𝙖𝙩𝙚: Friday, October 30, 2020
𝙑𝙞𝙧𝙩𝙪𝙖𝙡 𝘿𝙤𝙤𝙧𝙨 𝙊𝙥𝙚𝙣: 5:30 PM
𝙏𝙞𝙢𝙚: 6:00 PM
𝙇𝙤𝙘𝙖𝙩𝙞𝙤𝙣: Youtube Live