1 event,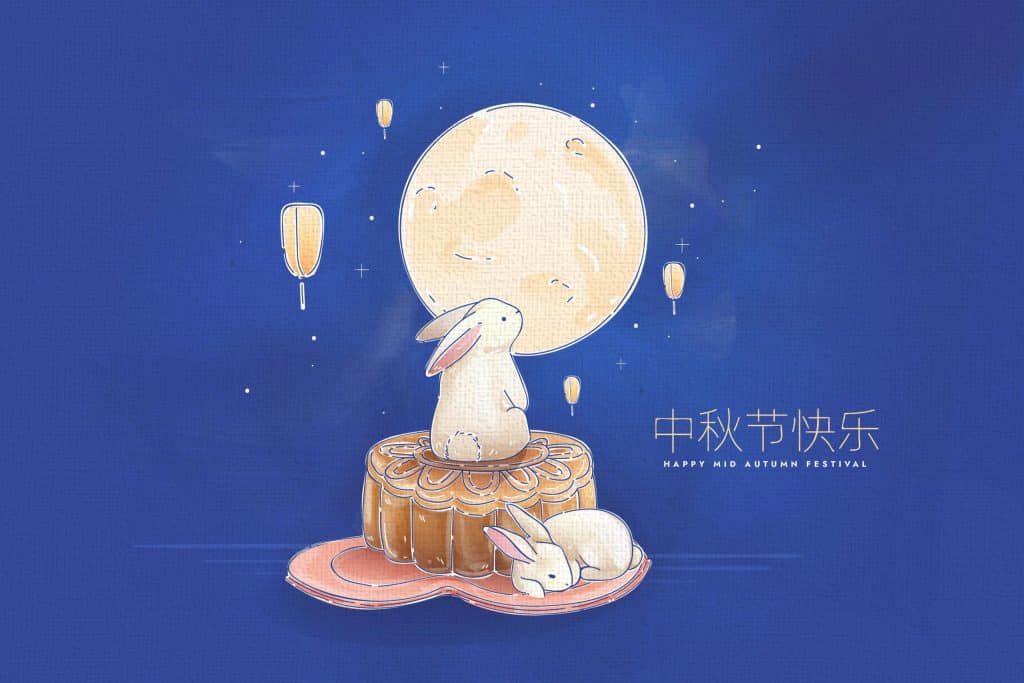 Orlando Chinese Professionals Association (OCPA) Mid-Autumn Festival Gala  Date: Saturday, September 9th Time: 4:30 PM - 7:30 PM Location: Ten Ten Seafood Restaurant Address: 5600W Colonial Dr. Orlando, FL 32808 Event Free for OCPA members. Ticket at the door ($20 for non-members). You're welcome to join the OCPA and become a member though (individual membership: […]
2 events,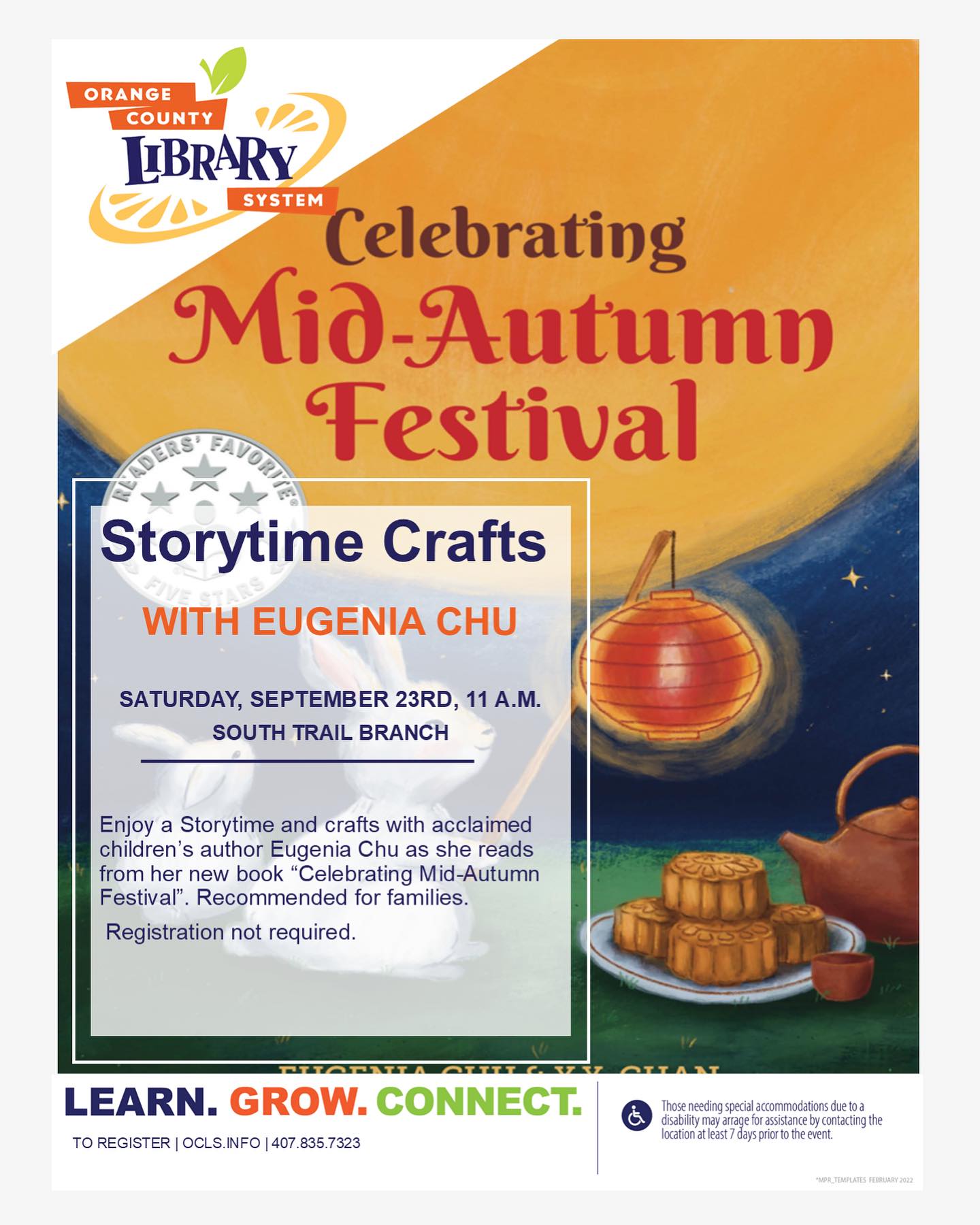 On Saturday, Orange County Library South Trail Branch will host a "Storytime Crafts with Eugenia Chu: Celebrating Mid-Autumn Festival " on September 23rd, starts 11 am to 12 pm Eugenia Chu, Author will be doing a Storytime reading of "Storytime Crafts with Eugenia Chu: Celebrating Mid-Autumn Festival" and will have crafts, too! Then afterwards, she […]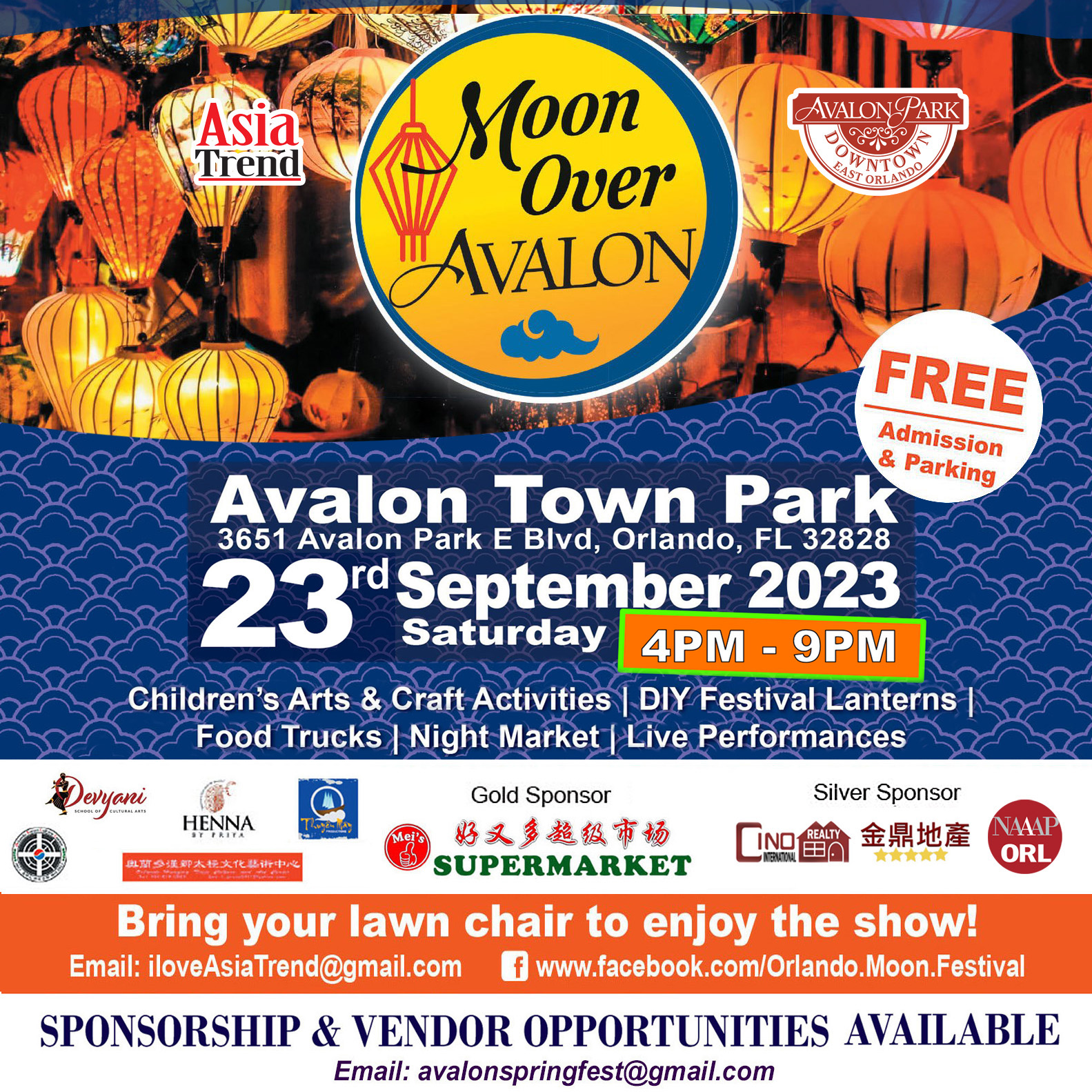 Moon Festival is a traditional festival celebrated in many Far East and Southeast Asian American communities. This tradition is celebrated in various forms throughout China (Mid-Autumn Festival), Japan (Tsukimi), Korea (Chuseok), and Vietnam (Tết Trung Thu). The festival is held on the 15th day of the 8th month according to the lunar calendar, when the […]
1 event,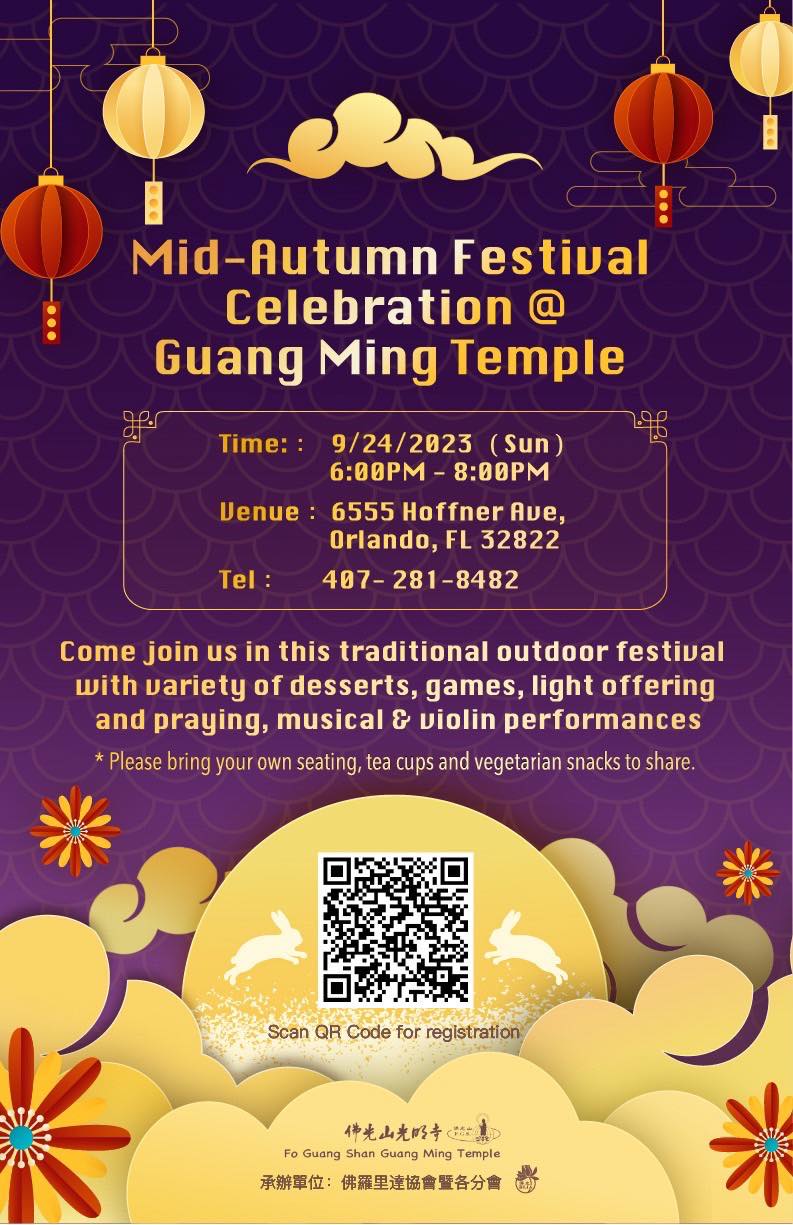 Mid-Autumn Festival Celebration at Guang Ming Temple! Date: September 24, 2023 (Sunday) Time: 6:00 PM - 8:00 PM Venue: 6555 Hoffner Ave, Orlando, FL 32822 Tel: 407-281-8482 Immerse yourself in the beauty of this traditional outdoor festival with a delightful array of desserts, fun games, mesmerizing light offerings and prayers, enchanting musical & violin performances, […]
3 events,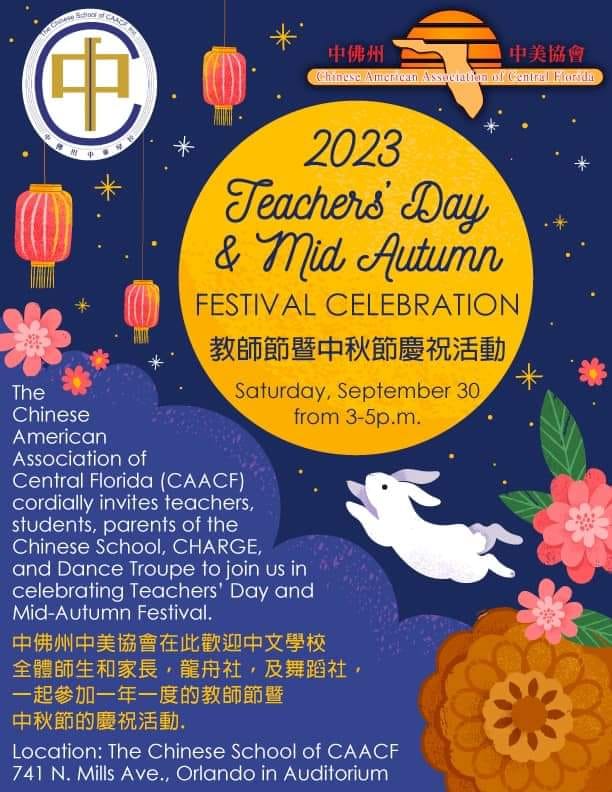 Chinese American Association of Central Florida CAACF, The Chinese School of CAACF 中佛州中華學校, C.H.A.R.G.E. Dragon Boat - Orlando cordially invites teachers, students, parents of Chinese School, CHARGE, and Dance Troupe to join us in celebrating Teachers' Day and Mid-Autumn Festival. Date: September 30, 2023 Time: 3 PM to 5 PM Venue: Lake Highland Prep Middle […]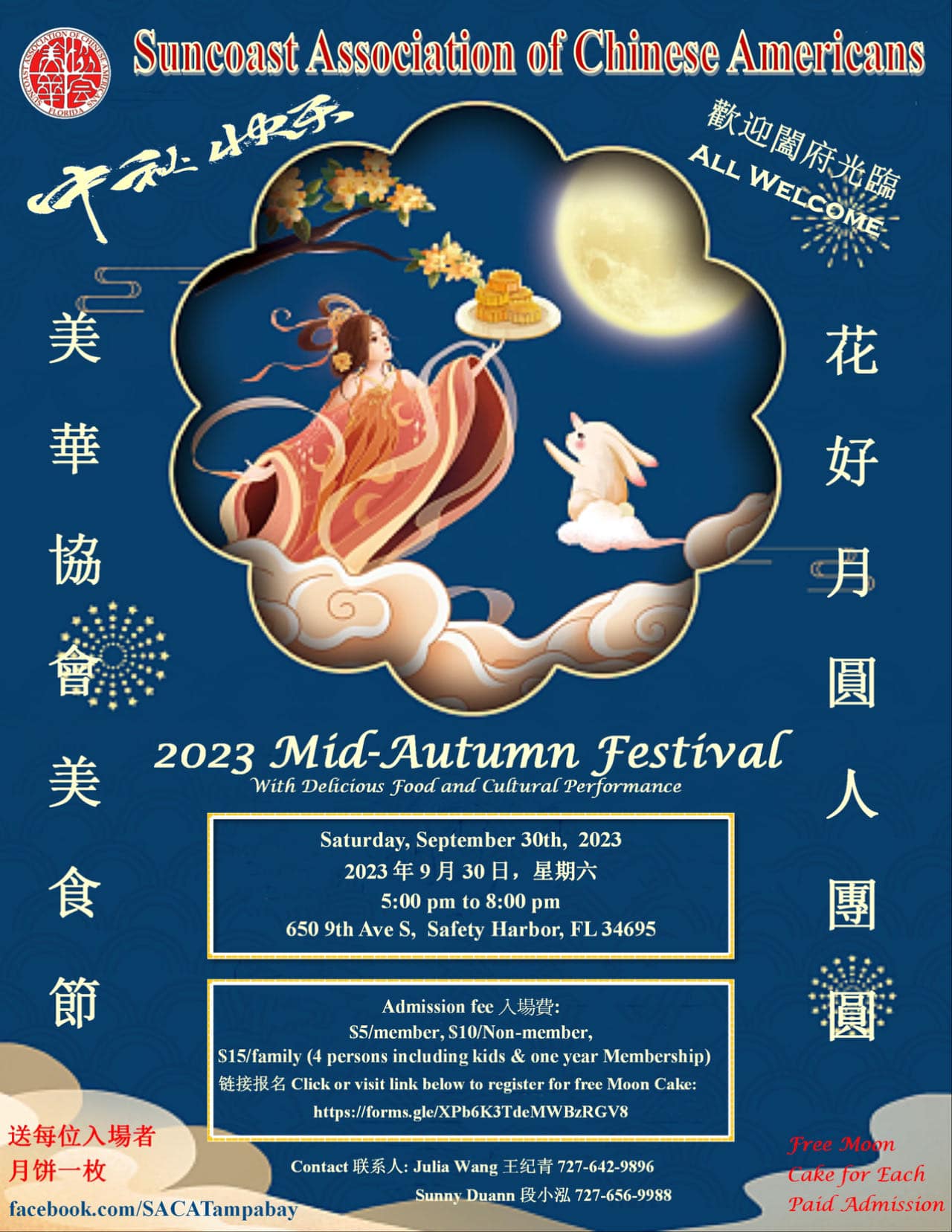 MID AUTUMN FESTIVAL OF THE SUNCOAST ASSOCIATION OF CHINESE AMERICAN The Moon Festival (Mid-Autumn Festival) 2023 falls on September 29th, 2023. We will host a ceremony on Saturday night, September 30th, 2023, as shown on the poster below. All board members of SACA are pleased to invite you, your family, and friends to spend a […]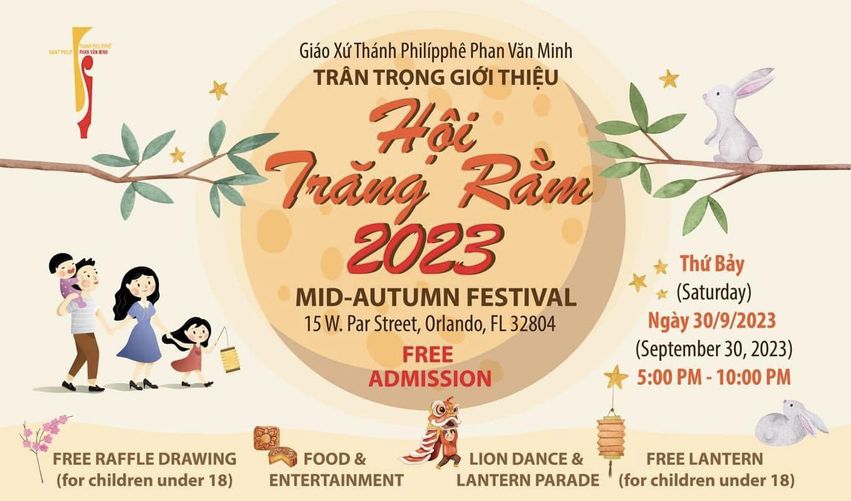 Hội Trăng Rằm 2023 (Mid-Autumn Festival)! Saturday, September 30, 2023 5:00 - 10:00 PM Giáo Xứ Thánh Philípphê Phan Văn Minh (Saint Philip Phan Van Minh Catholic Church) 15 West Par Street Orlando, FL 32804 Free Admission Mark your calendars, spread the word, and plan to attend!