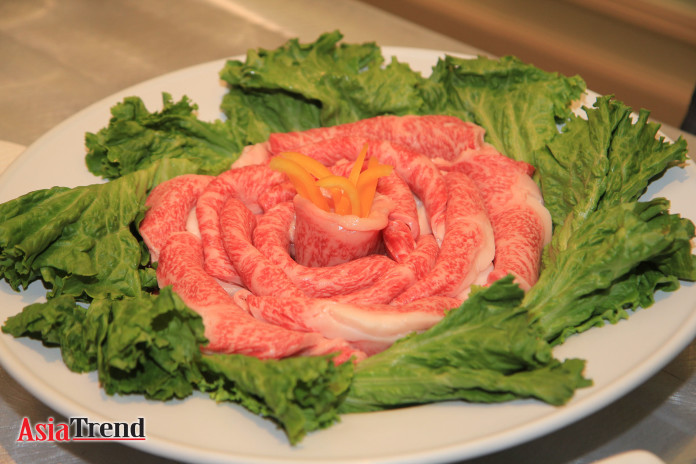 On January 22, 2015, I had the distinct honor and pleasure to attend the "Matsusaka Beef" Introductory Press-Release & Tasting Conference. Wagyu, which literally means Japanese beef, is known through out the world for its taste and marbled fat.
The ultimate wagyu from the Matsusaka Region of Mie Prefecture, comes to the United States Beef Market for first time in its history and they chose the city of Orlando for the first stop.
Eikei Suzuki, Governor of Mie Prefecture and Eiichi Ishigaki, Vice Governor of Mie Prefecture brought the team to the Conference. Local VIPs at the event included Walt Disney World Resort, Dragonfly Robata Grill & Sushi, IACE Travel, Kobe Japanese Steakhouse, Matsuriza Taiko, Mitsukoshi at Disney Ecpot, Rangetsu, SHOGUN Japanese Steak House and the 1st Oriental Supermarketm with local media including the Orlando Weekly and Asia Trend Magazine.
Matsusaka Beef is one of Japan's most famous and popular beefs and is widely acknowledged as the finest beef Japan has to offer. In July 2013, a leading Japanese Economic Newspaper reported that, according to a Beef Industry Market Survey, Matsusaka Beef was recognized as the most popular brand of Japanese Beef.
Photos: C.K. Lau (To view the photo album, visit www.facebook.com/asiatrend)
Matsusaka Beef production takes place in central Mie Prefecture, nearly the center of Japan. In Mie Prefecture there are many world famous destinations such as the Suzuka Circuit, which hosts the Formula-1 Japanese Grand Prix, and the home of Ninja Clans from ancient times. The Ise Grand Shrine, one of Japan's most sacred places, was visited by the United States Ambassador to Japan, Caroline Kennedy, in the spring of 2014.
By definition, Matsusaka Beef cattle can only be cultivated from virgin female cows of the Japanese Black Wagyu variety that have spent the majority of their lifespan, up till the time of slaughter, in Matsusaka City and its surrounding area and are registered under the Matsusaka Beef Identification and Management System.
Some Cattle Farmers provide beer to cows to stimulate their appetites and give them thorough massages in order to improve blood circulation and encourage even fat distribution. Many farms raise their cows in individual rooms so they can be finely managed and assure a comfortable, stress-free life for their cows.
Even among the already high-quality Matsusaka Cattle, only those born in specific areas, brought as calves to Matsusaka, and fattened for a period of 900 days or more qualify as "Special Grade Matsusaka Cattle."
Only Special Grade Matsusaka Cattle are eligible for the Matsusaka Cattle Prize Show, an Annual Cattle Show which determines the "Queen of Matsusaka Cattle" excellence award. Each year the auction price of the winning cow receives a lot of attention from the media and the highest auction price to date was in 2002, for ¥50,000,000 (approximately $500,000).
I tried the four Menus Prepared and Served for Tasting Purpose
1. Matsusaka Beef Yakiniku (Japanese Barbeque)
2. Matsusaka Beef Steak (Bite-Sized Cuts)
3. Roasted Matsusaka Beef
4. Matsusaka Beef Tataki Nigiri Sushi
5. Matsusaka Beef Shigure-ni (Simmered Beef)
Comments