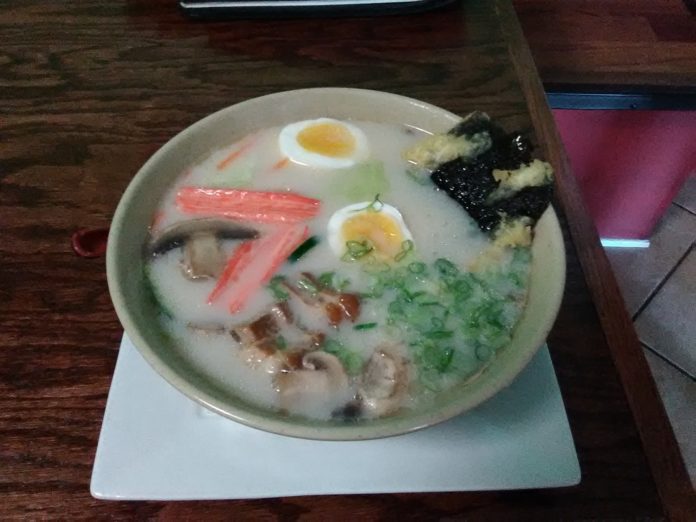 Walking into the small venue, I hear voices and see bodies moving. Suddenly, I am being hugged.
I later learn that it's the owner, Mimi. She's of shorter stature but I can tell right away that she has a spirit of immense strength and grace. We talk a bit regarding the Friday rush and I'm introduced to Melissa, her manager. A bit taller with a scarf wrapped around her head, she walks with the vibe of an organizer. After arranging a meeting, Melissa introduces me to the chef at the sushi bar, Ken-san. He stands tall in his white chef uniform smiling broadly. Behind him the kitchen is a blur.
In fact, everybody is smiling despite the weekend rush. Looking around the restaurant, I see that every seat is filled with a diverse crowd. Families, older couples, students, and friends were talking nonchalantly as if at home.
Melissa and I exchanged contact information to arrange a meeting at a slower time. Walking out of the restaurant after a few minutes, I understood why their ratings were so high. They had that elusive "thing" most small businesses never attain with their customers. Looking up at the full moon, I smiled knowing I had found somewhere special.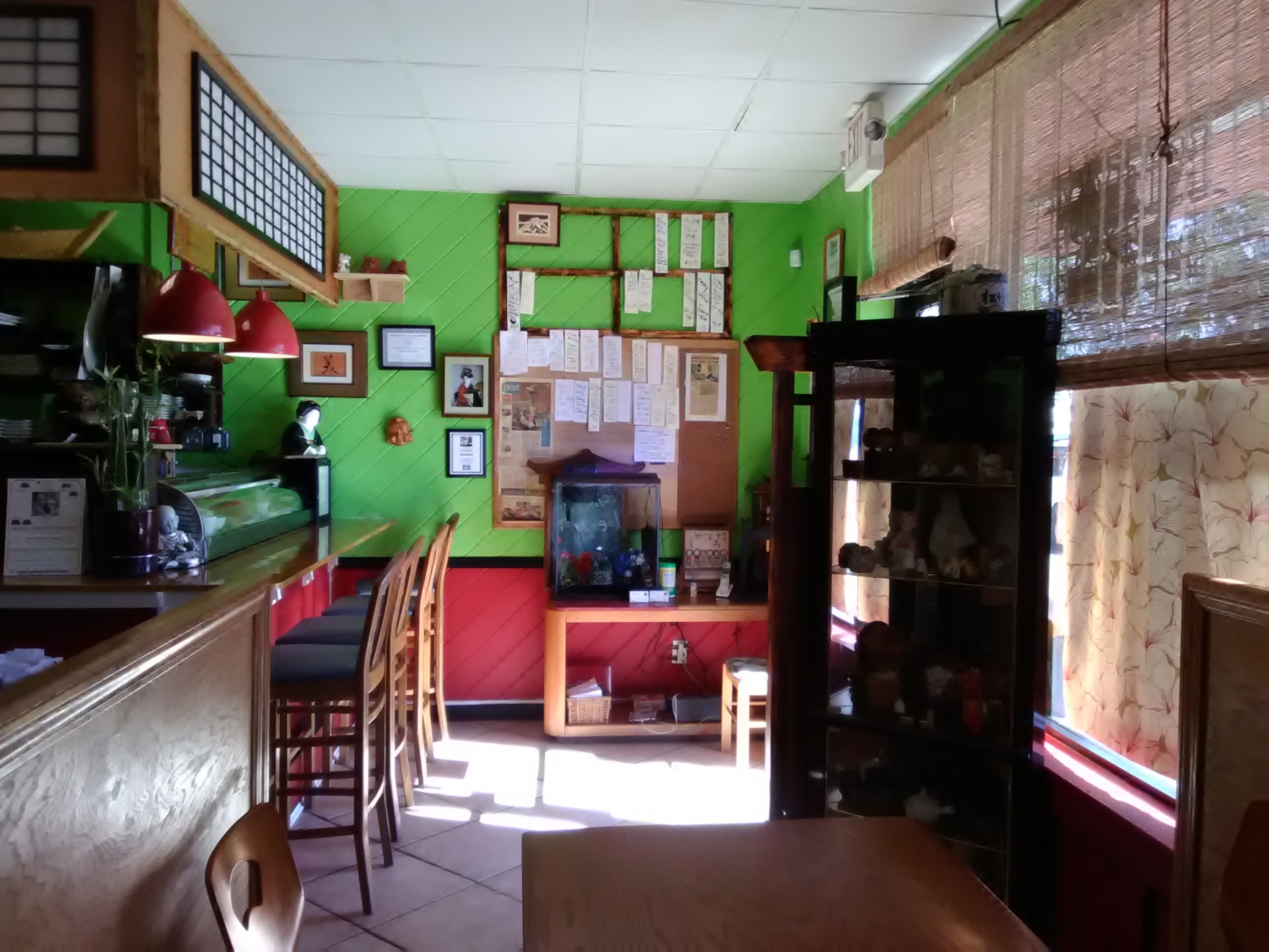 History
When I went back to meet with Melissa before the restaurant opened, I realized that the walls were green. The color and layout left a certain subtlety that gave the atmosphere warmth. We began to talk about the history of Irashai and what it means to the community.
The owners, Mimi and Ken, ran a 250-seat restaurant in Greenville, South Carolina for close to 15 years. After a longtime success, they sold it to an apprentice and moved to Palm Bay to retire. But Ken is an artist. Used to creating and experimenting with dishes daily, he got restless at home. After a few years, the two embarked on a smaller adventure and built what they refer to as their "retirement restaurant," Irashai 2.
Melissa has known Mimi for ten years. Their first encounter left quite an impression. As neighbors, Melissa would see Mimi leaving and going her house often. One day Mimi introduced herself at Melissa's doorstep with lobster in her hand. Applying some of her signature Hell Sauce blew Melissa and her brother away. From then, their relationship grew.
After the grand opening of Irashai 2 in March 2015, Mimi invited Melissa to work as a manager. True to Mimi and Ken-san's style, relationships were everything.
Happy Place
Ken-san and Mimi have one goal in mind when it comes to their food: to make people happy. They pride themselves on how their customers treat the space as their home.
People in the Palm Bay area have come to love and honor the space at Irashai 2. Regulars go for the food and conversation. Whether it's at the sushi bar or the table, the owners and staff are never too far away to have a chat.
Some of their hardcore Grenville fans and supporters have even stopped by while in Florida. It seems that Irashai leaves you more than just physically full.
Which brings me to my meal. Per Melissa's recommendation, I had the Tonkotsu ramen. After living in Japan for three years, my expectations were low.
Case after case, I had tasted Japanese food appealing to the taste buds of Americans. Although no connoisseur, I was usually disappointed. I understood the compromise from working in my dad's Jamaican restaurant as a child. There was always something off about the restaurant jerk chicken compared to what we had at home.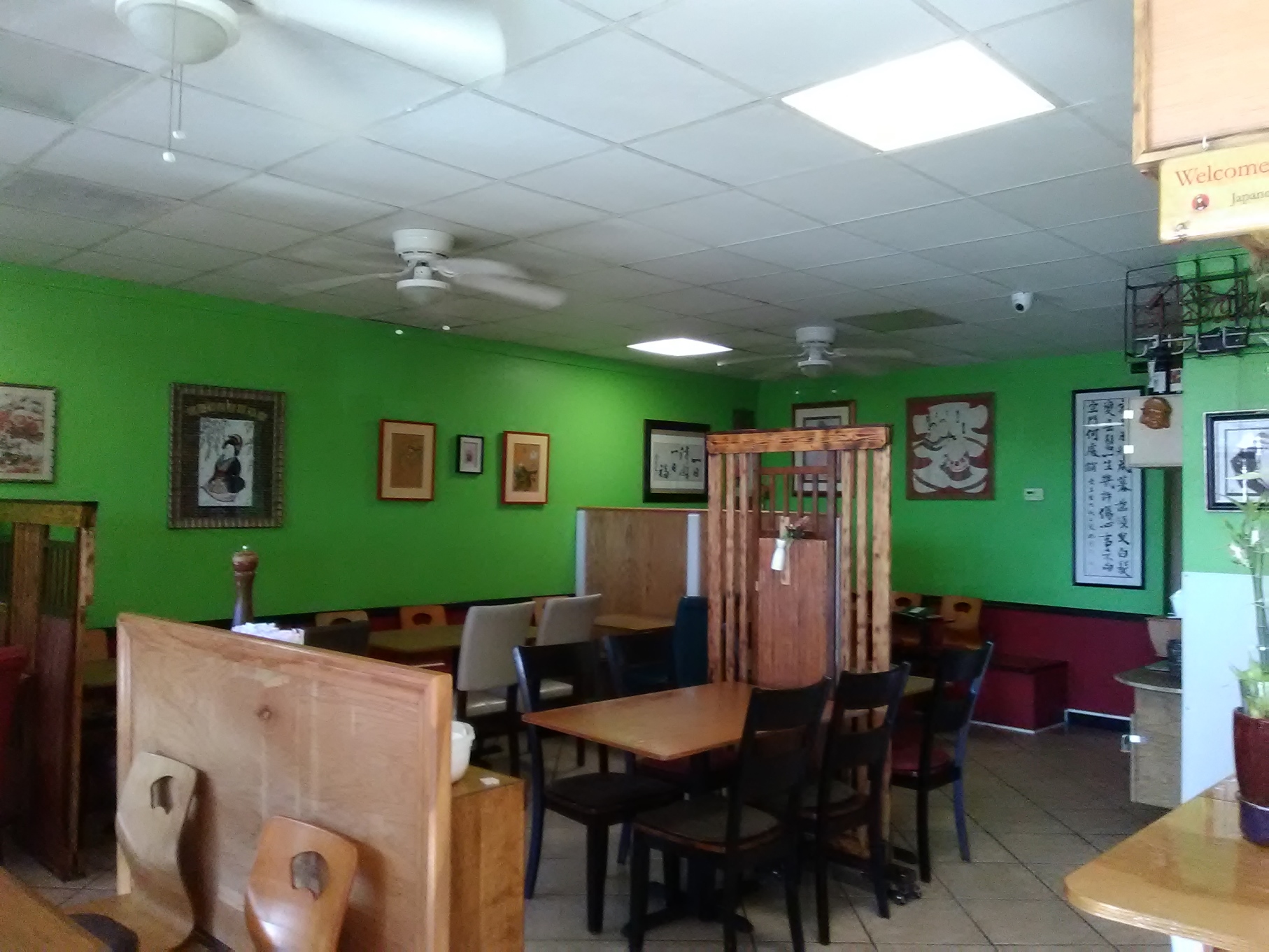 A Benevolent Hell
Altering your taste for the customer make sense in a business setting. You adapt to what your customers are used to and expect. But when I put that soup to my lips, I was in for a surprise.
The broth was a perfect balance of flavor and not too oily. The pork was cut into manageable pieces and seasoned to a nice finish. The noodles were not too hard nor soft, and had the right taste. I felt like I was back in Japan.
After finishing most of the contents, Melissa brought me a small dish of Mimi's renowned "Hell Sauce." Made from various fresh peppers and some other secret ingredients, it had a faint orange glow. I took the plunge and added a bit of the spice to the broth. Drinking it in, I realized that the sauce deserved the moniker. I had stepped into a benevolent hell.
The tonkotsu ramen is a popular item at Irashai 2. Many of the local FIT students and Harris employees will drop by for lunch. Complete with the typical pork bone broth, pork belly, scallions, nori, veggies and boiled egg, this is the perfect lunch for someone short for time. It was the first time I ate crab and mushrooms in ramen, and surprisingly it added a great taste to the soup.
After finishing all the contents, noodles and all, I drank the remaining broth and let the heat emit from the top of my skull. Soaking in my deep satisfaction, I looked at the menu. The ramen is reasonably priced at under $11 considering the high quality of the soup.
Community
Mimi is keen on supporting the community she lives in. During her 15-year stint in South Carolina, the first Irashai was a haven for hundreds of people. Her previous customers have even dropped by while in Florida to pay homage. Now, in Irashai 2 she provides a resting spot for the retired and non-retirees alike on the Space Coast.
Donating to schools and charities in the area, Mimi makes sure that Irashai is present at local events. She keeps her finger on the pulse of what's going on around her. It's clear that Irashai has had success over the years for both their food and atmosphere. Walking into the doors into a warm Mimi hug is walking into the Irashai family.
The entire repertoire
The specials at Irashai 2 change daily. As mentioned before, Ken-san is an artist. He constantly works on his craft by creating new dishes to wow his customers. Classically trained in French and Italian cuisine, he isn't afraid to experiment with traditional Japanese food. Despite this, Irashai 2 does have a few select dishes that continue to be the favorites among locals.
Popular dishes:
Dragon Chicken: katsu nuggets tossed in sweet & spicy sauce known as Dragon Chicken.
Godzilla Roll: tempura fried maki roll containing tuna and avocado topped off with Hawaiian unagi and hot sauce.
Jumping shrimp: shrimp tempura served with avocado, ebi, wasabi, and scallions drizzled with Hawaiian & unagi sauce.
Ken-san will sometimes tempura each individual piece of the roll upon customers' request. At Irashai, experimentation is key. Ken-san has proved time and again that he will go out of the way for his customers.
Lunch hour runs from 11 – 2:30 and you can make the meal a bento box for $2.00 more. You can walk out of Irashai full and content for a $15 meal.
Return to the love for Japanese creation
I have found a new spot at Irashai 2. It has all the requisite things I need in a restaurant. The food leaves you content in quality and quantity. Most of all, you have a sense that the staff care about their patrons. They go out of their way to show hospitality and ensure everybody is enjoying themselves.
My short time at Irashai 2 reminded me of the saying, 「一期一会」(ichi go ichi e). Roughly translated it embodies that one fleeting moment you have with others. Mimi, Ken-san, Melissa and the rest of the Irashai family embrace you as if it's the last time they'll see you. Even so, in the spirit of their name, they look forward to welcoming you with Irashai one last time.
Go to their website to see more: http://www.irashiai2.com/
Comments