TING about it! WHAT IF we could play games and change the world around us?
WHAT IF we could build up a global database of tech and innovation companies and encourage startups to be part, learn from one another and to collaborate?
THE PROBLEM:
In the digital age people disconnect from themselves and from one another.
THE SOLUTION:
TING – THE INNOVATION NATIONS GAME – A serial of game competitions focusing on students and entrepreneurs.
It is obvious that countries should be building databases to map their startups. Hence, it is most likely that there is a need to map and 'link the dots' on a global scale.
TING competitions promote cooperation on a global scale.  
TING reunites innovators and creators in a game that is all about innovation, fun and creativity.
OUR GOAL is to provide a platform for students,  investors, entrepreneurs, startups and consumers together, to promote technology. We aim to develop the knowhow, stimulate curiosity and to inspire students and entrepreneurs worldwide with entertaining yet educational game competitions, communicating the innovations and technologies originating from the top Innovative countries.
We are going to hold international rounds of the competition in strategic cities located on the top Innovative countries, with the aim of bringing top entrepreneurs and cutting edge  technology to Israel.
The State of Israel is a home to many scientific and technological innovations. Many inventions, scientific discoveries and technological developments originating in Israel have received worldwide acclaim. As for that, Israel has been named as the State of Startups and Innovation. Along with the more familiar developments such as cherry tomatoes, a dripping irrigation system, disk-on-key, PillCam, Copaxone for treatment of multiple sclerosis, Intel chips developed in Israel, ReWalk an exoskeleton that allows disabled people to get up and walk. There are, of course, less known developments for the general public that have made a tremendous contribution: a robot for back surgery, a method for activating immune cells to treat cancer, a technology for early diagnosis of diseases through oral anesthesia, drugs for the treatment of Alzheimer's and Parkinson's disease, The discovery of the self-organization of bacteria, the development of muon detectors used by the LHC particle accelerator at CERN, the Venus satellite for environmental monitoring, and more.
The Trillion Dollar Question About Israel is…
How is it that Israel – a country of 7.1 million, only 60 years old, surrounded by enemies, in a constant state of war since its founding, with no natural resources—produces more start-up companies than large, peaceful, and stable nations like Japan, China, India, Korea, Canada, and the UK? How is it that Israel has, per person, attracted over twice as much venture capital investment as the US and thirty times more than Europe? – Startup Nation, 2009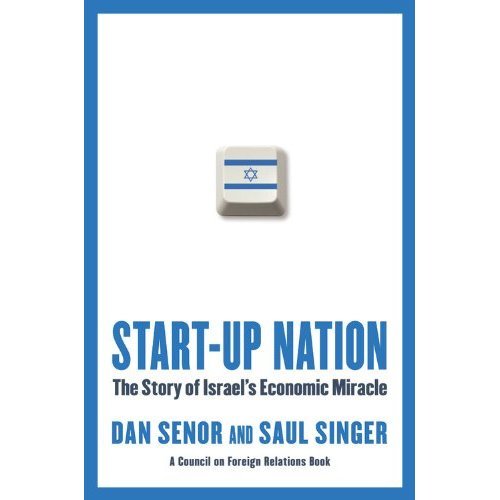 Inspiration is all we need, we inspire and get inspired by each other… Since the publishing of the Book Startup Nation there has been much taking place in the Israeli Economic scene, just in the last few months there has been so much:
Mobileye – Advanced Driver Assistance and Warning Systems. Acquired by Intel for $15.3B in 3/2017
Netafim – Drip and Micro-irrigation Systems. Acquired by Permira Funds LLC for $1.05B in 12/2011. In August 2017 Mexican chemical firm Mexichem (MEXCHEM.MX) acquired 80% of Netafim for $1.5B.
NeuroDerm – Liquid Drug Formula for Parkinson's Disease. Acquired by Mitsubishi Tanabe Pharma Corporation for $1.1B in 7/2017
Israel's Entrepreneurial Spirit
"The Israeli Chutzpah": The absence of hierarchical barriers promotes innovation at all levels of a company.
Jewish Studies: Questioning and Challenging (Passover: Hagada)
Israelis have the ability to cope with isolation and resources scarcity
Democracy – Culture of transparency
Melting Pot: Israeli immigrants from more than 90 countries
Problem solving approach
"A network of entrepreneurs and startups in the Innovation Nation": Israel has the highest amount of startups per capita in the world
Israel's R & D centers are widely recognized worldwide
Israel is blessed with an exceptional entrepreneurial workforce, Israel is ranked 3rd in the world (IMD index)
Israel is ranked 1st place for business entrepreneurship in the world by IMD (2009)
THE INNOVATION NATIONS GAME – ISRAEL
The goal of the TING game is to provide quality pleasurable time, and to enlighten and make science available to the public all over the world. The examples described in the game constitute only a small part of a magnificent list of Israeli inventions that changed the world. Each card can be linked to Startupnationcentral.org , a comprehensive and up-to-date database of Israeli technology companies. I hope you enjoy this game and that it will inspire you to explore and develop innovative products and technologies that will change the future of all humanity for the best.
Wish to expend your horizons and to find out which are the future Israeli start-ups and technologies to change the world? So go ahead and join us in the TING game to learn more of the Israeli innovative market to find out the secret of its success, and challenges for the future.
To find out more info, contact:  [email protected]   
As we join together, forming networks of human concern about the future, we will find the strength and wisdom needed to create a better future for all.
Raising humanity on a new path
It all starts with YOU!
With playful regards,
Galorian
Comments