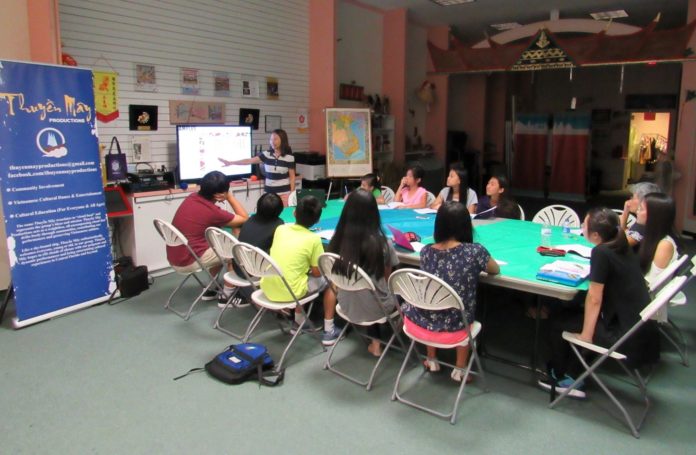 In the early morning, tinkering sounds can be heard from the parted doors of the Asia Trend Community Learning Center / Y.E.S.S. Center FL. Underneath the buzzing of a standing motor fan, a few students and their instructors set up tables and chairs for the first day of class. Far in the back of the center, a lunch area had also been set up. With a little rice-cooker whistling a jovial tune in place of a school bell, summer camp had begun.
From June 12th – 16th, Thuyền Mây Productions offered a 5-day summer learning program open to students of all ages. Registration day seemed very much like a friendly reunion at the first day of classes. As students signed in and chose their notebooks, lively chatter whirled through the center accompanied by the creaking of chairs that were quickly occupied.
The Vietnam Arts and Culture Summer Camp covered a variety of topics—from history to crafting projects and cultural dances. Students took part in a lecture-based class about the many facets of Vietnam—traditional attire, foods, language—while scrawling notes, eyes narrowed to the PowerPoint presentation on the monitor. Names such as An Nam (one of Vietnam's former names) or Vua Hùng Vương (the first Vietnamese king) arose throughout the lecture, along with discussions of legends and mythical figures (e.g. Âu Cơ and Lạc Long Quân). Students were also acquainted with quick facts about relevant living Vietnamese-Americans such as author Viet Thanh Nguyen and NASA astronaut Eugene Trịnh.
Student involvement and participation was always at the forefront, as the class shared their own experiences, whether it be about the origins of their surnames or traditional Vietnamese recipes and foods they were familiar with at home. During the lecture on traditional attire, students even volunteered to model in their own outfits for the class. The lecture about Vietnamese cultural holidays, such as Tết (Lunar New Year) and Lễ Vu Lan (Mother's Day), sparked a discussion about celebratory customs unique to each family.
After daily lectures, an allotted time for arts and crafts gave students some time for hands-on activities as they learned how to make wooden vases and papercraft flowers that bloomed in a little box at the center. Before the highly anticipated lunch break, students participated in a traditional dance class, learning the song Đi Cấy. During practice, students could offer their own ideas and discuss choreography points that they liked or did not prefer, learning about team effort and compromising in the process.
As lunch break followed, students flocked to the lunch area, the atmosphere reminiscent of traditional Vietnamese family meals (bữa cơm gia đình). In addition to their packed lunches from home, students and instructors also prepared extra pots of rice each day at the lunch area while parents took turns cooking a traditional Vietnamese dish at home, bringing it to the center to share as a main entrée. After the cheerful atmosphere lulled slightly from post-lunch lethargy, it was time for the second class—Professional Communication for Students, also known as ProfComm.
ProfComm took place from 2 pm to 5 pm and was a class geared towards college-prep and daily communication for middle- and high-schoolers. With in-class individual and group assignments, ProfComm was a highly interactive class that allowed students to work with their instructor to draft their own résumés, portfolios, school applications, and personal statements.
Thuyền Mây's first summer camp commenced with an awards ceremony for students who received certificates recognizing their program completion. Students from the Vietnam Arts and Culture class decorated gift bags for their flower vases and had a recap Q&A session about course material, while middle- and high-schoolers from ProfComm read and presented their own personal statements to the class. As a fun final project, the choreography for Đi Cấy was completed and recorded outside of the Y.E.S.S. Center. The video can be viewed on Thuyền Mây Productions' YouTube channel.
In the present day, it is extremely important to foster a deeper understanding of one's cultural heritage while learning to properly communicate to the professional and educational worlds how these qualities are unique to Vietnamese-Americans. As fast-culture persists, many Vietnamese-Americans have assimilated into more westernized cultural paradigms or more noticeably experienced the balancing of their double-consciousness as Asian-Americans. While saying "I am Vietnamese" is true, Thuyền Mây Summer Camp encouraged students to explore and understand why and how they are Vietnamese through the colorful history, culture, and language of Vietnam.
Thuyền Mây Productions is a Vietnamese cultural community that enthusiastically welcomes everyone, young or old, to their group. Thuyền Mây hopes to rift clouds of silence with their poignant and dynamic performances while promoting and preserving Vietnamese culture through arts, education, and other activities.
Comments