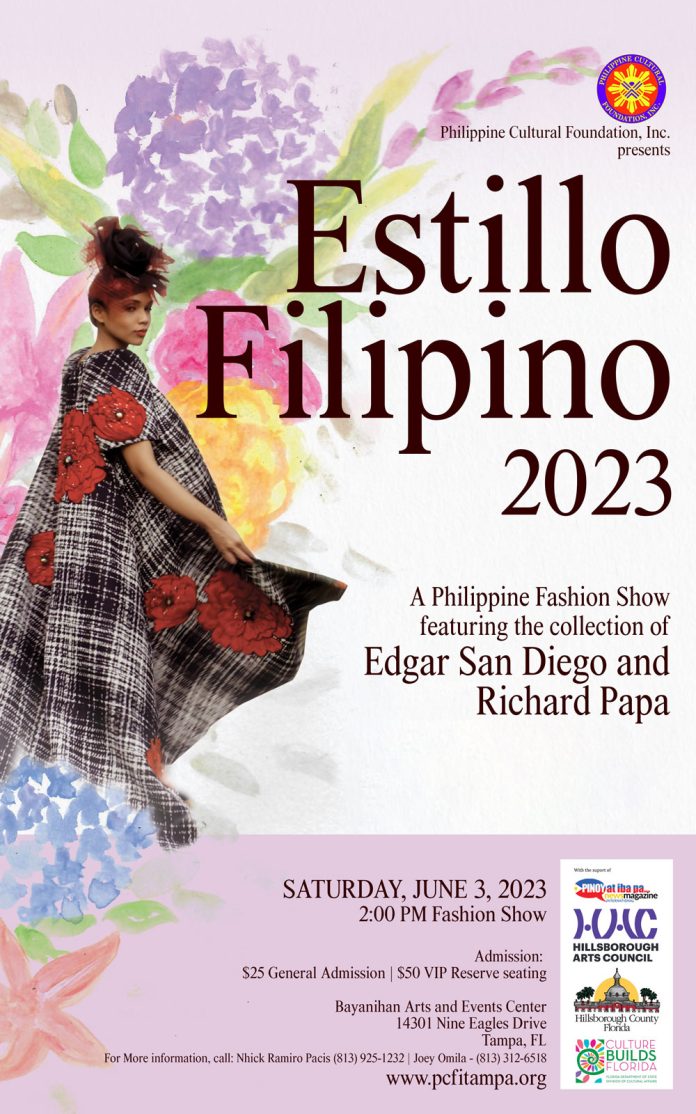 The Philippine Cultural Foundation, Inc. presents "Estillo Filipino 2023" (Philippine style), a Philippine Fashion Show featuring the collection of Edgar San Diego and Richard Papa, on Saturday, June 3, 2023 at 2:00 PM. Tickets ae $25 and $50.
Philippine designers Edgar San Diego and Richard Papa, two top Philippine designers will be in Tampa to show their fabulous collection of Philippine and haute couture fashions at the Bayanihan Arts & Events Center at 14301 Nine Eagles Drive, Tampa, on Saturday, June 3, 2023, starting at 2 pm. The show will feature more than fifty fabulous collections of both Filipiniana and haute couture.
Members of the Philippine community will parade the collection as guest models helping to raise funds for the Philippine Cultural Foundation, Inc. (PCFI). The collection will be available for viewing an purchase right after the show.
Edgard San Diego will also feature his unique gowns using modern technology of printing some of his paintings and incorporating them in his fashions. "With today's technology, everything possible." San Diego says. While Richard Papa will feature his elegant Filipiniana gowns and modern fashions. Both will also feature their collection of Barong Tagalog.
Fashions enthusiasts do not miss this show! For more details, Lissa Biglete at (813) 909-6470 or Joey Omila at (813) 312-6518 or call the Bayanihan center at (813) 925-1232.
Comments