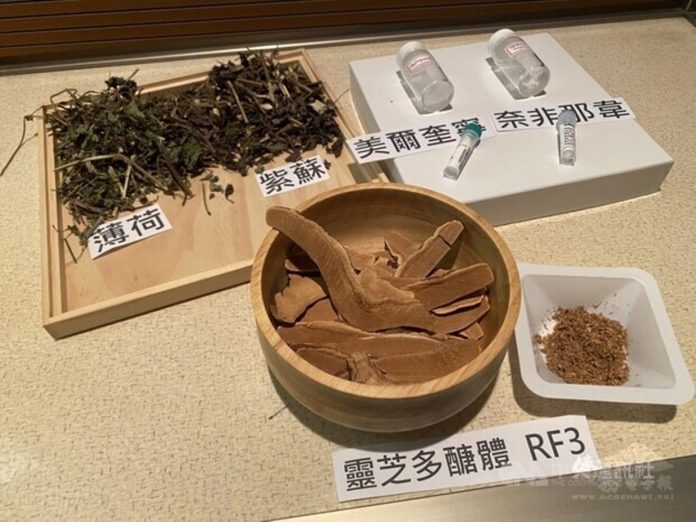 Taipei, Jan. 27 (CNA) Scientists at Taiwan's top research institute Academia Sinica said Wednesday they are honing in on three traditional Chinese herbal medicines and two prescription drugs that have shown promising results against the COVID-19 virus in laboratory studies.
The two prescription pharmaceuticals are the anti-malaria drug Mefloquine, which was the most effective one in the study, and the HIV treatment Nelfinavir, said Hung Shang-cheng, one of the leading researchers, at a press conference.
Promising results were also obtained with the Chinese herbal medicines Ganoderma lucidum, a kind of fungus; Perilla frutescens, a plant more commonly known as perilla; and the mint species Mentha haplocalyx, Hung said.
In a study that started last April with 2,855 drugs and extracts of 190 Chinese medicines, the researchers at first narrowed down the field to 15 and later to five that were found to be effective against the COVID-19 virus in hamsters, he said.
The hamsters were first infected with SARS-CoV-2, the virus that causes COVID-19, then divided into groups that were give the five different medicines, he said.
Those that were given Mefloquine were found to have 90 percent less of a viral load in their lungs than those in the control group, which were not given any treatment, Huang said.
Among those that received Nelfinavir, Ganoderma lucidum, Mentha haplocalyx and Perilla frutescens, the viral load was 60-80 percent less than in the control group, he said.
The Academia Sinica research team is hoping to work with pharmaceutical companies to conduct further studies of the medicines, moving the research to COVID-19 patients, said Hung.
Liang Pi-hui, a professor of pharmacy at National Taiwan University who was also one of the researchers, said that while the five medicines showed promising levels of effectiveness, the team had not been able to determine exactly how the treatments inhibited the SARS-CoV-2 virus.
The results of the study were published Jan. 15 in Proceedings of the National Academy of Sciences of the United States of America, a peer-reviewed journal.
Comments