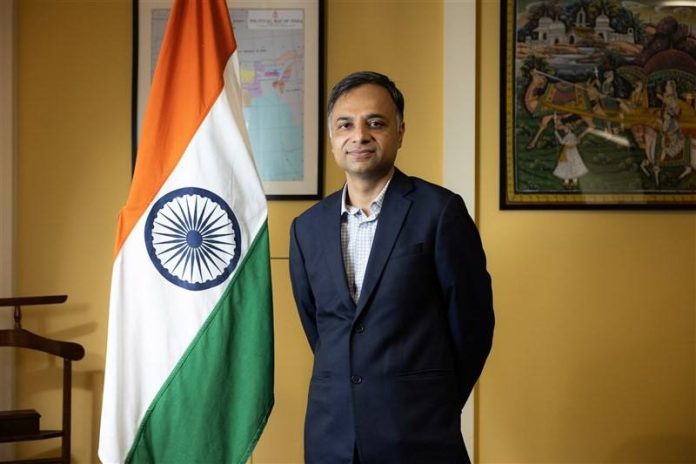 India's new representative to Taiwan Manharsinh Laxmanbhai Yadav is hoping the two sides' complementary strengths and shared values and interests will provide a solid foundation for deepening ties and cooperation for years to come.
Yadav, who took over as director-general of the India Taipei Association (ITA) in August, told CNA in an interview in late September that he was honored to be chosen to head the ITA, which represents Indian interests in Taiwan in the absence of official diplomatic ties.
He joined the Indian Foreign Service in 2007 and has previously been stationed at India's United Nations Office in Geneva, India's embassy to the European Union, and its U.S. embassy.
He most recently was director of the Prime Minister's Office from 2018 to 2023, where he assisted Narendra Modi and other senior officials on issues related to foreign policy, defense, and science and technology.
In his first month in Taiwan, the representative said he has found many common values shared by the two sides.
"The place [Taiwan] is extremely open. It's free, pluralistic, and it has great respect for other cultures," he said, which are all shared qualities with his home country.
He also learned that Taiwan and India have both prioritized smart solutions and manufacturing, digital and green transformation, and the cultivation of a talented workforce, adding that both share "a similar vision for the future."
Beyond these shared values and goals, the two sides also have complementary strengths, the envoy said, pointing to Taiwan's leading role in hardware, especially semiconductors, and India's strong software sector that provides high-quality IT services worldwide.
Yadav also noted that Taiwan has a need for skilled workers, and India has a young and talented workforce and serves as an international hub for engineers.
These factors make India and Taiwan "natural partners," he said, suggesting that Taiwanese high-tech companies, including in the semiconductor sector, should invest in India, which produces more than 1 million engineers a year.
It is also the right time for the semiconductor industry to consider India because it is now the fifth largest economy and offers an ample market for semiconductor goods, he said.
Another area for potentially closer cooperation is space, the envoy said, in particular after India became only the fourth country to complete an intact landing on the moon earlier in September, after the United States, the Soviet Union and China.
Yadav said his country has an extremely "market-friendly" space program that has already helped several countries successfully launch satellites.
"I see a good area for cooperation between the Indian private sector and Taiwanese private sector in building satellites."
Meanwhile, asked about Taiwan's new office planned for Mumbai, the representative said the decision was a "very good move."
He said having a Taipei office in the financial capital of India will be beneficial for both sides in boosting bilateral economic, people-to-people and cultural exchanges.
Taiwan's foreign ministry has said that it was hoping to open the office, its third in India after those in New Delhi and Chennai, later this year.
On a more personal note, Yadav told CNA that as somebody passionate about travel, he is planning to visit every part of Taiwan during his time at the ITA, including climbing Taiwan's highest mountain, Yushan.
He said he has already fallen in love with riding YouBike in Taipei, a public bicycle rental system that is extremely popular in the capital city, and has probably already used it to cover 100 kilometers on the road.
Yadav said the system was reasonably priced and easy to use with stops everywhere. "I'm hoping to take this best practice back to India," he said.
Yadav is taking over as head of the ITA following the departure of predecessor Gourangalal Das, who left the office in July after a three-year tenure.
Comments