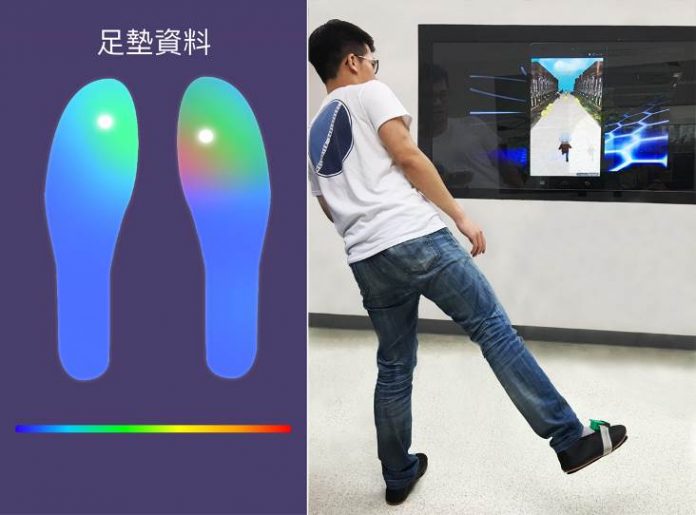 Picture Description
By integrating smart footwear devices with the specifically designed APP providing podiatric pressure analysis data (left) or with rehabilitation games (right), III developed "Smart Footwear Platform-SaFePlay" makes rehabilitation no longer boring. 
According to the analysis report of III Market Intelligence & Consulting Institute (MIC), smart clothing is regarded as the ultimate wearable device application. In 2017, the total sales volume is expected to reach 3,300,000 pieces and the smart clothing market in 2021 would have a chance to grow 6.5 times with a total volume up to 21,600,000 pieces.
The report also points out that in terms of wearable devices, smart insole and knee brace are all included in the definition of smart clothing.  Further, if we take the famous sport brand Adidas for example, the company launched miCoach Elite System in 2013, which is referred to as the first system that instantly links biomedical data to tablet PC systems so as to initiate the trend of sport data analysis. In addition to exercising, smart clothing that integrates the function of physical condition measurement has gradually won the favor of medical clinics, care institutions, and industrial organizations and been introduced into actual realm. In the near future, the new models and services for medical treatment are expected to be created.   
SaFePlay consecutively wins Red Dot Design Award and WITSA Innovative eHealth Solutions Award
Conducting under the special project supported by Department of Industrial Technology (DoIT), Ministry of Economic Affairs, III Digital Service Innovation Institute (DSI) developed Smart Footwear Platform-SaFePlay. After consecutively winning Red Dot Design Award in Germany and Innovative eHealth Solutions Award from WITSA which is also known as the Olympics in the information technology domain. In August 2017, III received the notification from the organizer of R&D 100 Awards that the platform was nominated once more into the finalists. The technology stood out from the rigorous competition with more than 1,000 new technologies being evaluated. The award ceremony is scheduled on November 17, 2017 (EST) in Orlando, U.S.A.
An Inspiration from Ball Playing Induced Knee Injuries to Develop New Opportunities.
"Once, when I was playing basketball, I felt uncomfortable at my right knee. Afterwards, I was diagnosed  Chondromalacia Patellae (CP) by my doctors because of long term over exercising and forced to start a life which requires me to routinely go back to the hospital." It was so unbearable not being able to exercise at will for half a year that Shih-Yao Wei, Leader of the Research and Development Team of III Digital Service Innovation Institute (DSI), transformed personal experiences into research and development motivation and presented "Smart Footwear Platform-SaFePlay". By this platform, he expects to break through the restrictions resulted from rehabilitation space and equipment and provide users motion monitoring auxiliary tools which are approximate to traditional bio-mechanical measuring equipment. Further, the device could assist doctors to instantly monitor the physical conditions and rehabilitation processes of their patients.            
SaFePlay is different from present-day lower limb gait measuring equipment focusing on knees and footplates which mostly relies on large scale fixed gait experiment equipment to carry out experiments and rehabilitation tracking. Therefore, patients are travel worn because they need to visit the experiment center in person. Furthermore, rehabilitation centers are burdened with high cost for professional physical therapists, rehabilitation fields, and equipment. III research unit teamed up with various units led distinctively by Professor Yi-Ping, Hung from Graduate Institute of Networking and Multimedia, National Taiwan University, Chief Doctor Jung-Sen, Yang from Department of Orthopedics, NTU Hospital, Professor Jung-Tang, Huang from Department of IME, National Taipei University of Technology, and Professor Chun-Chung, Chen from Department of Physical Therapy and Assistive Technology, National Yang Ming University so as to break through the constrains of traditional devices. The research team integrates wearable devices, podiatric bio-mechanic analysis, and feedback technologies. By attaching sensing elements to smart insole and smart knees braces and connecting these wearable devices to specially designed APP linking directly to cloud platform, the system could provide immediately bio-mechanic analysis feedback information and integrate it with rehabilitation games to increase users' willingness to rehabilitate.
It is worth mentioning that III proactively collaborates with various organizations ranging from sports equipment/ brand/ assistive device companies, medical care units and assistive device firms as well as hardware companies in the hope that SaFePlay will be introduced into professional working fields. It is expected that these devices could be promoted by professional experts in the first place and then cause a stir in health concerned and sports groups so that the upgrading of information analysis service and manufacturing industry could escalate to another level with the excellent integration between hardware and software improvement. In the future, the research team will gradually develop various personal applications on the basis of smart sensing technologies and further work with related industries such as health protection, medical care, sports, gaming rehabilitation, insurance, etc. By leading the innovation of hardware services through software value adding, a more mature wearable device market is currently merging.
Comments