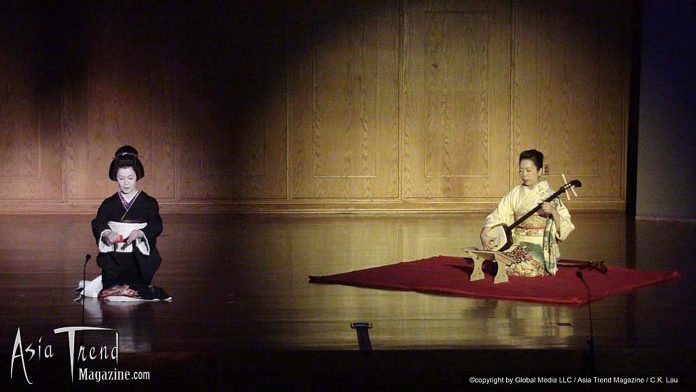 A Relief Concert for Japan
The last public solo recital by a professional Japanese Koto/Shamisen player, Ms. Tomoko Kawahara was held at the fine Arts Concert Hall of the Seminole State College on June 4th.
She collaborated with three local Japanese artists to showcase her mastery of Koto, a traditional Japanese harp-like instrument as well as Shamisen, a three-strings banjo-like instrument. She performed four classic koto songs composed by the most renowned koto player in Japan, Michio Miyagi collaborating with three Naoko Nagai and Koichi Kanaoka. She also performed the modern koto song, "Yoh" by Ryohei Hirose, which she won the National Koto Competition in Japan in 1995.
Tomoko's personal friend, Dr. Kimiko Akita, Associate Professor at the University of Central Florida along with Seminole State College Student Government Association and Professor Henry J. Woessner organized this event. Dr. Akita said, ""Tomoko awahara's performance, along with her accompanists, brought the high culture of Japan to Orlando in a successful effort to raise money to benefit the earthquake and tsunami victims," said Dr. Kimiko Akita, an Associate Professor at the University of Central Florida. "Tomoko's concert was an act of beauty in response to a terrible tragedy."
Professor Woessner praised Ms. Kawahara, "If you were one of the fortunate souls who attended this event, you more than likely walked away from there reflecting upon the near-perfection of each exquisite piece performed by a true Master of the koto. Her repertoire of musical compositions transported the audience into the very essence of Japanese culture, speaking a universal language of music, song and dance. Someone once said, 'The highest expression of Art, in the most perfect form of the Drama, is the teaching of the human heart something about itself.' For those of us who were there, our hearts indeed taught us something about ourselves. " He also applauded all participating artists from Tomoko's "creative" dance choreography executed "precisely" by Fujichiho Wakayagi to Naoko Nagai's "angelic voice" that was featured in a "stunning performance"; not forgetting the duet with Koichi Kanaoka, "a young, talented violinist who gave a mystifying performance that led to a tumultuous applause for an encore."
About 70 audiences had rare opportunity to appreciate authentic koto music. Ms. Kawahara's amazing skill was cultivated by many years' hardworks. Since the age 4, she and her sister have continued playing koto for life. Her passion and dedication were clearly presented in her performance. One of lucky audiences, Mr. Justin Kagan described his experience. "I had the distinct pleasure of spending my Saturday evening for this recital. A masterful mix of traditional and contemporary styling, Mrs. Kawahara's music elevated the mood of the room while providing the soulful tranquility only accessible through the koto and shamisen. To see a true master of her craft was not only enjoyable, but inspiring. Although I have seen and heard the koto before, I did not understand how wide of a range it was capable of until this night. Mrs. Kawahara's masterful use of the instrument's range and movable bridges was
impressive. The evening's conclusion came all too soon, but the lives of each audience member were touched forever by this gifted artist."
Due to her husband's job transfer, Ms. Kawahara will move to Denmark at the end of this year. Although, she will continue offering her performance for good cause in the rest of her stay in America, this was her final solo-recital in America. She will be missed by many of her friends and students in American.
Ms. Naoko Nagai, mezzo sopranist, sang two Japanese songs, Hatsudayori (First notice), Temari ( Bouncing ball) . She commented, "I was very honored to be a part of Tomoko's solo recital along with three outstanding performers since she was a internationally recognized Koto player. I was very impressed how deeply she dedicated herself in the music of Koto in order to deliver the best sounds to the audiences. It was also my pleasure to perform such beautiful Japanese traditional songs along the Koto since it was a rare opportunity nowdays. I sat in the concert hall after finishing my songs and watched the rest of the recital as an audience. I was amazed that not only she could play two instruments, the Koto and Shamisen, but also she could sing beautifully. I really enjoyed the variety of music Tomoko performed such as Japanese traditional, contemporary and music with other performers. "
Fujichiyo Wakayagi, Ms. Satomi Hirano, Japanese traditional dance master, dressed as a Geisha and performed the song, "Cha-ondo" (Tea ceremony) with Ms. Kawahara's Shamisen. She commented, "I met Ms. Kawahara four years ago through koto lesson. She was newly wed and I used to teased her with a pep-talk about marriage. She is usually very casual, but when it comes to koto, her attitude is very serious. I am amazed with her technique of koto. I feel very honor to collaborate with such a wonderful master
like her. I choreographed the original dance for this performance. Her shamisen and singing voice inspired me so much! I thank her to bring me such a creative experience. I will miss her immensely when she leaves at the end of this year. "
Another collaborating artist was a young talented violinist, Mr. Koichi Kanaoka, a junior student at Winter Park Highschool. He is a member of the Florida Symphony Youth Orchestra. He performed one of the most well-known koto song by Michio Miyagi, "Haru no umi" (Spring ocean). This piece is traditionally performed as a duet with koto and shakuhachi (bass bamboo flute), however for this event, it was arranged with a viola. Koichi commented, "Playing in Ms. Kawahara's concert was a wonderful experience. This was my first time playing on stage outside of an orchestra and to play with a professional musician. This made me very nervous at first but as soon as we started to play, the music opened me up. I really enjoyed making music with Ms. Kawahara, and witnessed the power of music to bring people together. Through this opportunity, I was able to mature one more step as a musician. I felt honored to be a part of Ms. Kawahara's concert and contribute to Japan's relief through my passion; music."
Ms. Kawahara, herself graciously commented, " I was very happy that I could held my own recital in Orlando. I feel very grateful for all supports from many people. Although koto is the traditional Japanese instrument, it is very versatile instrument which can create delicate to dynamic sounds in various genre of music. I hope that my performance did koto justice. I will continue to extend my repertoires and share the world of koto with many audiences in many places."
She dedicated her performance and all proceed from this event to Japan Tohoku Earthquake and Tsunami relief. Handmade candies by Candy Miyuki were also donated for fundraise. $791.10 was raised from the recital and was donated to the Japan Red Cross Society.
Comments