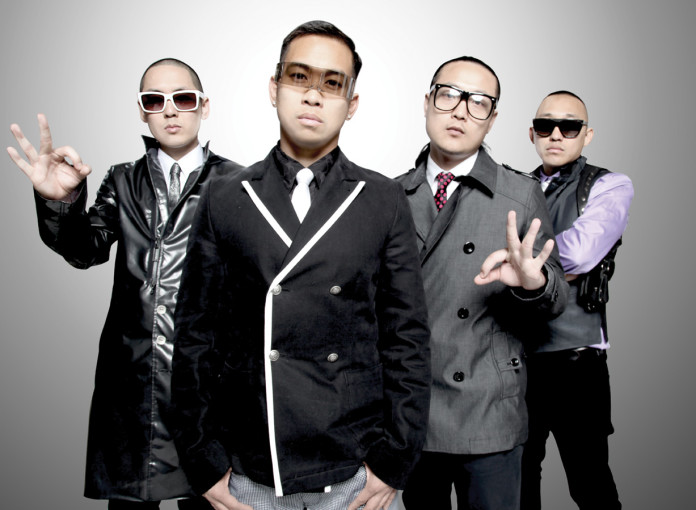 The 1st Asian American group to top the Billboard Hot 100 chart at #1 with "Like A G6"
Far East Movement (FM) is an electro hip hop group based in Los Angeles, California.  Far East Movement has the distinction of being the first Asian-American group to earn a top ten hit on the Mainstream Pop charts in America.  Their single "Like a G6" hit number one on the Billboard Hot 100 Chart and on iTunes as well in late October, 2010.
Members Kevin Nishimura (Kev Nish), James Roh (Prohgress), Jae Choung (J-Splif) and Virman Cocquia (DJ Virman) come from Japanese, Chinese, Korean, and Filipino ancestry in the Asian American community.  In early 2010, Far East Movement was the opening act for Lady Gaga's Monster ball tour. Far East Movement recently released their new album Free Wired and single "Rocketeer" featuring One Republic's Ryan Tedder, produced by The Stereotypes and co-written by Bruno Mars .
AT: Where did you come up with the name for Far East Movement?
FM: The name came from the first song we recorded in an attic in downtown LA. We lugged a huge old school computer up to a friends attic where we wouldn't disturb any one and wrote a song about what we felt was a new generation of kid livin' in LA how we live. The song was about thinking out the box, listening to all kinds of genres and letting your playlist define you, streetwear, kick culture, downtown la club life, lowridin'. It was a collage of everything that represented us and we called the song The Far East Movement. Eventually we realized that since the song described everything about us we figured it was the perfect name.
AT: Who are your greatest musical influences?
FM: Our musical influences are all over the board. That playlist would have Michael Jackson, Linkin Park, The Beastie Boys, NWA, Snoop Dogg, Tupac, Nirvana, Smashing Pumpkins, Rage Against The Machine, Beck, Muse, Hall and Oats, Outkast, Empire Of The Sun, Daft Punk, ATB, Paul Oakenfold… could keep going haha.
AT: Who are your role models and heroes?
FM: Our role models happen to be the people we work with: Martin Kierszenbaum who is the head of Cherrytree Records, an incredible music mogul, insane work ethic and understands music and the marketplace better than anyone we've met, and our managers Ted Chung and Russell Redeaux who've changed the game in their own lane with amazing business scene and work ethic as well.
AT: What can listeners and fans expect from your latest album Free Wired?
FM: For Free Wired, we set out to make an alternative pop album fusing our inspirations in hip hop, electro, pop, alt rock and anything else in our playlist that moves us to create a new Free Wired sound that represents how we live in downtown LA. Along with slappin club tracks, we pushed ourselves to switch up the tempo and fuse a slower paced hip hop track with electro synths and an alternative style hook for Rocketeer, a song about flying to make those dreams happen for the one you love. We want the listener to hear all the different layers of a Free Wired LA.
AT: Whats your favorite track from Free Wired and why?
FM: They are all equally our favorite 😉 but for sentimental reasons we have to say "Girls On The Dance Floor" since that was the song that brought us into the Cherrytree Interscope office and got us signed to the label.
AT: How does it feel to be the first ever Asian American group to be number 1 on the Billboard Hot 100?
FM: We are honored that our community is acknowledging it and proud to rep but at the same time our music and how we live was never fueled by race, we're just some everyday kids from LA, artists in LA among hundreds of thousands working for the same dream no matter the race, so its a crazy feeling to be able to rep our neighborhood as well.
AT: If you could give advice to Asian American youth today what would it be?
FM: Wild out being yourself, have faith, network and create opportunites for yourself, dream big, and surround yourself with positive people, stay free wired.
AT: From your experience, what are the most important qualities to be successful?
FM: Be passionate, have an intense work ethic, be humble, be patient, never give up.. but we have yet to see if any of this will work haha.
You can purchase Far East Movement's Free Wired on CD at a local store near you or on iTunes today.
Comments