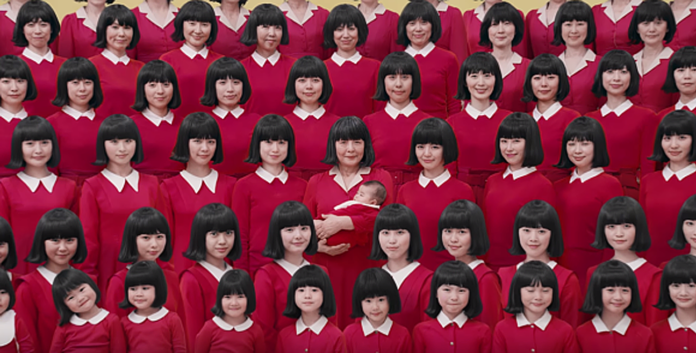 Japanese confectioner Glico new commercial video, taking its lead role and divvying it up between 72 different actresses. Why 72? Because the average life expectancy in Japan is 71.8 years, and so the video, titled 71.8-Second Life, swaps in a new actress every second (once its time-flow gets underway at the 0:14 mark), with each woman representing a different year of life.
The casting of Glico's commercial director did a remarkable job selecting actresses who, at least compared to the women who come directly before and after, look like they really could be the same person, just a year younger or older.  Each and every actress in the lead role is actually the same age as she's portraying, from the not-yet-one infant to the second-year septuagenarian who closes out the parade of life.
The video's message seems to be that life is short, but also beautiful, with the rapidly aging protagonist contrasted with a relaxed, soothing song that reminds us that precisely because there's no way to stop the flow of time, it's important to spend it with people we love.
About 100 years ago, the global average life expectancy was only 31 years. Today, it has increased to 71.8 years. The heroine, who turns a year older every second, is played by 72 actresses from 0 to 71 years old (their actual age). Please enjoy a heartwarming story. Wishing everyone a healthy life full of smiles!
Comments