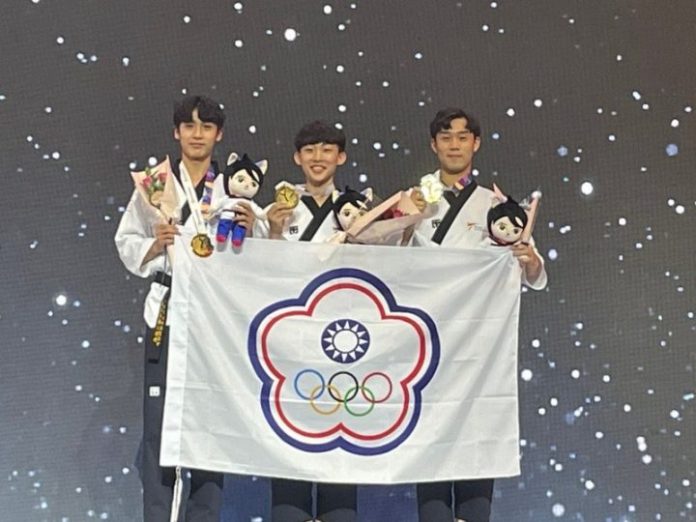 Taiwan bagged four gold, eight silver, and seven bronze medals at the World Taekwondo Poomsae Championships in Goyang, South Korea, which concluded after four days of competition on April 24.
Taiwan's 19 medals placed it second overall behind Korea with 28, including 20 golds.
All of the Chinese Taipei delegation's gold medals were won in "recognized poomsae" events, including the under-30 men's, under-30 pairs, 15-17 pairs, and 12-14 pairs.
The rest of the delegation's medals were won in "freestyle poomsae" events.
While the 19 medals the Chinese Taipei won team came four short of the 23 won back in 2018 when Taiwan hosted, the 2022 delegation acquired one more gold compared to the 2018 team.
The duo of Ma Yun-zhong (馬允中) and Huang Ping-chieh (黃品潔), who took gold in the under-30 pairs recognized event, told CNA they had overcome initial difficulties to take home the victory.
"Because we go to different schools and divisions, even our basic movements were different, and needed time to get accustomed to each other," Ma said.
Huang added that her movements lean towards the fast side, which meant that the duo worked hard on the small details of their movements.
Meanwhile, Chiou Mu-en (邱沐恩) — who, alongside his under-30 men's team teammates Chang Chen-bo (張宸帛) and Yeh Poh (葉芃), won gold on Friday against Korea — credited their achievement to camaraderie.
"We are all speed and strength types," Chiou said. "Under that similarity, we spent a lot of time building camaraderie, which I think was the key to our victory."
Chang echoed Chiou's observation and said that the trio spent six to seven hours together per day for almost two months in order to ensure their tempo and rhythm were perfectly in sync.
The golden trio will compete together again in June at the 2022 Asian Taekwondo Championships in Chuncheon, Korea, a competition Yeh said that they will do their best to win.
Comments