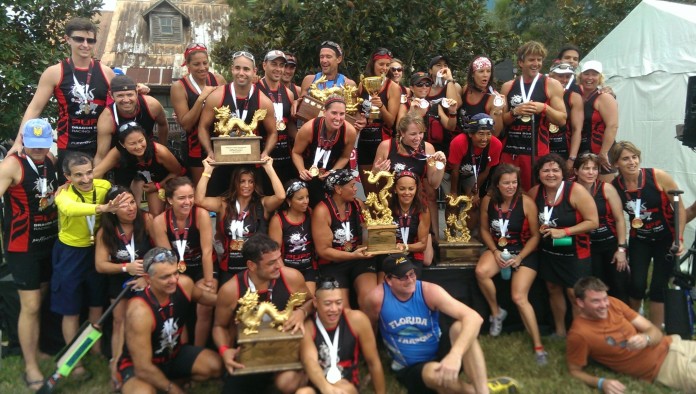 Puff is a competitive dragon boat team based in Miami since 2003.  This team has seen a steady rise over recent years, and through ongoing hard work and perseverance, is now the reigning champion in both women's and mixed divisions at the prestigious Orlando International Dragon Boat Festival, among other events.  Puff had 9 members on the latest incarnation of dragon boat's Team USA at the IDBF World Championships in Hungary last year.
Their members have ranged in age from 14 to 74, with most in the 30-50 range.  They come from all walks of life, including doctors, lawyers, teachers/professors, massage therapists, students, park rangers, IT professionals, law enforcement, small business owners, just to name a few.  They are racially and ethnically diverse, and have roots from all over the Americas as well as China, Japan, Vietnam, the Philippines, France, Hungary, and more.  Though their diversity implies differing interests, the team brings new strong friendships, and they enjoy various social activities together.  But ultimately it's the magic on the boat that keeps them coming back for more.
With so many of their members traveling the world for dragon boat events, whether it's the annual Hong Kong race season, nations' world championships, club crew world championships, or various other events, they have made very special connections across the country and the world. This network is one of the great aspects of the sport; the worldwide friendships that remain after beating each other up on the water. If they travel to places where the sport is active, domestically or internationally, there's a good chance they have some connection to a group and can go paddle with some new friends.
The Florida race calendar is extensive.  The Tampa International in April and Orlando International in October are the two big ones that all of the top competitors from Florida and beyond gravitate to, and now Puff has championships to defend.  In addition, the South Florida Dragon Boat Festival in Miami, and a series of races on 10-person boats called Synergy in Deerfield Beach, are typically on the calendar.  They try to travel outside the state for one race per year or so, and this year they are shooting for the Great White North Sport Regatta in Toronto in July.  Many Puff members are also involved in a Florida all-star team called Tarpons, which will be going to the Club Crew World Championships in Ravenna, Italy in September.
Puff is always looking for new membership, as well as new sponsors.  Whether you're a highly competitive individual with aspirationsof making Team USA, or a more recreational paddler who doesn't mind a hard workout on the beautiful waters near Key Biscayne, Puff is probably a great fit for you. If your company is looking for exposure through sponsorship, they have options from web & T-shirt placements, to a logo on our practice boat(s). Puff DBRT, Inc., is a 501(c)(3) non-profit organization. To give it a try, join their Meetup group at www.joinpuff.com to reply for a beginner practice, and/or contact [email protected] . For sponsorship, corporate team building, and other inquiries, see our main website at www.puffpower.com and/or contact fun[email protected] or captain@ puffpower.com, as applicable.
Comments