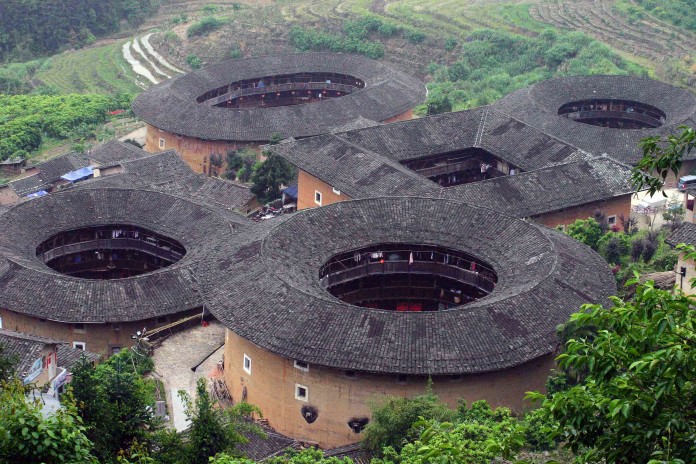 Fujian's Tulou are unique, usually round, fort-like buildings, built with a mixture of clay and sandy soil. These rare buildings were designed by the circumspect Hakka minority as large fortresses and apartment buildings in one, and were inscribed by UNESCO as a cluster of World Cultural Heritage Sites in 2008.
Because of their large, round shapes in clusters, tulou satellite images produced great speculation during the Cold War. They were even believed by Western countries to be China's nuclear missile silos!
Fujian Tulou is a property of 46 buildings constructed between the 15th and 20th centuries over 120 km in south-west of Fujian province, inland from the Taiwan Strait. Set amongst rice, tea and tobacco fields the Tulou are earthen houses. Several storeys high, they are built along an inward-looking, circular or square floor plan as housing for up to 800 people each. They were built for defence purposes around a central open courtyard with only one entrance and windows to the outside only above the first floor. Housing a whole clan, the houses functioned as village units and were known as "a little kingdom for the family" or "bustling small city." They feature tall fortified mud walls capped by tiled roofs with wide over-hanging eaves. The most elaborate structures date back to the 17th and 18th centuries. The buildings were divided vertically between families with each disposing of two or three rooms on each floor. In contrast with their plain exterior, the inside of the tulou were built for comfort and were often highly decorated. They are inscribed as exceptional examples of a building tradition and function exemplifying a particular type of communal living and defensive organization, and, in terms of their harmonious relationship with their environment, an outstanding example of human settlement.
Fujian Province is in southeast China, north of Guangdong Province, where the majority of the Hakka live, and across the sea from Taiwan, which also has Hakka in the mountains. The Hakka only built tulou in Fujian.
The Fujian Tulou are mainly distributed in Nanjing County (南靖县), Yongding County (永定县), and Hua'an County (华安县), a region about 150 km across on the Fujian-Guangdong border, 2½–3½ hours by bus west from Xiamen.
Round Earth Buildings
The round building style is the most famous tulou architecture. They usually have 2–4 floors, and with 2–3 inner rings of buildings. The most famous is Chengqi Building (承启楼 in Yongding Tulou Area), with 4 floors and 400 rooms.
Square Earth Buildings
Square buildings are mainly in Yongding Tulou Area. They can be rectangular or square. The locals call them sijiaolou (四角楼 sìjiǎolóu /srr-jyaoww-loh/ 'four-corner building(s)' ). Kuiju Building (奎聚楼 in Yongding Tulou Area) is one of the most famous square earthen buildings, with a height of 15 meters.
"Five Pheonix" Buildings
Fuyu Building
This kind of tulou is not as famous as the round and square ones. It has a stepped construction and the main building is at the highest floor, at the back. This kind of building has a beautiful layout and a strong symmetry. Fuyu Building (福裕楼 in Yongding Tulou Area) is the most famous five-phoenix-style earthen building.
Functions
Tulou had two main functions : communal living and defense. Each earth building usually holds the extended family of a single Hakka clan. These structures espoused equality and unity as family areas were the same size and shape, and everyone lived under the same roof, sharing communal areas.
Earthen buildings have comprehensive living functions.
Most earthen buildings have three or four floors with comprehensive living functions : the first floor is used for kitchens and dining rooms; the second floor is for grain stores; and the third and fourth floors are used for bedrooms.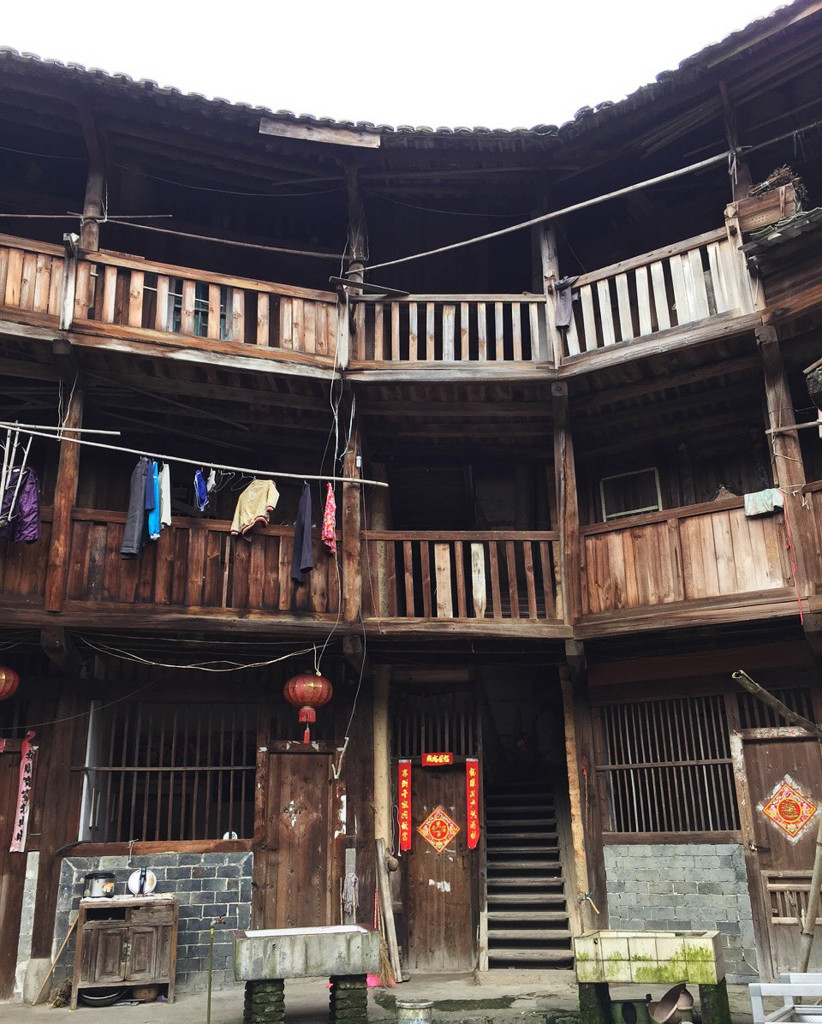 Then comes the question, do they have no communal rooms or bathrooms? In fact, most have at least three concentric rings of buildings : the out ring is the main part of the building which has been described above; the second ring is set with bathrooms, and the center is the sitting room, as well as the ancestral hall of the family.
These buildings have a good ventilation and lighting , and are warm in winter and cool in summer.
100–400 years ago, tulou played a significant role in protecting the Hakka from the attacks of land-hungry neighbors. Residents could easily mount an all-round defense, and the vulnerable entrances were strongly reinforced.
We recommend you combine your tulou tour with Xiamen sights like Gulangyu Island. Take at least two days to see the amazing earthen buildings and China's garden-by-the-sea city.
Comments