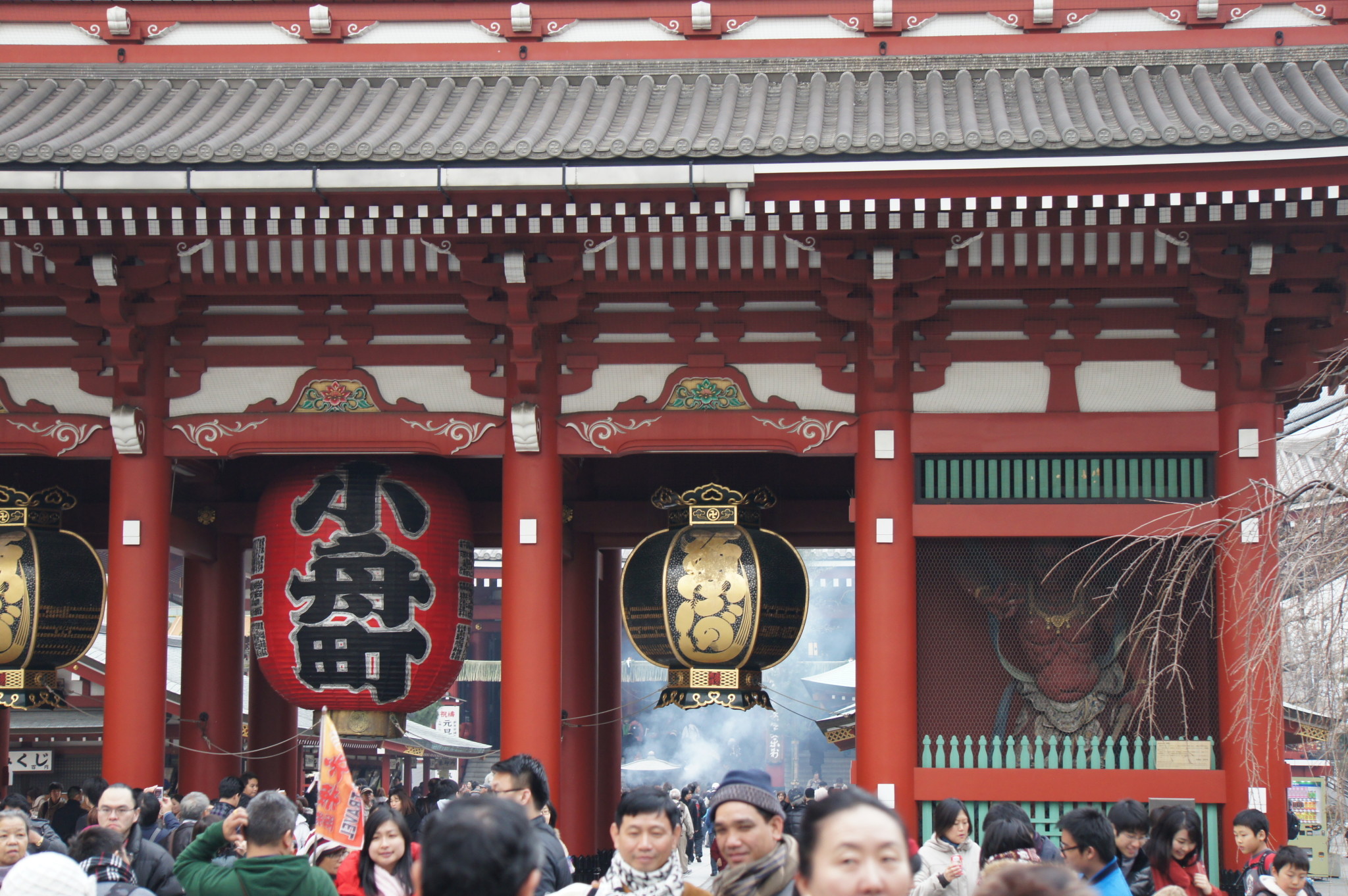 Tōkyō (東京) is the capital of Japan and is one of the most populated cities in the world with over 31 million people living in the greater Tokyo area. Bustling, high tech cityscapes juxtaposing against traditional Japanese temples makes Tokyo truly a unique city. It has become one of my favorite places in the world to visit – from the kind hearted, well-mannered Japanese people, clean and safe city streets, endless shopping, fascinating culture, as well as amazing Japanese food – the city will awe and inspire any visiting tourist. With a strong dollar in recent years, the cost of traveling in Japan has become much more affordable, and quite comparable to expenses found in American cities like New York and San Francisco.
Over 500 years old, the city of Tokyo grew from the modest fishing village of Edo (江戸) to become the seat of the powerful Tokugawa shogunate in 1603. While the emperor ruled in name from Kyoto, the true power was concentrated in the hands of the Tokugawa shogun in Edo. After the Meiji restoration in 1868, during which the Tokugawa family lost its influence, the emperor and the imperial family moved here from Kyoto, and the city was re-named to its current name, Tokyo.
It's possible for English speakers to navigate their way around Tokyo without speaking any Japanese. Signs at subway and train stations include the station names in romaji (Romanized characters), and larger stations often have signs in Chinese and Korean as well.
Tokyo has many commercial centres for shopping, particularly at the subway station points where millions of locals gather each day to travel about the city. Each of these areas have unique characteristics, such as dazzling Shinjuku, youthful Shibuya, and upmarket Ginza. Tokyo is also home to Tokyo Disney resort, consisting of Tokyo Disneyland and Tokyo DisneySea which are Asia's most visited and second most visited theme parks respectively.
Top Areas to Visit in Tokyo
The Tsukiji Fish Market and Ginza
Just south of the Japanese Imperial Palace, the famed department stores of the Ginza and the fish markets of Tsukiji are two must stop places to go.
If you've sent the film Jiro Dreams of Sushi, you probably have seen scenes of the Tsukiji Fish Market, particularly the tuna auction. If you are a fan of sushi, you must make this pilgrimage at least once in your life to the epicenter of the sushi world. Tsukiji Market (築地市場, Tsukiji Shijō) is one of the world's largest fish markets, handling over 2,000 tons of marine products per day, and is arguably the starting point for the world's craze, for better or for worse, for sushi. It is expected to move to a new site in Toyosu in spring 2016, so visit the original market soon.
Watch out for the bevy of market men on scooters, and sellers and buyers hurrying around the inner market where most of the wholesale business and the famous tuna auctions take place. The most famous sushi restaurants inside the market include Sushi Dai and Daiwa sushi which provides high quality sushi for very reasonable prices – regrettably, the wait for a seat in the tiny shop can be many hours long.
Instead of visiting the inner market, take time to visit Tsukiji's outer market, which consists of blocks of restaurants and markets that cater more to the tourists rather than the professional food industry. Here, you can find popular street food like hot ramen bowls, beef and tofu o-den soup, and curry rice steaming hot as well as some of the freshest sushi you will ever have in your life.
After a visit to Tsukiji, head on over to Ginza for some amazing shopping on the main street Chuo Dori including brands like Cartier, Bulgari, Louis Voutton, H&M, Uniqlo, and more. Ginza offers huge, multi-story department stores, upscale shops selling brand-name goods and some of city's finest and most expensive restaurants. Some famous Japanese department stores include Matsuya, Mitsukoshi, Sogo, Marui (OIOI), and Takashimaya.
If you are familiar with Rangetsu in Maitland (formerly of International Drive) here in Orlando, then you should know that the original Rangetsu is in Ginza, specializing in Kobe beef and shabu shabu dishes, founded over 65 years ago in 1947. Take a break from shopping and grab some strawberry daifuku mochi, ultra fresh and delicious strawberry wrapped in rice cake, at Akebono Sembei in Ginza (銀座のあけぼの). It will blow your mind.
Shibuya and Harajuku
Shibuya and Harajuku are best-known as shopping areas for  funky, youthful clothes and accessories and is distinctly where Tokyo's youth go to shop and show off, offering travellers a chance to people watch and the wild fashions of Japan's hipsters.
The scramble crossing outside of the Shibuya station is one of the world's busiest street crossings and was featured in the film Lost in Translation starring Bill Murray and Scarlet Johansson. Nearby is the statue of Hachiko, a famed dog who met his owner every day at the train station, even after his master's death for 11 years, inspiring the Japanese, and also provides a common meeting place.
A relaxing weekend afternoon is best spent in Yoyogi Park, where people from all over Tokyo gather to socialize, practice their hobbies, engage in rockabilly cosplay, exercise, and more. Nearby is Meiji Jingu, or Meiji Shrine, one of the city's most peaceful forest Shinto shrines, devoted to the spirit of the late Emperor Meiji and his wife. It is a popular place for traditional weddings on the weekend, so be on the lookout for the procession.
After the temple visit, check out nearby Harajuku's Takeshita-Dori (Takeshita Street), where you can find little crepe and waffle shops and trendy, youthful shopping choices. Here, crowds of teeny-boppers flood the tiny Takeshita street on the weekends, hanging out with their school classmates while looking for the newest and trendiest fashion accessories.
Afterwards, take a stroll down the elegant, tree-covered Omote-sandō (表参道) shopping street nearby, known as Tokyo's own Avenue des Champs-Élysées.  For touristy Japanese knickknacks, visit the Oriental Bazaar on Omotesando, which stock all Japanese themed souvenirs from t-shirts, art, fans, teacup sets, and even samurai swords. For toy lovers, check out the famous Kiddy Land near by, with five stories of toys including a whole floor for Hello Kitty and Studio Ghibli gifts.
Asakusa
Visitors to Asakusa (浅草) can find the essence of Old Tokyo, where an atmosphere of the Tokyo of time past continues on.
Asakusa's main attraction is Sensoji Temple, a very popular Buddhist temple, built in the 7th century. At the temple gates is Nakamise market street, an expansive and colorful shopping street with more than 50 shops and restaurants, providing temple visitors with a variety of traditional, local snacks and tourist souvenirs for centuries. Wander around the neighborhood and explore the various shops with Japanese crafts and traditional sweets before heading over to the temple to burn incense and have your fortunes read.
Shinjuku
Shinjuku, located around the Shinjuku station, is another great center for shopping and has some of Tokyo's earliest skyscrapers including some of the tallest buildings in Tokyo, like the Tokyo Metropolitan Government Building. Also between the skyscrapers are tiny pedestrian streets with some of the best restaurants, arcades, and shopping that Tokyo has to offer. Definitely stop by one of the many sushi-go-round shops where you pay by the plate and Tokyu Hands, a multi-storied Japanese craft shop that puts Hobby Lobby to shame.
There many major department stores and electronics stores. The department stores, unlike those found here in the US, have huge basement floors devoted to food, featuring literally every type of Japanese cuisine and bakery items that you could ever dream of in a sort of hectic food-crazed crowded haze. It is to me, heaven on earth.
On the east side of Shinjuku Station, Kabukicho is known as the seedy red-light district for Tokyo with many late night bars and nightclubs. Kabukicho is also home to the famed, gaudy Robot dinner show restaurant featured in Anthony Bourdain's Parts Unknown visit to Tokyo.
Akihabara
Akihabara,Tokyo's Electric Town, is most famous for its numerous electronics stores selling all kinds of gadgets and gizmos. More recently, however, it has become known as the 'otaku' centre of Tokyo, a Japanese term for people with obsessive interests, commonly the anime and manga fandom.  There are also  "maid cafes" where the heavily male clientele can go for a cup of coffee while being treated like a king. Visit Yodobashi electronics store, the Gundam Café, and the Akihabara Crossfield, a business complex with the aim of promoting Akihabara as a center for global electronics technology and trade.
For a more old-school shopping experience, visit Ueno's Ameyoko, a bustling open-air bazaar with all sorts of discounted goods, dried food, clothing, and baggage.
Resources:
http://www.japan-guide.com/e/e2164.html  
http://wikitravel.org/en/Tokyo
Comments