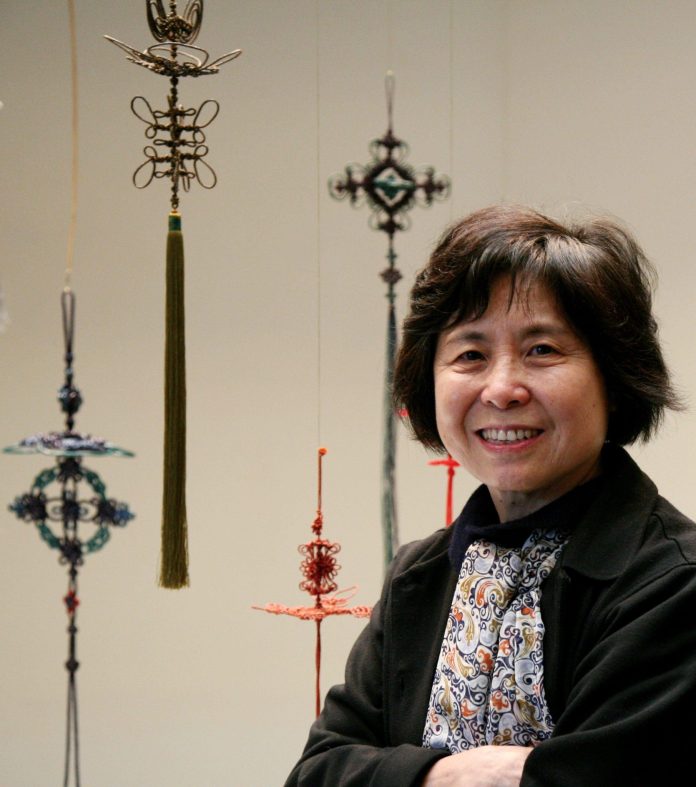 Chinese Name: 陳夏生 
Born: 1939
Place of Birth: Zhejing Province, China
Did You Know?
Lydia Chen, with a background in science and engineering, has devoted herself to the study of Chinese knotting. She has recorded various knotting techniques using geometric algebraic formulas and combined them with traditional artistic elements such as metal, lacquer, and oil paint, creating numerous knotting artworks of high artistic value. As a result, she has become an important inheritor of Chinese knotting in Taiwan.
Renowned knotting artist Lydia Chen has been involved in knotting research for nearly half a century. Her initial exposure to traditional knotting culture was influenced by her father-in-law, Chuang Yen (莊嚴), who was a vice director at the National Palace Museum and highly valued traditional knotting culture. At that time, he invited a skilled craftsman from the museum, Wang Zhen-kai (王振楷), to teach Chen this craft. Since then, Lydia Chen has started studying Chinese knotting and discovered that many knotting techniques follow certain laws. By repeating the weaving process, different shapes can be created. What sets Chen's works apart is her departure from traditional Chinese knotting techniques and her continuous exploration of new weaving methods.
Later, Lydia Chen began working at the National Palace Museum, where she had the opportunity to study various Chinese knotting techniques from different time periods through the museum's collection. She published several books to introduce these techniques. With her background in science and engineering, Chen presents various knotting techniques in her books using geometric algebraic formulas. By following these formulas, one can create various intricate knot decorations. These discoveries were made through her own creative weaving process.
In 1981, Lydia Chen collaborated with Hansheng Publishing to publish "Chinese Knotting (中國結)," the first specialized book explaining traditional Chinese knotting techniques. It became very popular after its release. Chen believes that knotting can train the mind. By combining Chinese knotting with traditional art, she has added more breakthroughs to her creations. For example, she has created works that combine Chinese knotting with lacquerware. She even sought advice from Taiwanese lacquerware artist Huang Li-shu (黃麗淑) and made repeated attempts to create new pieces.
Lydia Chen says that she actually doesn't know many other traditional crafts, but she keeps exploring. Although the combination of Chinese knotting and lacquerware may seem easy, she, who had never worked with lacquerware before, spent a lot of time experimenting, practicing, and consulting Huang Lis-hu to achieve her current works. Lacquer not only adds aesthetic effects but also helps preserve Chinese knotting. With the trend of the times, Chen has also created "3D Chinese knotting." Through continuous research, she has given new life to Chinese knotting using ordinary ropes. In addition, Chen has also started practicing calligraphy, combining it with knotting works.
Lydia Chen possesses exquisite knotting skills, with delicate craftsmanship and a deep understanding of the various variations, history, and symbolic meanings of knotting. She has observed, collected, organized, and studied knotting objects from the museum's collection and antique shops, exploring the origins of knotting and creating many unprecedented new knots. This has brought Chinese knotting to life and given it different values.
Lydia Chen has been continuously studying Chinese knotting in the hope of preserving this cultural heritage. She never expected to dedicate over half a century to it. She is grateful to Hansheng Publishing for assisting in publishing her books, including English and German translations. Chen has made Chinese knotting a new form of independent artistic expression within traditional handicrafts. In 2021, Chen was registered as a preserver of intangible cultural heritage by the Taipei City Department of Cultural Affairs. She hopes that more people will engage in this craft in the future, starting with training craft teachers who can then pass on the knowledge to students and the general public. She also looks forward to the integration of knotting with other art forms, just as she has expanded into lacquer knotting and metal knotting, in order to create a more diverse and culturally significant new realm for Taiwanese knotting craft.
Comments