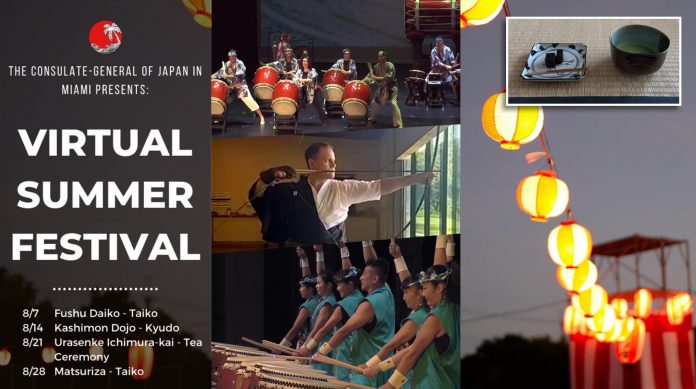 The COVID-19 has affected a number of Asian festivals. This year, virtual is the way to go. A little over three months ago, Asia Trend hosted the first virtual event: Asian Cultural Expo Virtual Showcase on social media. Last month, the Consulate-General of Japan in Miami hosted a Virtual Summer Festival to showcase the performers of traditional Japanese arts throughout Florida on social media! What better way to enjoy a variety of Japanese arts online?
Fushu Daiko – Taiko
Learn all about the Japanese art of taiko drumming while enjoying Fushu Daiko exhilarating performance!
Since 1990, Fushu Daiko has been training in the art of Taiko, their music combines the traditional drums and rhythms of Japan with musical styles from around the world, such as jazz and rhythm and blues, to create an exciting, powerful cross-cultural experience that strives to cross boundaries and connect cultures.
Kashimon Dojo – Kyudo
Special guest Kashimon Dojo – Kyudo, Iaido and Karatedo 樫門道場 to demonstrate the art of kyudo, traditional Japanese archery.
Kashimon Dojo is the only kyudojo in the state of Florida, and one of only four in the United States. Enjoy the rare chance to experience this authentic Japanese martial art up close, right from the comfort of your home!
Urasenke Ichimura-kai – Sado: Japanese tea ceremony
Urasenke Ichimura-kai, here to demonstrate the traditional Japanese tea ceremony.
The style of tea ceremony demonstrated in the video uses fewer utensils than other styles and can be performed easily at home. Feel free to grab your favorite matcha and follow along with the steps!
Matsuriza – Taiko
Virtual Summer Festival featuring Florida-based taiko drumming group Matsuriza at the last. Enjoy their energetic performance as they showcase their unique style with a special surprise twist!
Takemasa Ishikura started to perform as a member of Kanto-abare-daiko led by Yoshihisa Ishikura at the EPCOT Japan pavilion of Walt Disney World. In 1988, leader Yoshihisa returned to Japan to resume his team there. Takemasa Ishikura took over the leadership and formed Matsuriza Japanese Traditional Taiko Drummers. Matsuriza performed at EPCOT Japan pavilion.
---
Make sure to check out Orlando Taiko Dojo excellent Taiko performance at the upcoming virtual 11th Annual Asian Cultural EXPO on October 17 and the virtual 20th Anniversary Orlando Japan Festival on November 14 and 15. As we are celebrating Asia Trend 15th anniversary in October 2020, we would like to present the Asian Cultural EXPO Virtual Showcase to highlight and honor the local performers and artists who dedicate their time and effort to preserve the Asian cultural arts and performances.
Comments