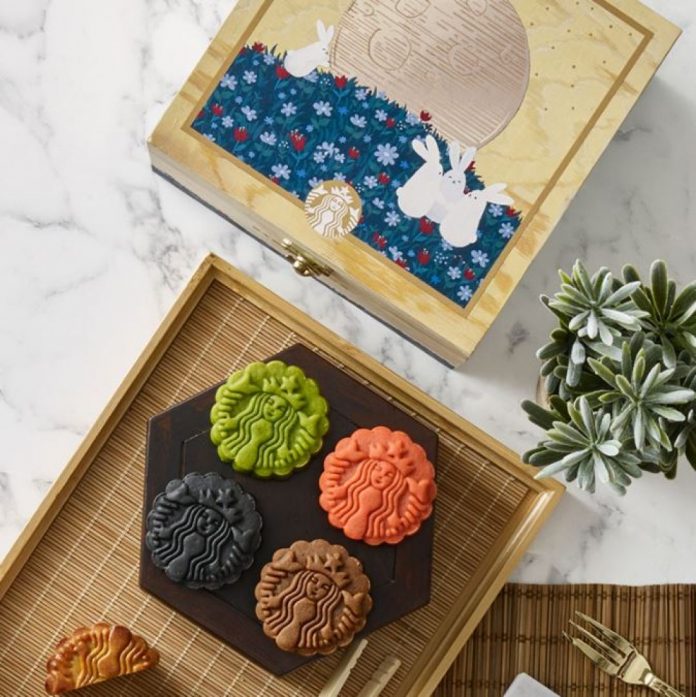 Around this time every year, many bakeries in the world offers oven fresh moon cake. This is because we're approaching the Mid-Autumn Festival 中秋節 on 10/1/2020. Starbucks mooncakes are back once again to celebrate the mid-autumn festivities. Instead of going traditional mooncake flavors, Starbucks' Singapore, Hong Kong and Macau are offering them in modern flavors with limited-edition boxes set.
Starbucks Singapore Mid-Autumn Mooncakes
Source: www.starbucks.com.sg
Starbucks Hong Kong and Macau Mid-Autumn Mooncakes

Mocha Mochi Mooncake
Moist, chewy mochi made with Starbucks coffee, encased in decadent chocolate filling, the discerning taste and texture of each ingredient converge delicately to create an irresistible temptation.


Black Tea Earl Grey Mochi Mooncake
Distinctive Starbucks premium ground black tea aroma complemented by a soft chewy earl grey mochi, uplifting the overall taste complexity and creating an unparalleled tasting experience.

Vanilla Custard Mooncake
Enjoy the classic with a unique twist. Inspired by Starbucks Vanilla Latte, the traditional custard filling matched perfectly with the sweet vanilla seed to create an unforgettable tasting experience.
Source: www.starbucks.com.hk
---
Which cultures celebrate Mid-Autumn Festival?
The Mid-Autumn Festival is an East Asian cultural celebration. Though this celebration started in China, many people who are ethnically Taiwanese, Japanese, South Korean, Malaysian, Vietnamese, and Filipino also celebrate it. However, not all these counties celebrate by eating moon cakes. Both Japanese and Korean cultures eat their version of rice cakes instead of moon cakes.
This festival is similar to American Thanksgiving. The main ideas this festival celebrates are gathering of friends and family, giving thanks, and prayers for the future. Mooncakes are a standard dessert for this holiday.
In modern times, the custom of giving away mooncakes to family members, friends, and loved ones has become more popular than the making of mooncakes, yet the meaning behind them remain the same. Although there have been many legends behind the origin of mooncakes, one popular legend is that at the end of the Yuan dynasty, the Han Chinese used mooncakes to hide secret messages and notes about an uprising on Mid-Autumn day. Furthermore, apart from these two major customs, there are many other traditions such as the lighting and carrying of brightly colored lit lanterns as a gesture to pray for pregnancy, dragon dances to commemorate the beginning of festivities, as well as the burning of incense buckets to further show appreciation to the moon.
What is the Mid-Autumn Festival?
The Mid-Autumn Festival in China, celebrated on the fifteenth day of the eighth month in the Chinese Lunar calendar (there isn't a fixed date on the Western calendar, therefore it lands on different dates every year), the day always has the full moon.
Comments