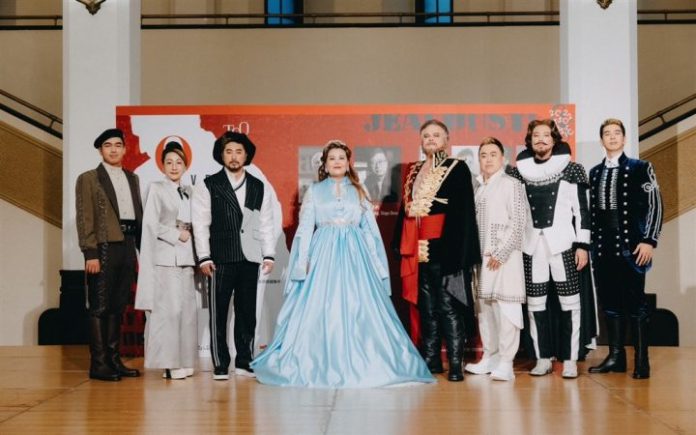 Three locally produced opera productions will be staged around Taiwan in late October, including two penned by Giuseppe Verdi, and one by Richard Wagner, according to organizers.
Following a five-year hiatus, the Taipei Symphony Orchestra is bringing back its tradition of staging an annual opera, with Verdi's "Otello" announced as this year's production in late September.
The orchestra said it first staged a performance of the opera in 1992.
This year's production of the opera, adapted from the Shakespearean tragedy of the same name, will bring together both local and foreign talents, according to the orchestra.
The title role will be performed by American tenor Bryan Register, while Taiwanese soprano Hanying Tso-Petanaj (左涵瀛) will take on the role of Desdemona, the orchestra said.
Wang Chia-ming (王嘉明) of the Shakespeare's Wild Sisters Group is leading the production team as the stage director, with Italian Marco Boemi conducting the orchestra for the two performances on Oct. 21 and Oct. 23 at the Taipei Performing Arts Center.
Also on Oct. 21 and Oct. 23, the National Taichung Theater will put on the Paris version of Wagner's "Tannhäuser," which it first staged as a one-off concert last year, the venue in central Taiwan recently said.
The 2022 opera production of "Tannhäuser" brings back poet and theater director Hung Hung (鴻鴻) and conductor Chang Yin-fang (張尹芳), who will conduct an ensemble of musicians, according to the theater.
The full Taiwanese cast includes tenor Lin Yi-wei (林義偉), who will reprise the title role he first played last year, while sopranos Grace Lin (林慈音) and Fan Ting-yu (范婷玉) will play the two female leads — Elisabeth, and Venus, goddess of love, respectively.
The National Kaohsiung Center for the Arts, meanwhile, will host the premiere in Taiwan of Verdi's "Don Carlo" it co-produced with Opéra Royal de Wallonie-Liège in Belgium, from Oct. 27-30, the arts center said in a statement in August.
The Belgian opera house first staged the co-production to mark its 200th anniversary in 2020 with a five-part French-language version, said the arts center also known locally as "Weiwuying."
In Taiwan, the opera directed by Stefano Mazzonis di Pralafera will be staged in Italian in four parts, with the costumes and sets shipped from Belgium, Weiwuying said. Gianni Santucci will direct the revival production in Kaohsiung.
Weiwuying General and Artistic Director Chien Wen-pin (簡文彬) will conduct the Evergreen Symphony Orchestra for the performances in Kaohsiung, with Georgian tenor Irakli Kakhidze and Italian tenor Matteo Falcier each playing the title role for two performances, according to the arts center.
Weiwuying will also stage performances of Benjamin Britten's "The Turn of the Screw" by Tainan-based BenFeng Music Productions from Nov. 18-20.
Meanwhile, the National Taichung Theater will stage a version of Mozart's "The Magic Flute" created by South African artist William Kentridge from Dec. 15-18.
Comments