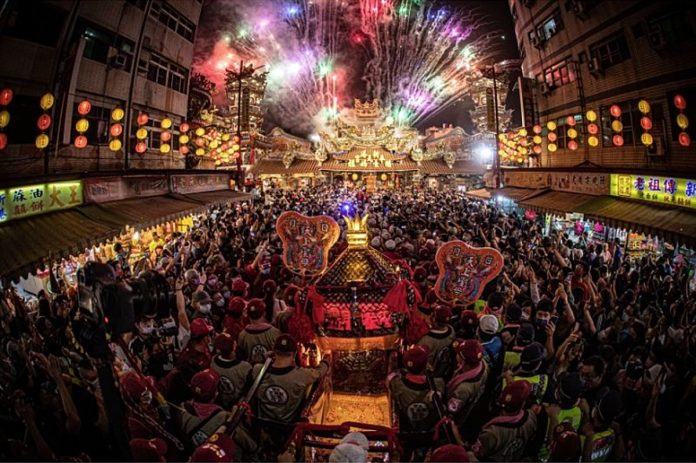 Taiwanese photographer Wang Chen-che (王呈哲) won impressive nine gold medals at the New York Photography Awards (NYPA) for three of his photographic works. The gold-winning pieces are images of temples and religious festivals in Taiwan.

"Dajia Zhen Lan Temple Mazu Pilgrimage Activity (大甲媽進香)," which provides a glimpse of religious activities and Mazu beliefs in Taiwan, won awards in the categories of Fish Eye, Cultural and Celebration / Festive under New York Photography. "Taiwan's Ba Jia Jiang (家將坐炮)," which depicts Taiwan's traditional religious processions tīn-thâu (陣頭), also earned awards in the categories of Cultural and People under New York Photography and in the category of Religious under People Photography. The "Nankunshen Daitian Temple (天上人間)" took home two awards in the categories of Religious and Fish Eye under Architecture Photography and one award in the category of Fish Eye under New York Photography.

In a Facebook post, the MOC said that Wang's works feature Taiwan's local culture and fully demonstrate the beauty of folk customs. The Ministry also expressed gratitude to the photographer for capturing the rich and beautiful moments of Taiwanese culture.
Five other Taiwanese photographers also received the Gold Winner awards for their works at this year's NYPA, including Shirley Wung (翁富美), Chen Chung Hua, Chen Hsiaohsin (陳曉信), Lin Wen-hung (林彣鴻), and Tung Li (童立).

Organized by the International Awards Associate (IAA), NYPA is a program that honors, recognizes, and promotes outstanding photographers worldwide. The entries are open to professional, amateur, and student photographers on a global level.
Comments