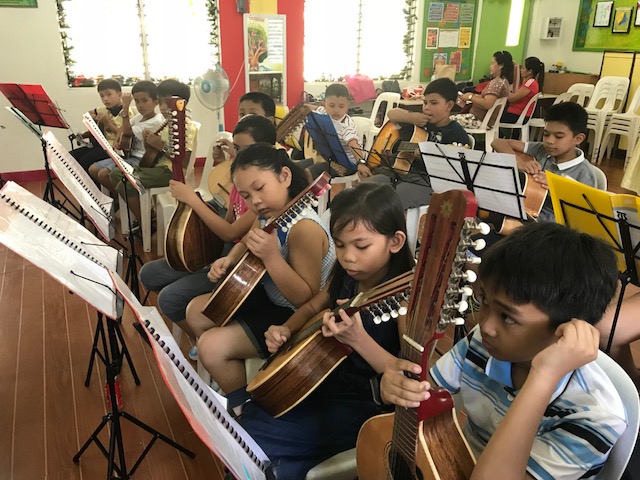 Manila, Philippines – In today's generation, many of our youth are slowly losing their Asian identity when it comes to preserving the traditions and customs of their parents or grandparents. But not in the province of Batangas particularly in the small towns of Lemery and Bauan in the Philippines. I recently visited these two small towns about 2 hours from Manila. A friend of mine who teaches kids how to play string and percussion instruments as well as bamboo blow pipes unique to the Philippines, arranged for me to visit two schools to witness the kids that I have been supporting financially now for some time.
Our first stop was at the Lemery Pilot Elementary School in the town of Lemery. We were greeted by some teachers of the school who came this Saturday just to be with us. We were introduced to 15 beautiful kids ages 5 to 11 years old. Each were holding string instruments introduced to the country by the Spaniards during the 400 hundred years of Spanish occupation. These instruments, mostly with 14-15 strings were called the
"Banduria," the "Octavina," the "Mandolina," the "Laud," and of course the "Guitara." Combining these instruments, you form a Philippine "Rondalla" uniquely Philippines. After the introduction, these kids starting to show off what they have learned only in the last three months. They played three folks songs that is familiar to every Filipino. Looking at these kids play and managed those 14 strings awed and mesmerized me andmy companions. After all, these were 5 to 11 years old only! I couldn't help but wonder, could these kids be the future "millennium" generation who prefers to preserve the cultures of the Philippines rather in exchange of hip-hop music? I hope so.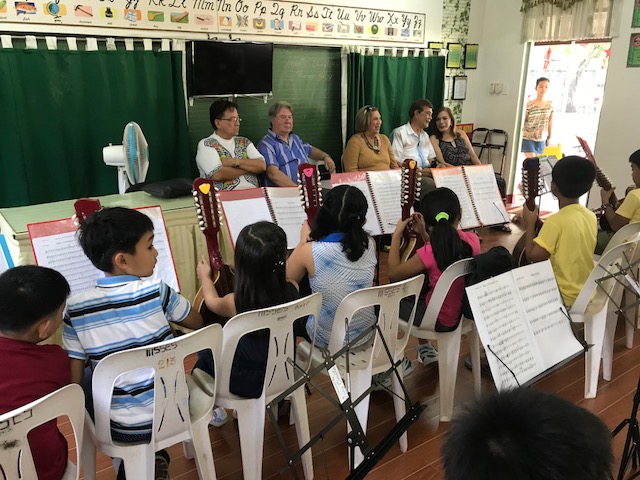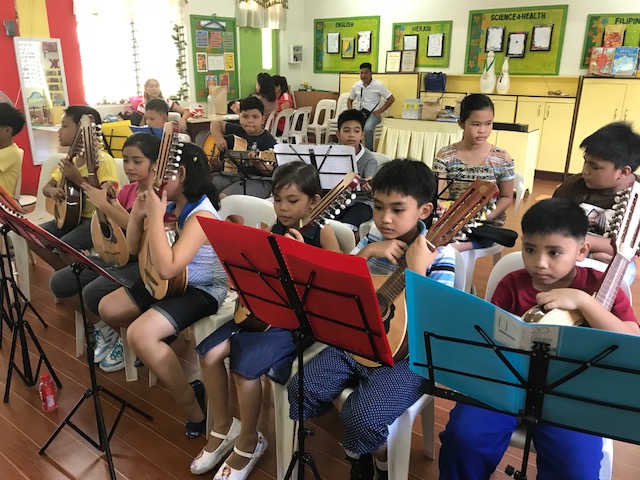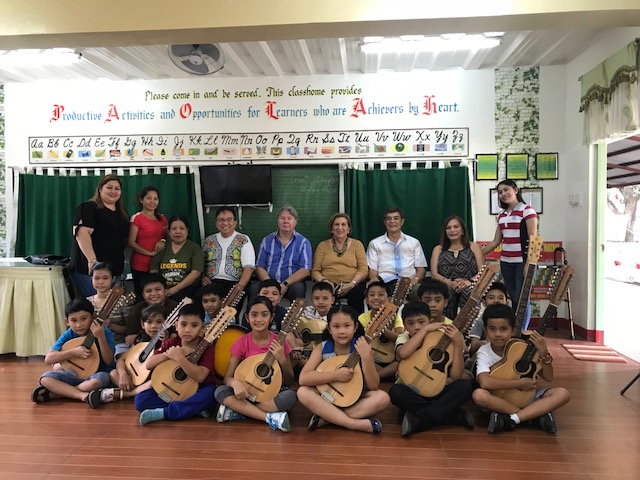 Our next stop was at the St. Theresa College of Bauan in the small town of Bauan, Batangas. This time we had about 20 high school kids waiting for us to show off their talents in playing the same instruments plus now with some additions of Philippine exotic percussion instruments made of solid brass called "Kulintang," "Agung," "Tambur" and bamboo blow pipes called "bombing." I could wait to hear what they were going to play combining these instruments. Finally, after a short introduction by their Director and conductor, we were treated to a 20 minutes concert of beautiful Philippine "kundiman" (love songs) from the sounds of the string and percussion instruments.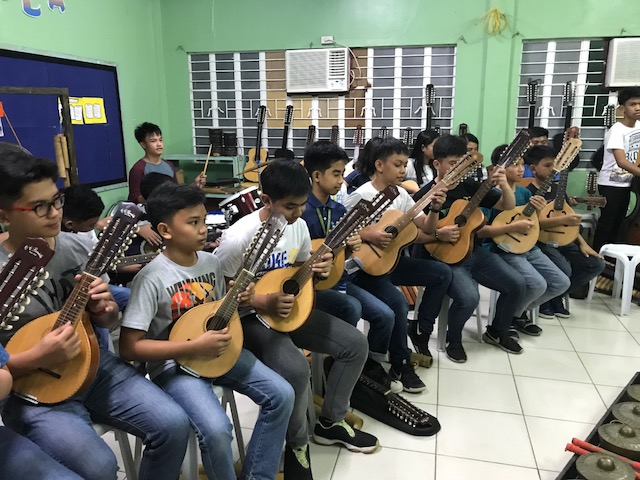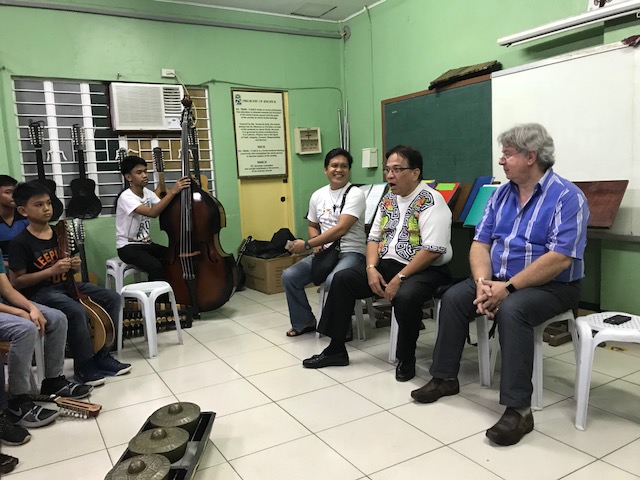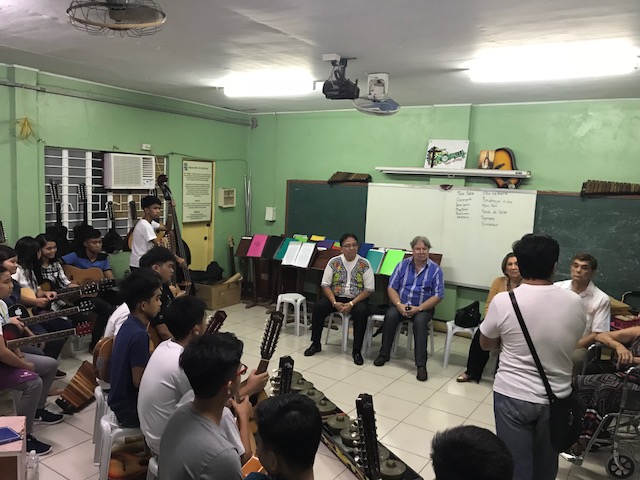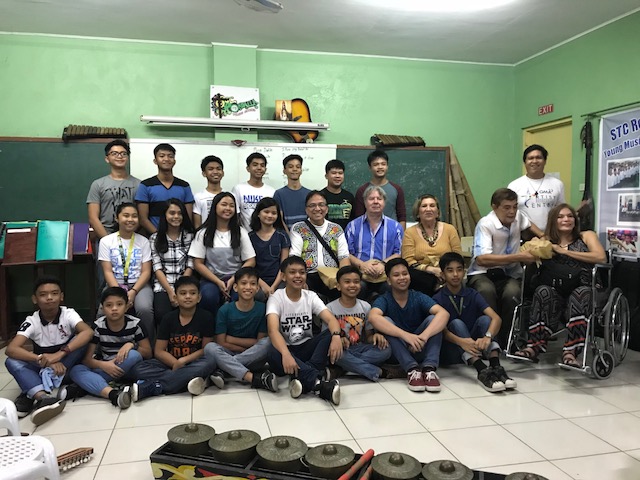 I have no doubt, that if these musical tradition is kept alive by every Filipino and Filipino-Americans, the future of preserving the Philippine cultures, music, and traditions will have a chance to be with us for a very long time.
And if you want to hear and witness some Filipino-Americans play some these instruments, go to the website of the Philippine Cultural Foundation, Inc. (PCFI) of Tampa, Florida and subscribe to their website to see schedule of events of the foundation specially of the "Musikong-Kawayan- Bamboo Ensemble, the Philippine Performing Arts Dance Company and the Philippine Choral Group at www.pcfitampa.org. PCFI is a Philippine cultural foundation whose main purpose is to preserve the Philippine folk, music, songs and dances for generations to come here in the United States.
Photos: Joey Omila
Comments