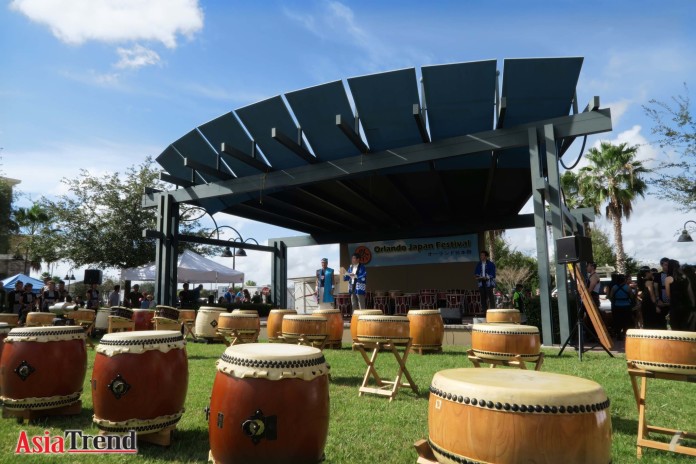 This was my first time at Orlando's Japan Festival, and it was nothing short of extraordinary. Upon arrival, the energy and interest in the event was obviously apparent. Between the two roads, filled booths of all types, loomed the large main stage in the center where the performances took place. The amount of attendees was remarkable but what was truly impressive was the atmosphere of the festival.
Photos: Peter Lau, Shally Wong, C.K. Lau (To view the photo album, visit www.facebook.com/asiatrend)
It's little secret that Japanese culture has an almost mainstream following here in the West. Like America, one of Japan's main exports is its culture which has gained a cult following in many different parts of the world. There are many images one may associate with Japan – from Japanese animation to nature-based art and the haiku to robots and a technological society to the common depictions of Samurai or the large red Torii gate of Miyajima standing in the sea as just a few examples. While there is quite a choice of imagery to choose from, they are in some ways pre-packaged.
This level of exposure sometimes distracts from the nuance of people behind the culture. This, also, sometimes leads to the mistaken assumption we have a good grasp of Japan as a society as seen through this kaleidoscope lens.
Orlando's Japan Festival, however, was not really like this at all. This experience was much more raw, and instead of static imagery we got something much more organic and social. The food area was filled with more diverse spectrum of the Japanese palate than one might usually see. There someone wondered what the Japanese words meant on the signs and another explained. Soon a crowd gathered in the area, all curious and interested in what was in front of them.
In one of the booths, they sold umbrellas, origami and fans (among other things). An excellent calligrapher would write anything you wanted on the fan or umbrella. Watching them write the characters like a painting was a marvel, knowing how hard it must while keeping the items perfectly still as well with one hand. Some asked for their names in Japanese, while others requested more abstract concepts like luck.
Back in the bustling area around Asia Trend had a Sake tasting booth opposite us where the occasional "Kanpai!" (which means "Cheers!" in Japanese) reverberated as shouted by the staff, the customer and even just those in the area. A energetic connectedness in how to approach the service industry that might be uniquely Japanese found its way to Orlando. While very different in setting, there were times when I almost felt as I did in when I visited Japan myself.
Yet just as important as what was unique in this setting were the things that were shared. As Candy Miyuki crafted exquisite little edible figurines, the excited expression of both the Japanese and American children were the same. I dare say, some of the older customers also didn't hide their awe either. Some Japanese and non-Japanese children, also, played together all dressed up and fitted in their Yukata reminding us that there was a time before we learnt to be one or the other.
The intercultural experience presented at the festival indeed presented not only the unique differences in Japanese culture but the people behind that culture and shared human connection we all share and relate to. While cultural heritage and difference are important things to preserve, it's good to remember that behind those differences are people, like us, who just discovered a different approach to living in this crazy world and making sense of it.
While I haven't touched on the wonderful shows on the main stage, I know it was well covered and you'll be able to watch videos of them. However, I will say that visceral appeal of the performances cannot fully be captured. Particularly the Taiko drums, of which the deep rumble and wide movements of the performers only really have their full effect when seen live.
As such, if you missed the Japan Festival this time, you should be sure to make it the next for a unique social experience. It might widen your view of the world, and even if it doesn't, I'm sure you'll have a great time.

Watch the Orlando Japan Festival 2015 performance videos at https://www.youtube.com/AsiaTrend
Comments