For the celebration of Chinese Mid-autumn Festival and "Confucius Institute Day", two grand Chinese culture and art shows were held by the Confucius Institute at Miami Dade College, at Wolfson and at Kendall campuses on September 25th and 26th, respectively. The show, given by the performing troupe from Jiangsu Normal University in China, was sponsored by Confucius Institute Headquarters (Hanban) in Beijing, a leading organization providing Chinese language and culture resources in the world.
The shows began with the addresses of Dr. Jim Yu, Director of Confucius Institute at Miami Dade College (MDC), Dr. Julie Alexander, Vice Provost for Academic Affairs at MDC and Dr. Junwei Huang, Vice President of Jiangsu Normal University.
The stage performance included Chinese folk music medley, classical poem and music, classical singing and other types of music. Unique characteristics of China's Han Dynasty were illustrated by the costume, instruments, and vocal performances. The highlights were Chinese martial arts and Tai Chi, which were performed with accompany of a traditional Chinese instrument, the Zither. Tai Chi was a flexible and adaptive movement. Two Chinese martial arts masters, Yanxing Zhang and Mengting Li, gave a performance full of strength and explosive force. When they staged a martial art rival act with traditional Chinese rod and sword, everyone was amazed. During an audience participation session, several volunteers came up to the stage and learned some movements of the martial arts. Interaction between the volunteers and two masters brought lots of laughter.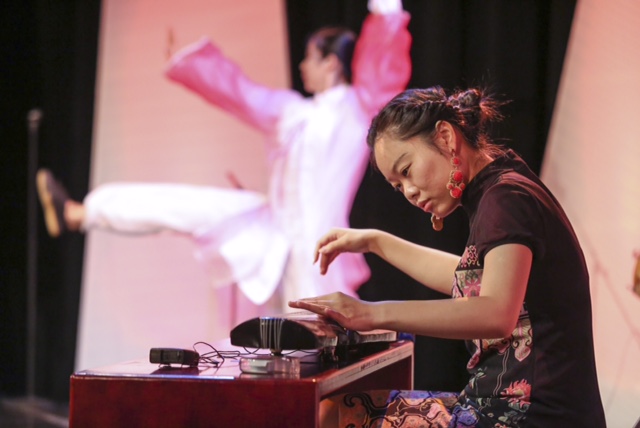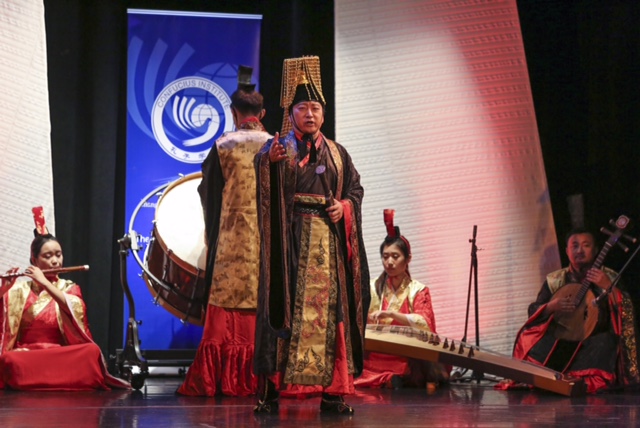 The second performance at MDC Kendall Campus was supported by a large group of local Chinese artists living in South Florida. About 70 local artists performed Chinese chorus, fold dances, a piece of Peking Opera singing, and a Qipao (Chinese fashion dress) show. The joint performances by the visiting Chinese troupe and local community performers showed a great variety of ancient Chinese civilization and heritage.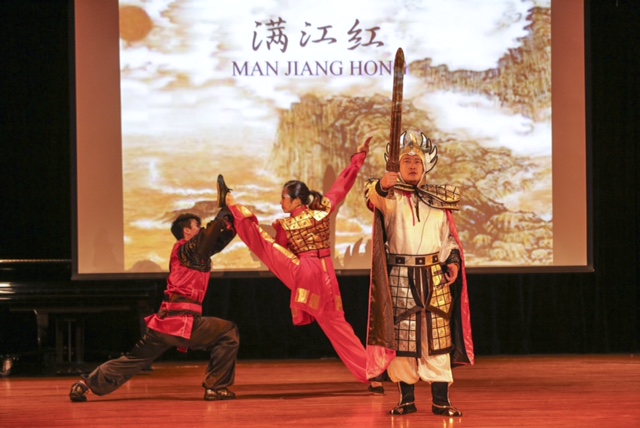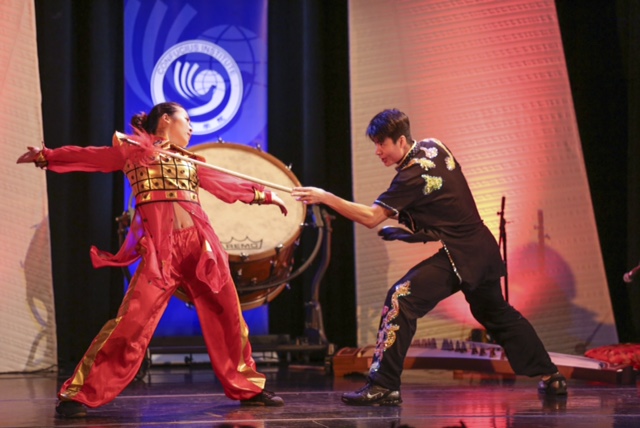 "It was a great honor for our troupe to perform in Florida during Chinese President Xi Jinping's state visit to the USA which promotes deeper understanding and friendship between the peoples of China and the USA. I was very pleased that our stage shows aroused enthusiastic response among Miami audiences. As art goes beyond national boundary, I'm sure our acts, such as the way to chant the traditional Chinese poems, also expose our Miami friends to the beauty of Chinese language," said Dr. Junwei Huang, VP of Jiangsu Normal University and the head of the performing troupe.
"These performances provided a great opportunity for our students to learn Chinese culture and language in such a fun way. The shows ended but the cultural engagement continues at MDC. Confucius Institute at MDC serves as a platform of such cultural engagement and a bridge to connect Florida and China. The CI strives for this goal by offering Chinese language and culture courses, supporting K-12 school Chinese language programs, and providing related educational services," said Dr. Jim Yu. For more info about the Confucius Institute at MDC, visit: www.mdc.edu/confucius. Phone: 305-237-7754.
Note: Jiangnan Wu is a Chinese language teacher at Confucius Institute of Miami Dade College. Email: [email protected]
Article: Jiangnan Wu (Confucius Institute at Miami Dade College)
Comments