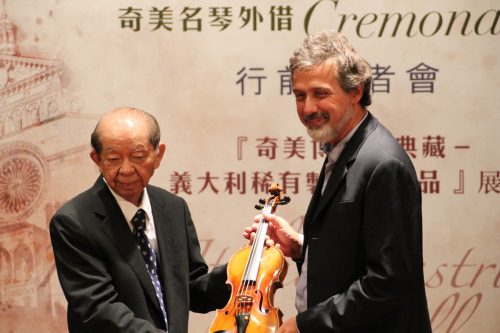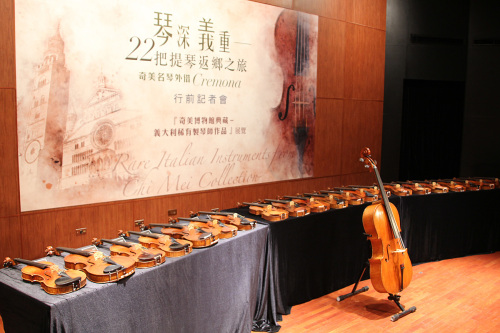 On September 18, during a ceremony at the Chi Mei Museum in Tainan City, Taiwan, a collection of violins were displayed to the media and given a suitable sendoff by their caretakers before embarking on their journey to the Cremona Violin Museum in northern Italy. The heads of the Chi Mei Museum and the Chi Mei Culture Foundation attended the event. A string quartet performed on the antique instruments to set the mood for the occasion before a few notable speakers explained the significance of the collection's return to their birthplace in Italy. The speeches stirred the audience, but the stars of the ceremony were the twenty-two priceless violins on display, which were famous Italian pieces produced in Cremona from the 1600's and 1700's.
Wen-Long Hsu (許文龍), founder of the Chi Mei Museum recollected his childhood dream and reasons for collecting 1,350 valuable violins, violas and cellos, which date from 1566 to the 1700's. After starting his collection in 1990, he has accumulated many of the best violins in the world. Mr. Hsu regularly shares his collection with violinists who dream of performing on them. As part of his ongoing commitment to share the culture with society, he has shared part of his collection with the Cremona Violin Museum for special exhibitions since 2005.
Carlo Chiesa, Curator of the Special Exhibition at the Cremona Violin Museum presented the historical significance of Cremona, Italy, home to the most famous violinmakers in the world. He explained that almost all of the musical instruments produced in Cremona have found their way to private collectors and museums all over the world, so the museum holds special exhibitions to bring the violins home to Cremona on a temporary basis. The Chi Mei Museum has provided part of its collection to Cremona Violin Museum since 2005, but this will be the first time that Chi Mei is the sole provider of violins for the special Italian exhibition. This occasion will also be the largest loan of violins ever made by Chi Mei Museum to another museum.
"I am here in Tainan because the Chi Mei collection is the most important collection in the world," declared Chiesa, "What makes this occasion special is that Chi Mei Museum is providing the largest collection so far to Cremona Violin Museum for public study, play, and preservation."
Traveling to Cremona, Italy with Carlo Chiesi and the collection will be a group of Chi Mei Museum directors and a camera team that will document the exhibition for a book and a short film.
Article: Tony Coolidge
Comments