I first came across Masami Koshikawa's artworks when she was showcasing her final thesis at the UCF Art Gallery as an M.F.A (Master of Fine Art) candidate back in March. It was the opening reception, and the excited crowd piled into the gallery just as the doors opened at 6 p.m. I wandered about the gallery for a while, drinking in all the amazing works by the four M.F.A candidates. Despite the fact that all of the pieces at the exhibition were equally stunning, I was most drawn to Koshikawa's works because as an Asian living in America, I feel like I can relate to her art on so many different levels. So I decided to seek her out.
From our interview I learned that Koshikawa has an awfully interesting family history. Her grandmother, great-grandmother and another family member managed to escape Japan during the horrors of the Hiroshima and Nagasaki bombing, but were left out on the streets of China to suffer. If it had not been the generosity of a Good Samaritan, the three of them would not have survived. Grateful for the man's kindness, Koshikawa's grandmother was offered to be his bride, for he had lost his fiancée and great deal of money when he chose to save Koshikawa's family. Koshikawa herself was born the second daughter in China, but due to the one-child policy that was freshly implemented to control the rising population in China, Koshikawa's family decided to move back to Japan when she was six years old.
Koshikawa graduated from high school in Japan and moved to the United States in 2004. She studied ESL (English as a Second Language) at St. Petersburg College in Clearwater, Florida, and finished ESL at the University of Texas at Arlington in Dallas, Texas. She then moved to Miami to finish her A.A degree at Miami Dade Community College before transferring to UCF to complete her B.F.A (Bachelor of Fine Art) in painting and recently, her M.F.A. I asked her to tell us a little about her art.
"I have a B.F.A in painting, however, I pursued video performance art and installation during my M.F.A experience. I use whatever I can find around me to create something that's unique and true to my nature. I use art as a vehicle to communicate ideas and concepts."
The following is a transcript of the rest of the interview.
Tell us more about your art. What's your inspiration, what prompts you to make art?
My original inspiration was personal identity, cultural identity, and social displacement. Now, I wish to convey the importance of exploring one's self so that we may also better understand others. We are living in the era of globalism. Gaining a deeper understanding of others is crucial at this time in history.
I see that the butterfly (and the butterfly origami) is a recurring symbol in your work; can you tell us a little about that?
First of all, the origami is hand-made by my mother in Japan. It is a gesture of healing and mutual peace and harmony. I wish to bridge the gap between Eastern and Western artistic sensibilities by using a medium that is cultural and at the same time, universal.
The butterflies are symbolic of transformation. To me, they are a metaphor for physical and spiritual change. As a mother and as an artist who integrated into America, I have experienced many changes and shifts in my life.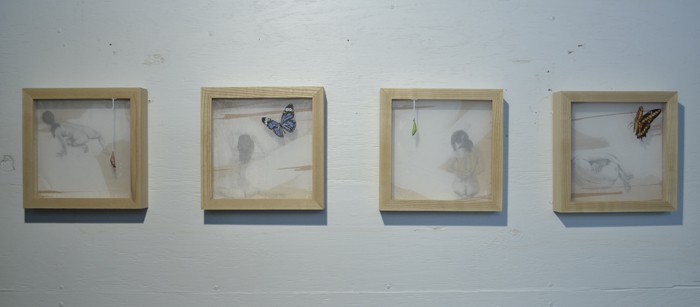 What are the things that you find challenging when making art?
I have a fear of rejection because my work is personal and deals with self-portraits. I do not wish to promote cultural stereotypes or create barriers; rather I am more optimistic and have hope for a brighter future.
What do you think of the art scene among Asians residing in America?
The art scene among the Asians in America has shifted greatly. Artists such as Yoko Ono, Takashi Murakami, Do ho Suh, Cai Guo-Qiang and other contemporary Asian artists use conceptual approaches and social commentary as a way to express their ideas. There are many talented, lesser-known contemporary Asian artists in America. In my opinion, they deserve more recognition.
What do you think Asians here can do to participate in the local arts scene more?
That's a good question. I don't know how many Asian people are seriously pursuing a career as an artist in America.
Do you have any on-going or future project you would like to share with our readers?
I am participating in Art in Odd Places Orlando on the 17th – 20th of September. My curator is Patrick Greene, the director of Gallery at Avalon Island. I will be doing a live performance and collaborating with Chris Scala with video installations. I also invited Candy Miyuki as a guest artist. She will be performing on the 19th at Dr. Phillips Center at 5 p.m.
I am also participating in the Creative City Project this year. Atsumi Zero Taiko and Ms. Meka Nism will be our musical performers. This is going to be so much fun!
In addition to being involved in future exhibitions, I am a curatorial assistant for Yulia Tikhonova, the director of the UCF Art Gallery. Our goal is to bring Japanese artists together by early 2017 for this exhibition.
For more information on Masami Koshikawa's on-going/future projects:
Art in Odd Places Orlando 17th – 20th September
Creative City Project
UCF Art Gallery
Masami Koshikawa's Website
*Photos taken from http://www.masamikoshikawa.com/ with permission.
Comments