One day while browsing through the English language section of a bookstore in Seoul, a young Korean woman randomly engaged me in casual conversation. Seconds into our discussion, it became clear to me that she had been raised overseas. When I asked her what brought her to Korea, she told me she had returned to search for her birth family. She had been adopted at a young age by a Dutch family and as an adult, decided to come back to her birth country in search of her roots.
The search, however, was going horribly. She had tried everything she could to find her birth mother, including going on national television with the few facts she knew about her origins in the hope that someone would step forward and claim her as a biological family member. What she didn't know prior to beginning her search was just how difficult the current laws were in Korea in terms of helping returned adoptees like herself search for blood family relatives.
Sadly, this young woman's story is not uncommon. It is through frustrations such as hers that many Korean adoptees, now adults, have returned to their birth country to help reshape the politics as they pertain to international adoption. The causes these adoptee activists have taken up in the name of adoptee rights vary from lobbying for policies that would result in less restrictive access to adoption papers, family and medical histories to pressuring the Korean government to prioritize family preservation over international adoption.
Andrea Kim Cavicchi, a Korean adoptee and activist for adoptees' rights with the Los Angeles branch of Adoptee Solidarity Korea (ASK-LA) said one of the questions adoptees like herself are asking is, "Why does Korea continue to send its children overseas to be adopted even as it currently hosts one of the most powerful economies in the world?"
"Asking this question and seeking answers elucidates some of the problems associated with overseas Korean adoption," said Cavicchi who conducted research on adoptee communities as a Fulbright scholar in Seoul last year. She is currently a PhD candidate at UCLA. "Following the Korean War, overseas Korean adoption was originally used as a way to mitigate economic and social problems directly connected to the war. Since the 1990s, however, the background of children who are sent overseas for adoption has significantly shifted to those born to unwed mothers." Cavicchi said there's a stigma in Korean society against single mothers and a very severe lack of emotional and financial support for them and their families. For example, the government only pays them the equivalent of $65 a month, she said.
What's just as alarming is how unwed mothers have been pressured to relinquishing their children for adoption without realizing their rights, Cavicchi said. "I support legal, ethical and transparent adoptions (both domestic and international), but what I don't support are illegal and coerced adoptions."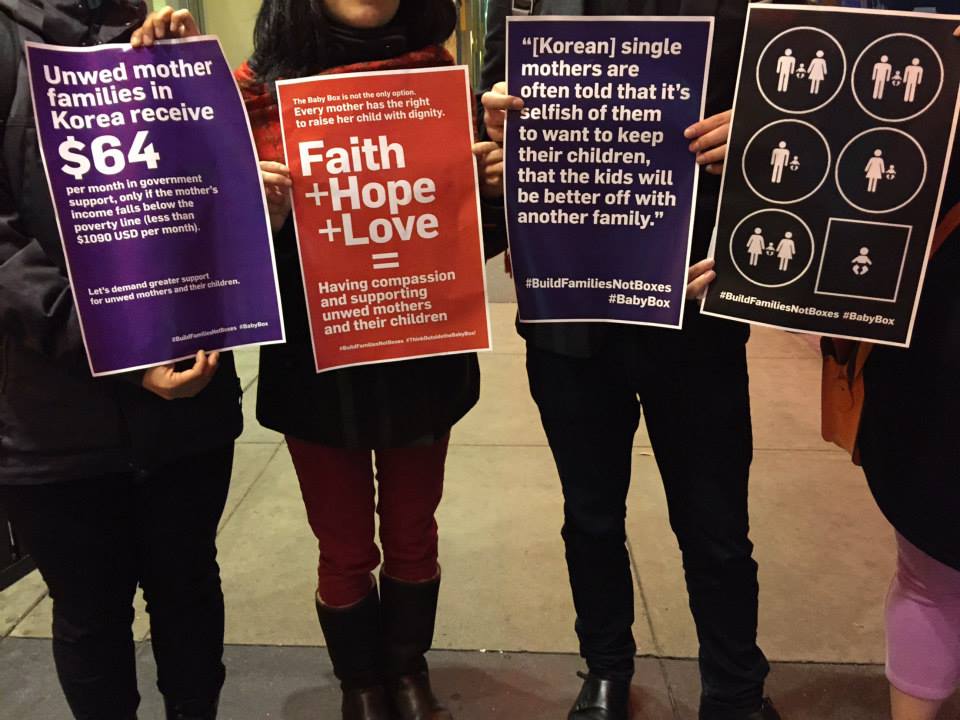 This is where adoptee activism has played a role in addressing the issue. In 2011, a coalition of adoptee activist organizations and organizations supporting unwed mothers lobbied to revise Korea's Special Adoption Law (commonly known as SAL). One of the revisions they managed to have passed was legislation banning the operation of "unwed mother homes" run by adoption agencies. According to Cavicchi, many of these homes took in pregnant women and had them sign off their parental rights even before having their children. If mothers changed their minds and decided they wanted to keep their babies after giving birth, the agencies would make them pay the full amount for the lodging and services they benefited from during their stay. "The majority of these mothers could not afford to pay that amount, and so they were forced to give their child up for adoption even if they had changed their mind and wanted to raise it," Cavicchi said.
There are other issues adoptee activists have successfully pushed through Korean legislation as well. One is the successful lobbying of the Korean government to include Korean adoptees in the Overseas Korean Act. The legislation allows Korean adoptees to obtain the F-4 visa which makes it possible for them to return and live in Korea indefinitely. This visa status also makes it easier for Korean adoptees to find jobs and conduct banking business within the country.
One organization that has lobbied the Korean government on the Overseas Korean Act and other legislation benefiting adoptees is the Seoul-based Global Overseas Adoptees' Link, also known as G.O.A.'L. G.O.A.'L's roots stretch back to the late '90s when a group of adoptees decided to create an organization to help overseas Korean adoptees work and settle in Korea on a more permanent basis. The organization also wanted to raise awareness about Korean adoptees within Korean society and establish a base for returning adoptees where they could find support with birth family searches, Korean language education, access to interpreters and services to help them learn more about Korea. Since its establishment, the organization has become a leader in lobbying for adoptee rights in Korea.
"One G.O.A.'L. initiative that expanded the rights of adoptees was the Dual Citizenship Campaign that was started in 2007 and was realized when dual citizenship was enacted in 2010," said Nikolaj Leschly, current secretary general of G.O.A.'L. "G.O.A.'L. also led the way in seeking funding from the government for adoptees in Korea to receive subsidized counseling with therapists familiar with the challenges adoptees face." Leschly is referring to the lobbying G.O.A.'L. and Adoptee Solidarity Korea (ASK) led in 2011 to provide mental health programming for adoptees. "G.O.A.'L. still continues this work by hosting workshops and coordinating group and individual counseling sessions for adoptees with our partner, International Family Counseling Center," he said.
G.O.A.'L. is also currently working with groups and individuals in the United States and Korea to amend the Child Citizenship Act of 2000 which, if changed, would automatically grant U.S. citizenship to all international adoptees adopted by American families. This includes retroactive citizenship to those who were already 18 when the legislation was enacted. The high profile case of Adam Crapser, the adult Korean adoptee from Oregon who was never naturalized as a child (due to the alleged fault of his adoptive parents who he says abused him as a child) is one example of why activists say an amendment to the law is needed. Under current U.S. immigration laws, Crapser faces deportation as a result of an expired green card and a past full of criminal convictions. If deported, he would be forcibly sent to a country where he has no ties, does not speak the language and is not familiar with the culture.
While opinions about Korean adoptee activism vary (for example, critics have blamed activists for slowing down the international adoption process in Korea which has led to an overflow of children in orphanages — children, they claim, who may have otherwise been placed in adoptive homes overseas by now), it has become clear adoptee activists have made their mark in Korea.
"For some adoptees, it may be a personal experience that draws them to be active," Cavicchi said, "while for others, it may be recognizing that adoption is a social justice issue and wanting to do something about it."
Whatever the reasons are that draw Korean adoptees to advocate for adoptee rights in the country of their birth, the results of their efforts cannot be ignored. Whether it's successfully amending Korean laws pertaining to international adoption or simply raising awareness within the adoptee community or Korean society, their actions and results are being noted worldwide. The precedents they are currently setting will be of particular interest as the next generation of adoptees from China, Guatemala, Russia and other countries come of age. Whether or not they too form a coalition of adoptee activists within their birth countries will also be interesting to see.
Comments