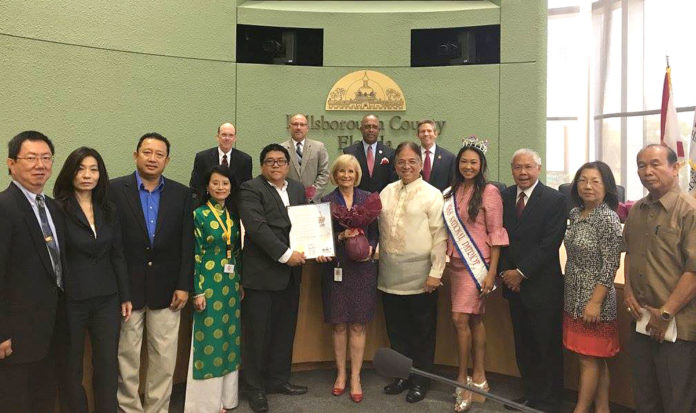 On June 15, Hillsborough County Commissioner Sandy Murman, on behalf of the Board of County Commissioners, declared with a Proclamation to delcare June 2016 as Asian-American and Pacific Islander Heritage Month in Hillsborough County, celebrating the Tampa Asian American community.
Asian Americans have been rooted Tampa Bay/Hillsborough County for over 30 years. From Chinese New Year Festivals, PhilFest, Temple Festivals, Vietnamese Markets to Business Workshops and Community outreach – Asian Americans have been an integral part of the Tampa Bay/Hillsborough community.
Together we make a difference in Tampa Bay – Together who enrich Tampa Bay.
In the large Group Photo (front row Left to Right): Mr. Raymond Hu – Principle of Tampa Chinese School, Dr. Maywa Yei – President of Taiwanese Chamber of Commerce of Tampa Bay Florida, Mr. Larry Nguyen – Vietnamese Community leader, Dr. Thanhmy Nguyen –  Vietnamese Community leader or Board of Director for Asia Fest – AACF,

Robert

Chen

– Hillsborough County Diversity Advisor Council member – Represent Far East Asia, Commissioner Sandra L. Murman – Hillsborough County District 1, Mr. Joey Omila – President of Philipino-American Assoication of Tampa Bay, Ms. Ann P – Miss National Patriot 2015-2016, Mr. Hung Mai – Chairman of Hillsborough County Diversity Advisor Council, Dr. Carolin Wei-Berk – Advisor of Chinese Chamber of Commerce of Tampa, Mr. Chanto Vorasarn – President of the Lao Community in Tampa Bay
(Back row Left to Right): Commissioner Al Higginbotham, Commissioner Victor D. Crist,Commissioner Lesley Miller Jr.,Commissioner Kevin Beckner
Comments