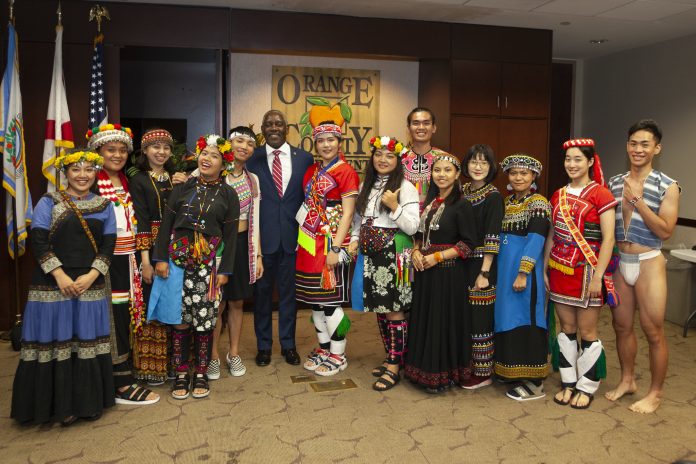 Luma is a biennial enrichment program for the Taiwan Indigenous Youth to conducts overseas study tour in North America. This program enables the Taiwan Indigenous Youth to perform cultural exchange with American Indians, expand their international vision, master their communication and leadership skill. LUMA program is sponsored and organized by Taiwan Vox Nativa Association and The Alliance Cultural Foundation.
Luma attended UNITY (United National Indians Tribal Youth) conference hosted at Gaylord Palm Resort from July 4 to July 8 in Orlando. UNITY has a long history and vast experience in educating their youth and mobilizing them to address and solve their own issues effectively. Luma was also invited by Orange County Government to perform in front of Mayor Jerry Demings and his staff at the administration office on July 8. Luma continued his tour to Chicago and was featured at ABC7 TV station on July 13. Eleven students and two teachers of the tour this year were selected from seventy candidates who submitted their applications in February 2018. Through the preliminary review, thirty-one students and seven teachers were selected for the next round interview. Luma then qualified eighteen students and five teachers who have received extensive training for 10 months in April 2018. In March 2019, the final group was formed to enter the one month long study tour in July. They plan to visit Orlando, Chicago, San Jose, and Honolulu.
There are many ways you can support Luma:
connecting them to American Indians' communities, tribes, schools, churches, museums, and influential groups.
connecting to mainstream international organizations to better understand each other and promote Taiwan.
connecting to churches, charitable organizations, and/or volunteer groups to provide host family, transportation, work-study, interaction activities with locals, and touring.
To know more about Luma, please visit https://lumastudytour.wixsite.com/luma-tw and https://en.wikipedia.org/wiki/Taiwanese_indigenous_peoples

Chicago ABC7 TV station feature the LUMA Native Taiwanese Study Group is touring
Comments