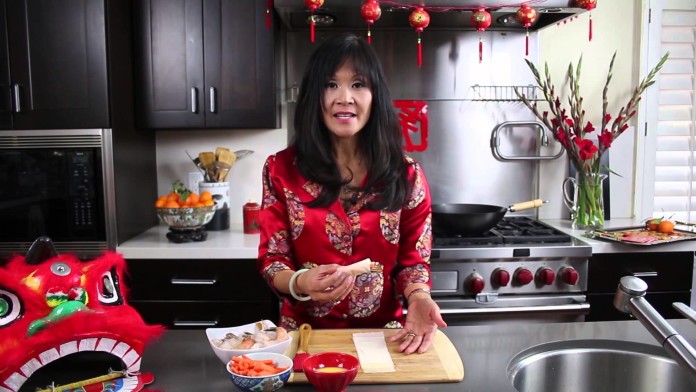 Macy's welcomes renowned author, chef and television personality, Katie Chin, at six stores nationwide for cooking demos and discussions on Asian Cuisine and her new book,
"Katie Chin's Everyday Chinese Cookbook: 101 Delicious Recipes from My Mother's Kitchen."
This May, Macy's celebrates Asian Pacific American Heritage Month with renowned chef, Katie Chin. Chin will host in-store culinary events at six Macy's stores across the country, highlighting the Asian food experience through cooking demos, tips for setting your table, and more. Chin will also discuss the importance of her heritage and its specific influence on her culinary style. Of Chinese descent, Chin has been internationally-celebrated for her presence in the culinary and entertainment industries.
"Macy's is thrilled to partner with Katie Chin to celebrate Asian Pacific American Heritage Month and honor its rich culture and heritage, in stores nationwide. Chin offers a unique and celebrated take on Asian Cuisine, and we are excited to share her story and expertise with Macy's customers," said Dineen Garcia, Macy's vice president of Diversity & Inclusion Strategies.
Chin recently released her fourth title, "Katie Chin's Everyday Chinese Cookbook: 101 Delicious Recipes from My Mother's Kitchen," featuring her mother's most beloved recipes.
In the past, Chin co-hosted the national PBS cooking series, "Double Happiness," in conjunction with her mother, and together they wrote "Everyday Chinese Cooking." On her own, Chin wrote "300 Best Rice Cooker Recipes" and the award-winning bestseller "Everyday Thai Cooking." She has also been featured in several national publications including O Magazine, Cooking Light, bon appetit, Elle, Real Simple, and Family Circle, and has made appearances on The "Today Show", the Hallmark Channel, "The Daily Buzz," the Cooking Channel, and as a guest judge on Food Network's "Iron Chef America" and a chef contestant on "Cutthroat Kitchen."
"In the spirit of my mother, Leeann Chin's enduring legacy, I am so proud to partner with Macy's to celebrate my heritage and demystify authentic Asian cooking for everyday home chefs across the U.S.," said Katie Chin.
Following the cooking demo, Macy's will host a customer reception, where Chin will sign her most recent book, "Katie Chin's Everyday Chinese Cookbook: 101 Delicious Recipes from My Mother's Kitchen." Plus, with any home purchase of $50 or more, guests will receive limited-edition branded chopsticks and a copy of Chin's newest cookbook. (While supplies last and as time permits. Purchase must be at the specific Macy's event location and made on the day of the event.)
Below are the stores and select information for Macy's Asian Pacific American Heritage Month events:
Macy's Galleria Houston – Houston, –

Saturday, May 7 at 2 p.m.

Macy's on State Street – Chicago, –

Wednesday, May 11 at 5:30 p.m.

Macy's Herald Square – New York, –

Thursday, May 19 at 6 p.m.

Macy's Montgomery – Bethesda, MD –

Saturday, May 21 at 2 p.m.

Macy's Pasadena – Los Angeles, –

Wednesday, May 25 at 6:30 p.m.

Macy's Union Square – San Francisco, –

Thursday, May 26 at 6 p.m.
For a complete listing of Macy's Asian Pacific American Heritage Month events, please visit macys.com/celebrate.
About Macy's
Macy's, the largest retail brand of Macy's, Inc. (NYSE:M), delivers fashion and affordable luxury to customers at approximately 730 locations in 45 states, the District of Columbia, Puerto Rico and Guam, as well as to customers in the U.S. and more than 100 international destinations through its leading online store at macys.com. Via its stores, e-commerce site, mobile and social platforms, Macy's offers distinctive assortments including the most desired family of exclusive and fashion brands for him, her and home. Macy's is known for such epic events as Macy's 4th of July Fireworks® and the Macy's Thanksgiving Day Parade®, as well as spectacular fashion shows, culinary events, flower shows and celebrity appearances. Macy's flagship stores — including Herald Square in New York City, Union Square in San Francisco, State Street in Chicago, and Dadeland in Miami and South Coast Plaza in southern California — are known internationally and are leading destinations for visitors. Building on a more than 150-year tradition, and with the collective support of customers and employees, Macy's helps strengthen communities by supporting local and national charities giving more than $69 million each year to help make a difference in the lives of our customers.
For Macy's media materials, including images and contacts, please visit our online pressroom at macys.com/pressroom.
About Katie Chin
Author Katie Chin's love of cooking blossomed at an early age as she helped her renowned mother, Leeann Chin, prepare delicious Chinese dishes in her popular restaurants. Together they hosted the national PBS cooking series Double Happiness, taught cooking classes and made appearances on NBC's Today. Now, Katie is a world-renowned Asian food expert, blogger, TV host and author. Her latest release, Katie Chin's Everyday Chinese Cookbook: 101 Delicious Recipes from My Mother's Kitchen, is a family treasury of memories and recipes that introduces her mother's mastery of
Chinese flavors and techniques to the everyday kitchen.
Comments