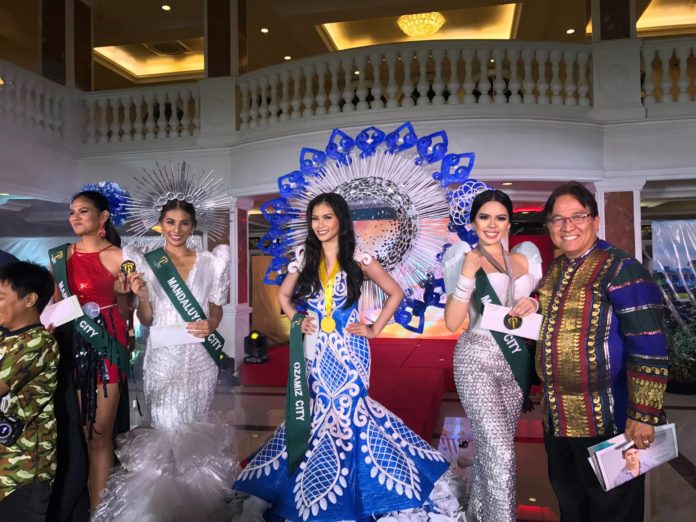 Manila, Philippines – Last June 27th, I had the pleasure to have been invited by Peachy Veneracion former Miss Philippines, as one of the judges to a very unique charity fashion show entitled "TRASH TO CLASS" presented by the Miss Earth Philippines 2017 beauty pageant contestants, emphasizing the pageants message of protecting Mother Earth in a presentation entitled "TRASH TO CLASS."
The beautiful contestants representing 57 major cities in the Philippines paraded wearing dresses made of recycled materials by local unknown Philippine designers of their choice using garbage bags, rice sacks, plastic cups, spoons, forks, paper towels, plastic straws, and much more. They were judged by what recycled material their dresses were made of, how they explained what they were wearing, their carriage of the created outfit, poise and grace.
The event was held at the magnificent clubhouse of a beautiful exclusive subdivision in Alabang, Las Pinas, just outside of Manila called "Versailles."  Miss Earth Philippines Beauty Pageant finals will be held on Saturday, July 15th at the Mall of Asia Arena in Manila. Winner of the pageant will compete with more than 87 ladies from all over the world representing the Philippines in November for the Miss Earth International. The pageant, which is now on its 15th year is organized and presented by Carousel Productions, Inc. of the Philippines. Carousel Productions, Inc. believes beauty queens would be a good and effective advocate of worthy cause. The winner of Miss Earth Philippines and Miss Earth International will serve as Ambassadors to environmental protection campaign in their specific countries and all over the world.
Article by Joey Omila
More info about the Miss Philippines Earth at www.missphilippines-earth.com
Comments