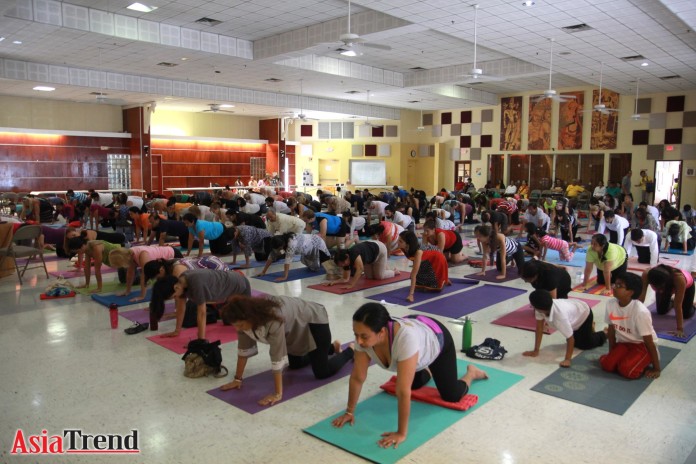 Hundreds of yoga enthusiasts bent, twisted, meditated and learned breathing techniques. The festivity, which was conceived on Dec 11th of 2014, was officially declared by the U.N. General Assembly to take place annually on June 21st.
Attendees started coming in promptly at 10 am and by 11am the Hindu Temple of Orlando was filled with yoga enthusiasts eagerly waiting for the opening ceremony.
Photos: C.K. Lau (To view the photo album, visit www.facebook.com/asiatrend)
The event began with singing of opening prayers by Dr. Shailaja Nadkarni, after which Braham Aggarwal (Chairman, Hindu University of America) welcomed and addressed the participants.
Orlando Mayor Buddy Dyer recognized yoga as an invaluable gift of India's ancient tradition embodying unity of mind, body and spirit, proclaiming June 21st as "Day of Yoga" in the City of Orlando.
The guest of honor, Rick Singh (Orange County Property Appraiser), unveiled the proclamation at the opening ceremony. The event then slowly transitioned into yoga sessions, beginning with a sun salutation series led by the Hindu Swayamsevak Sangh (HSS) team.
The presenters included several yoga gurus from various modalities of yoga. Presenters talked about yoga therapy, yin yoga, power yoga, lymphatic yoga, yoga for cancer, laughter yoga, bhakti yoga, Ayurveda, and meditation.
At lunch time, yogis purchased lunch from the temple canteen where they served delicious Indian cuisine, such as idli sambhar, dosa, vada, rice and chai.
Yoga day event shined bright, brought more awareness on living life with mind, body and breath awareness with uplifted spirit. This was a true day of Yoga ("union") of the entire Orlando community! The event was organized by leaders of Indian community in Orlando which included Alpa Raval who teaches yoga at Asia Trend community center and also writes yoga therapy articles for Asia Trend magazine.
Article: Alpa Raval
Comments