2 events,
32nd Annual Asian Cultural Festival in Miami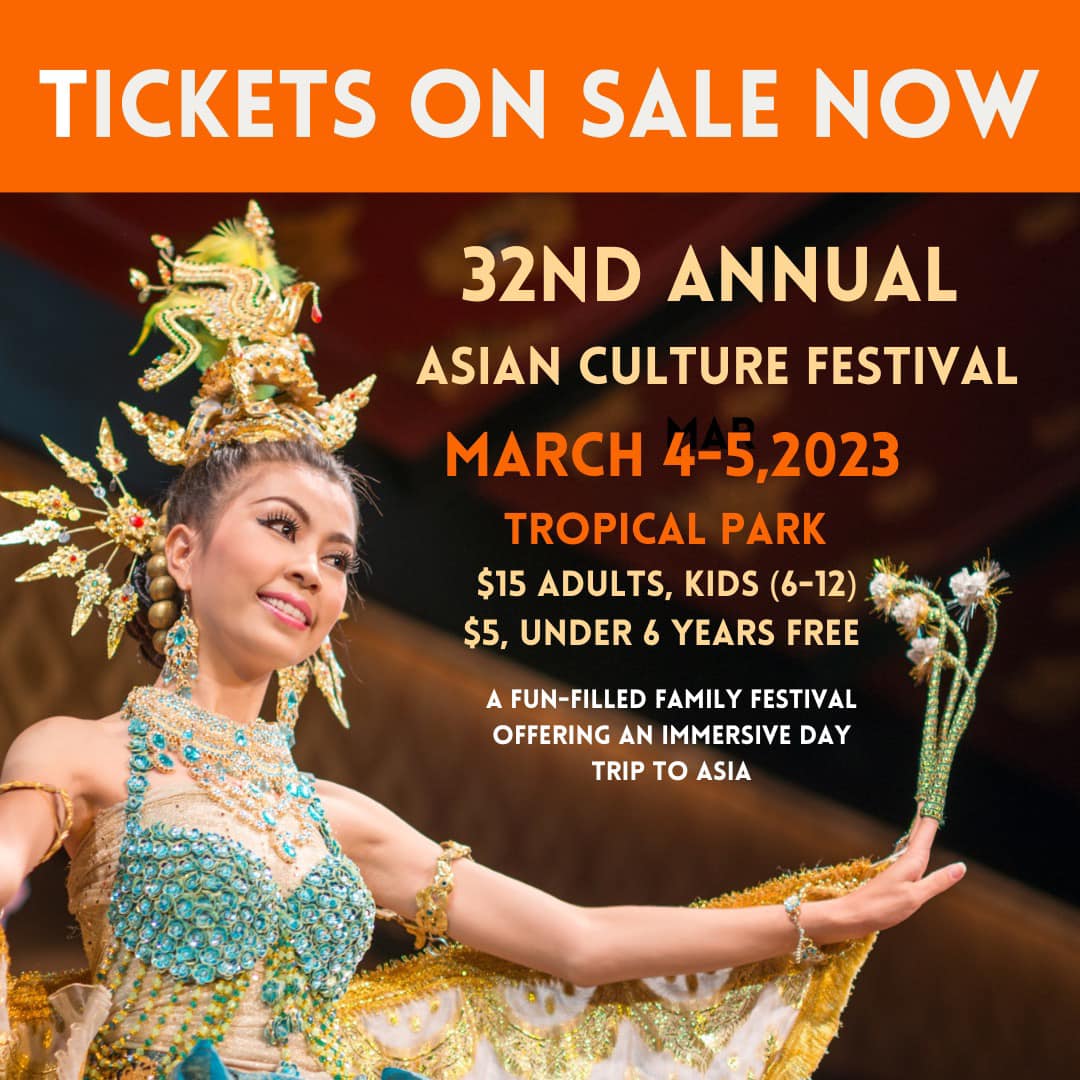 TICKETS ON SALE NOW FOR THE 32ND ANNUAL ASIAN CULTURE FESTIVAL Saturday, March 4 & Sunday, March 5, 2023 11 AM - 6 PM Tropical Park The Thai-American Association of South Florida, together with the Miami-Dade County Asian-American Advisory Board, Miami-Dade Parks & Recreation Department and Logistic Events Corp, invites you to the 32nd Annual […]
28th Annual Asian Trade, Food Fair and Cultural Show in Miami
1 event,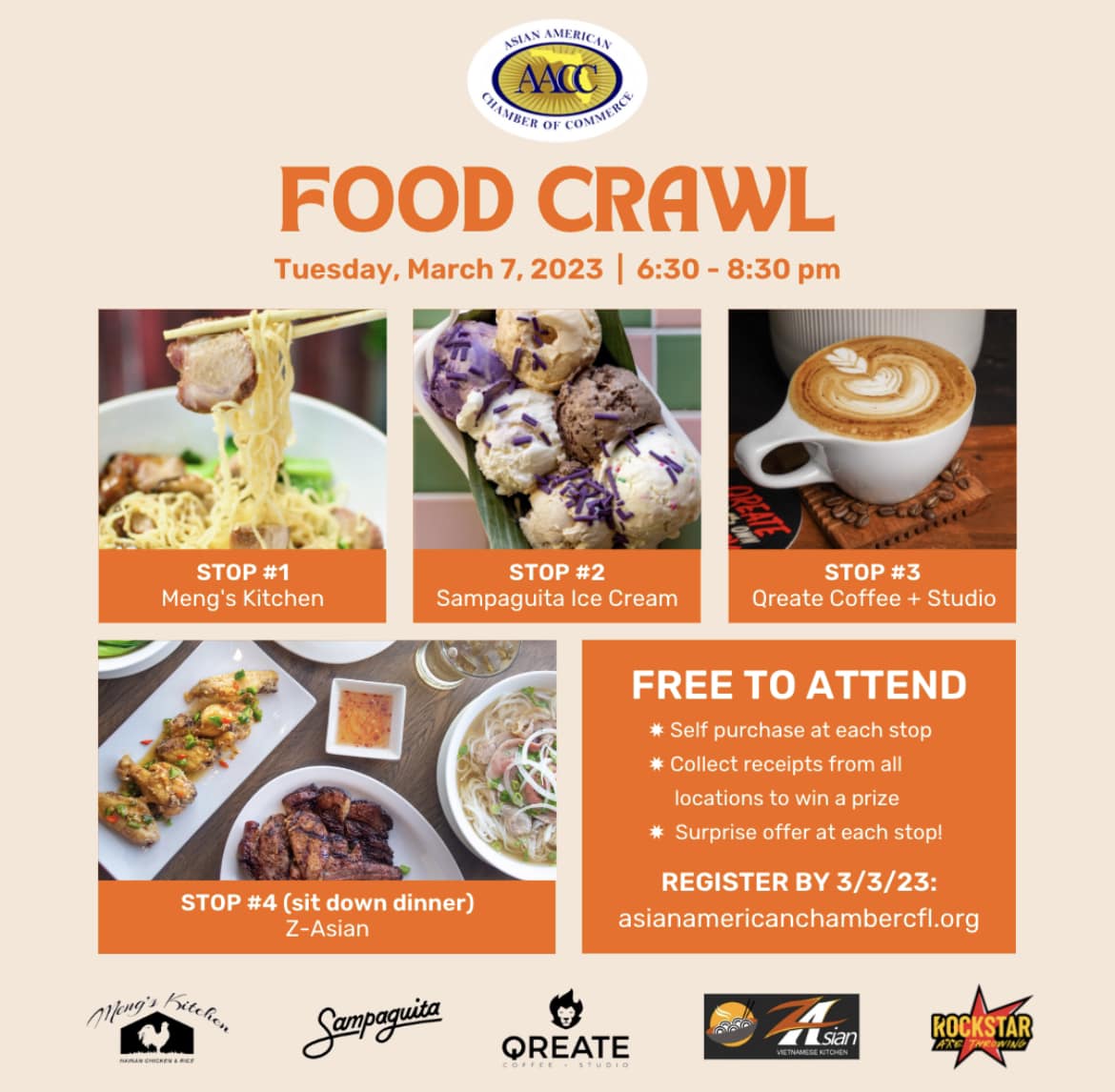 AACC Food Crawl Tuesday, March 7, 2023 6:30 pm - 8:30 pm Free to attend. Self-purchase at each stop. Surprise offer at each stop! 1st stop & meeting place: Meng's Kitchen (inside Ifresh Supermarket) | 2415 E Colonial Dr. Orlando, FL 32803 2nd stop: Sampaguita Ice Cream | 1233 E Colonial Dr, Orlando, FL 32803 3rd stop: Qreate Coffee + Studio | 1212 Woodward St […]
1 event,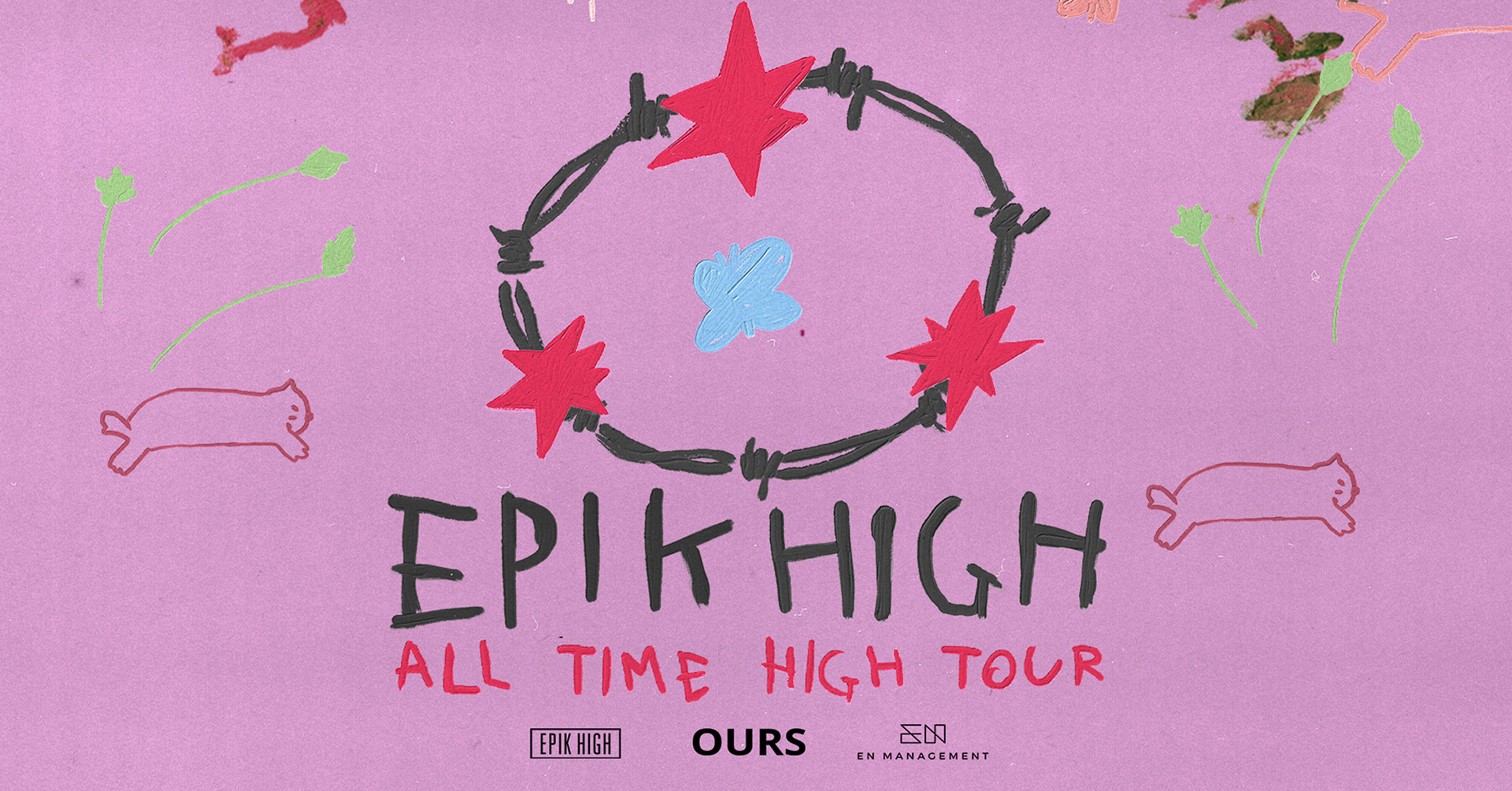 Orlando, EPIK HIGH is performing right here on our stage on Wednesday, March 8th. Tickets are on sale now! #AllTimeHighTour Additional Parking Fees May Apply Venue Doors: 7pm Show Start: 8pm For ALL Hard Rock shows with a GA floor (or GA perimeter), there is a designated wheelchair area on the raised perimeter of the main […]
4 events,
Indiafest Handicrafts of India in Melbourne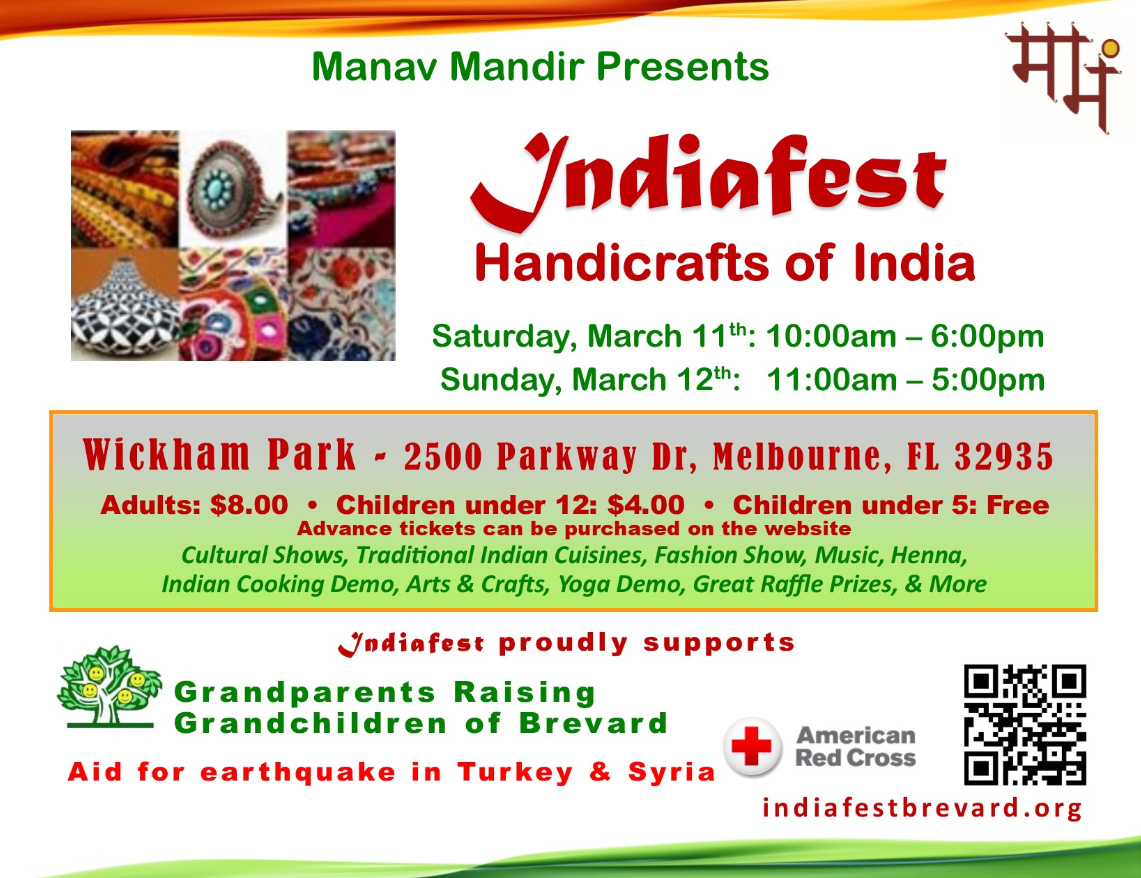 The 26th Indiafest will be held on March 11th & 12th 2023 in Wickham Park at 2500 Parkway Dr., Melbourne, FL - 32935 It's time once again to enjoy the sounds, sights, and flavors of India here on Florida's Space Coast. This two-day festival is filled with entertainment and unforgettable experiences the whole family will […]
5TH ASIAN FOOD MUSIC AND CULTURAL FESTIVAL in OSCEOLA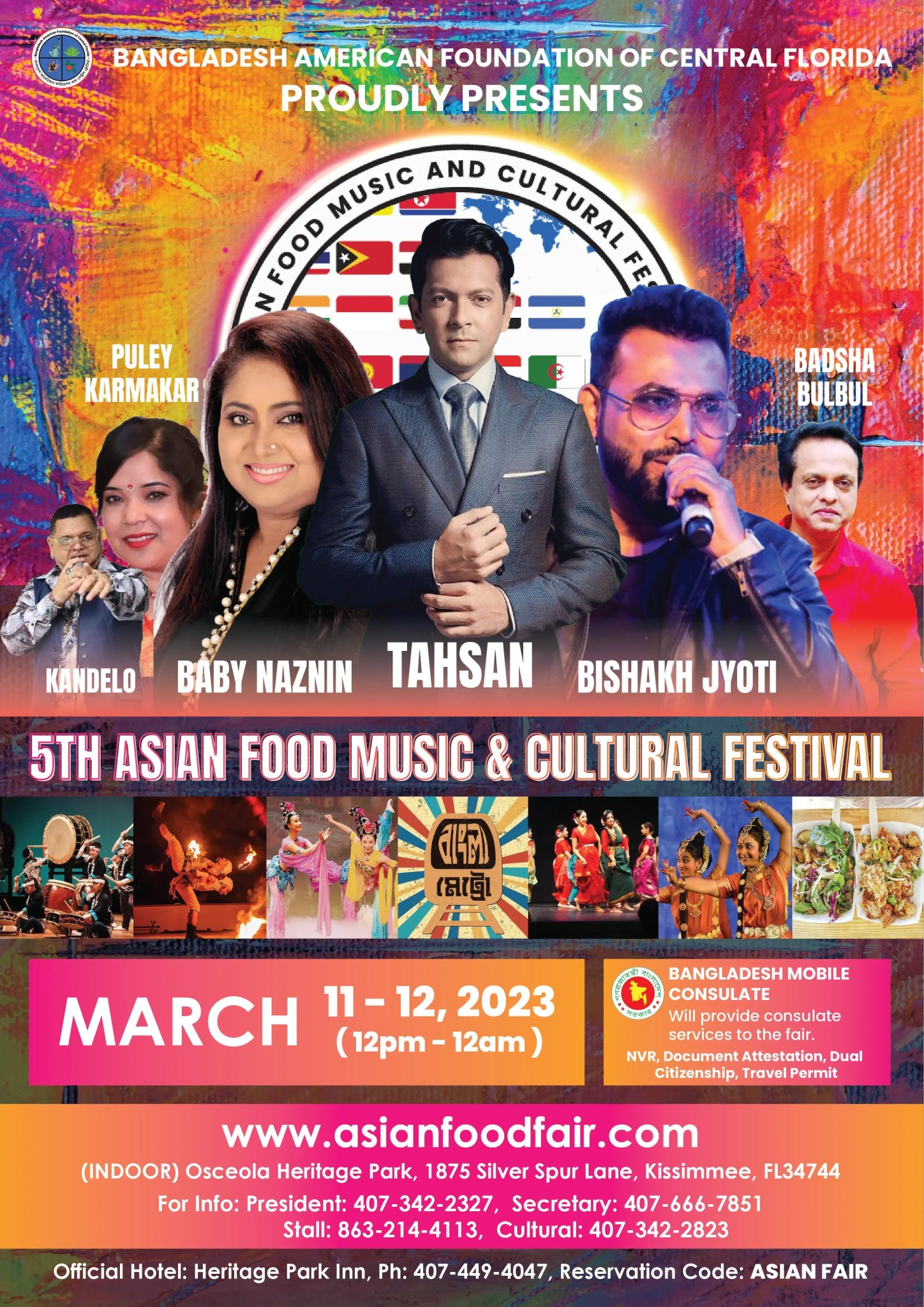 OSCEOLA HERITAGE PARK KISSIMMEE, FLORIDA, 11 March, 2023 to 12 March, 2023 This festival showcases the diverse culture and heritage of Asia. The Asian Food Music & Cultural Festival is one-of-a-kind event presented annually by the Bangladesh American Foundation of Central Florida. It attracts the largest gathering of the Asian American community in a single event […]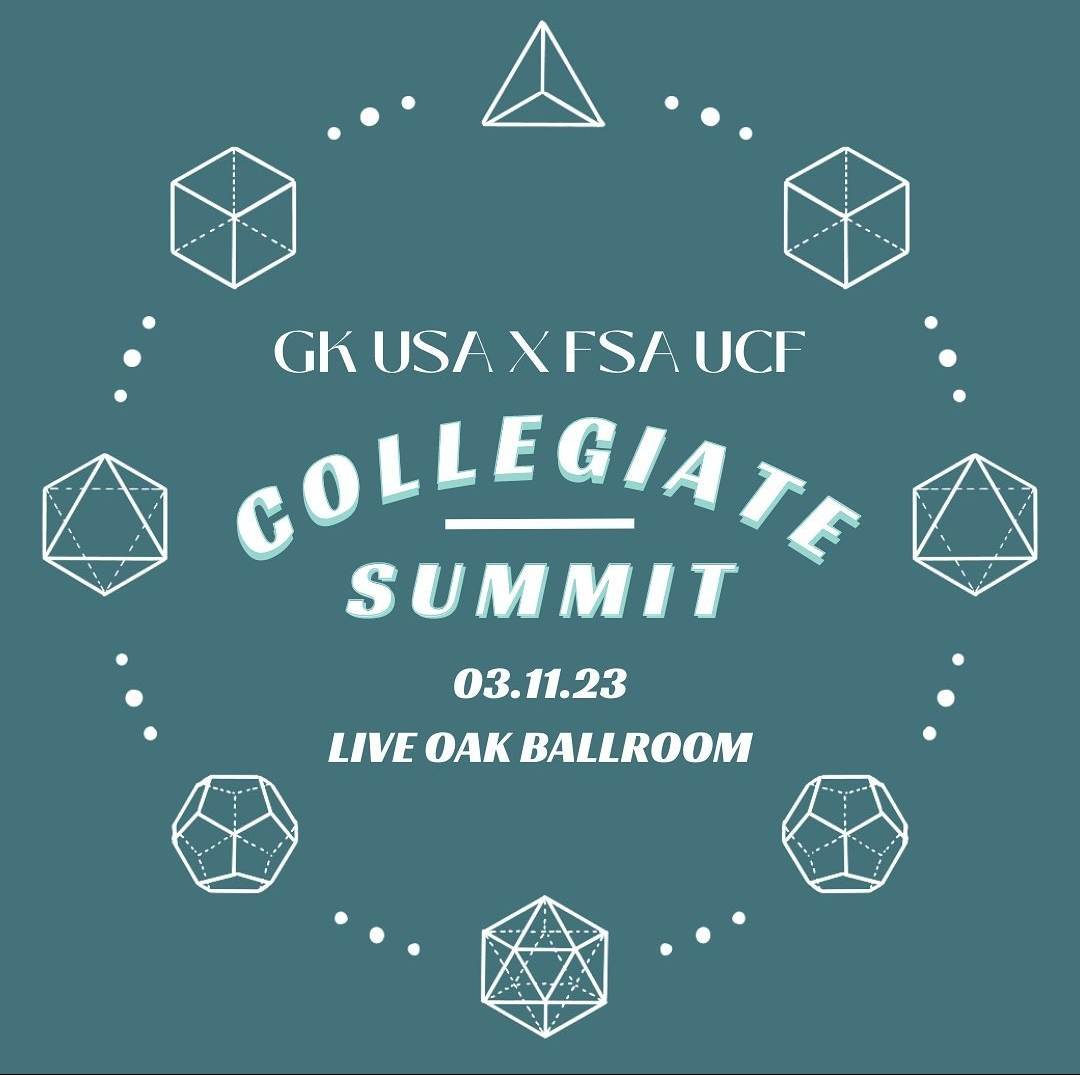 On March 11th Saturday, from 10 Am to 5 PM, GK USA X FSAUCF Collegiate Summit 2023 at the Live Oak UCF Address: 4115 Pyxis Ln, Orlando, FL 32816 (Park at Garage B ) Event time: 10am to 5pm GK Next Gen is the youth group of GK USA or Gawad Kalinga USA. We generally […]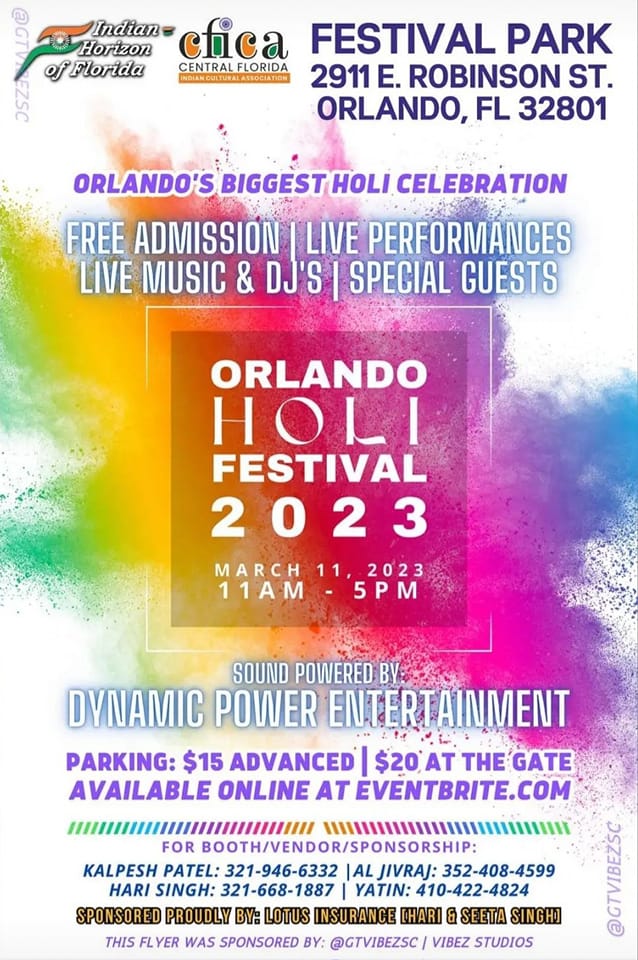 Orlando Holi Festival 2023 Parking Ticket : $ 15.00 Online / $ 20.00 at the Door
1 event,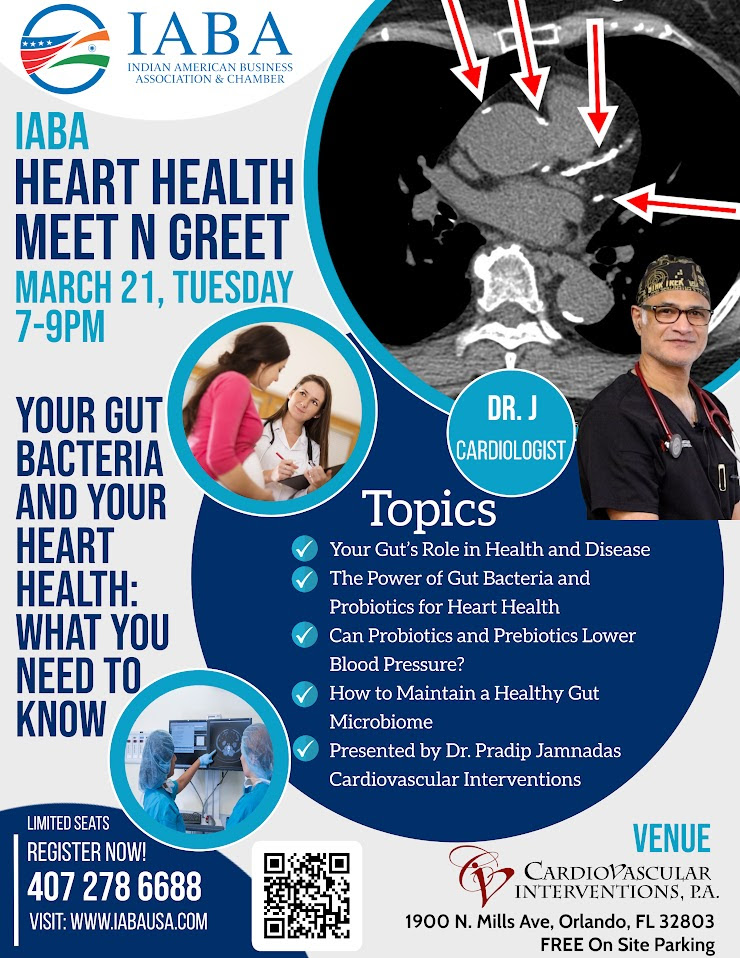 Your Gut Bacteria and Your Heart Health: What You Need to Know by Dr. Pradip Jamnadas, MD Date and Time: March 21st, Tuesday from 7PM to 9PM Venue: Cardiovascular Interventions Address: 1900 N. MILLS AVE, ORLANDO, FL 32803 (click for Direction) Topics: Your Gut's Role in Health and Disease The Power of Gut Bacteria and Probiotics for […]
1 event,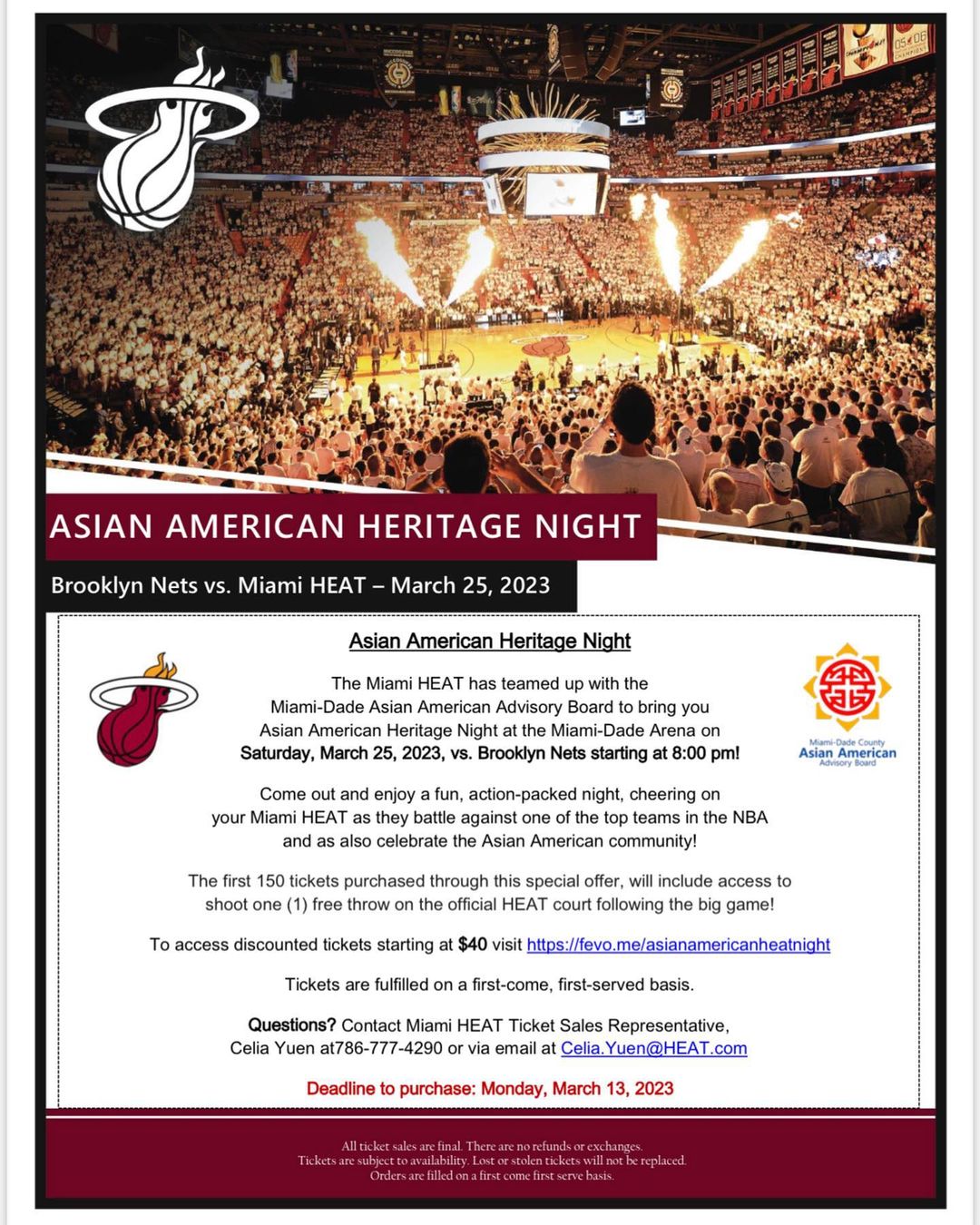 Asian American Heritage Night with the Miami Heat on Saturday, March 25th, 8PM, Miami Heat vs Brooklyn Nets! Here are the details: • Only have 150 tickets reserved at this time! • Section 405 & Section 406 - $40 plus minimal fee • All tickets will include a post-game free-throw pass (Only if you purchase through […]
2 events,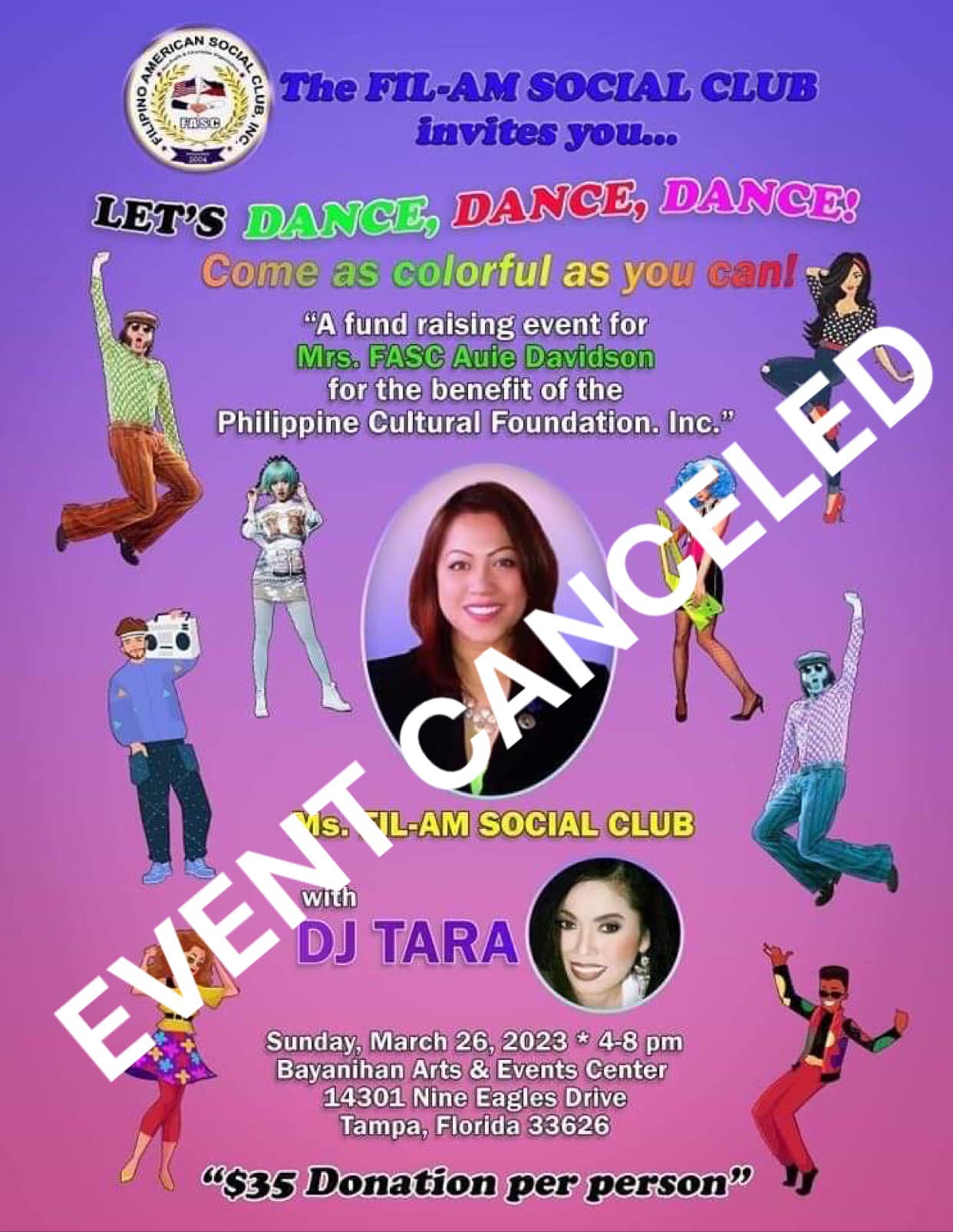 Event canceled until further notice. Sorry for the inconvenience. Watch for an update… COME JOIN THE FIL-AM SOCIAL CLUB FOR AN EARLY EVENING TO "DANCE, DANCE, DANCE!" To help raise funds for the Philippine Cultural Foundation, Inc. (PCFI), the FILIPINO-AMERICAN SOCIAL CLUB (FASC) will have a fun early evening party on Sunday, March 26th, at […]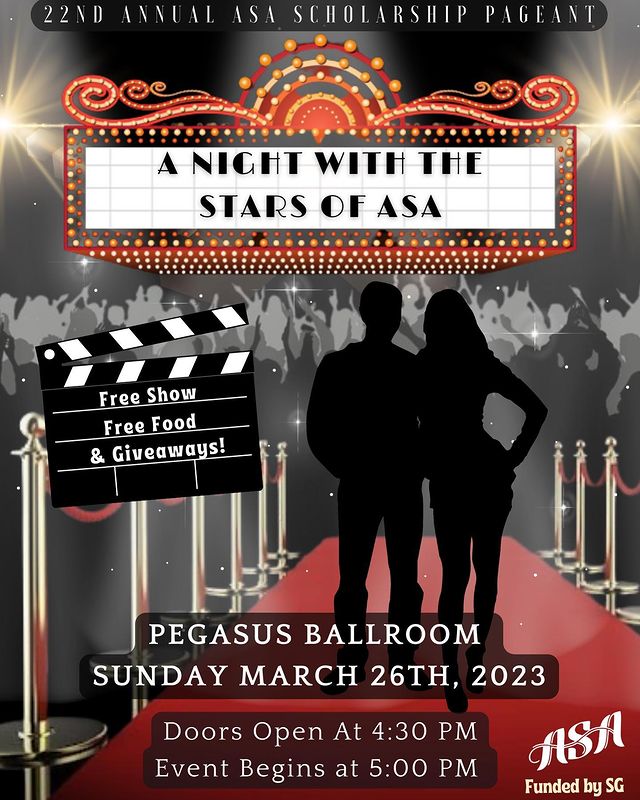 The Asian Student Association at UCF's Annual Scholarship Pageant is a 21-year long tradition meant to showcase and educate others on asian culture, as well as acknowledge the work and accomplishments of our members. This year, we want to highlight Asian representation within media. Representation is incredibly important in educating others, guiding conversations, and overall […]
1 event,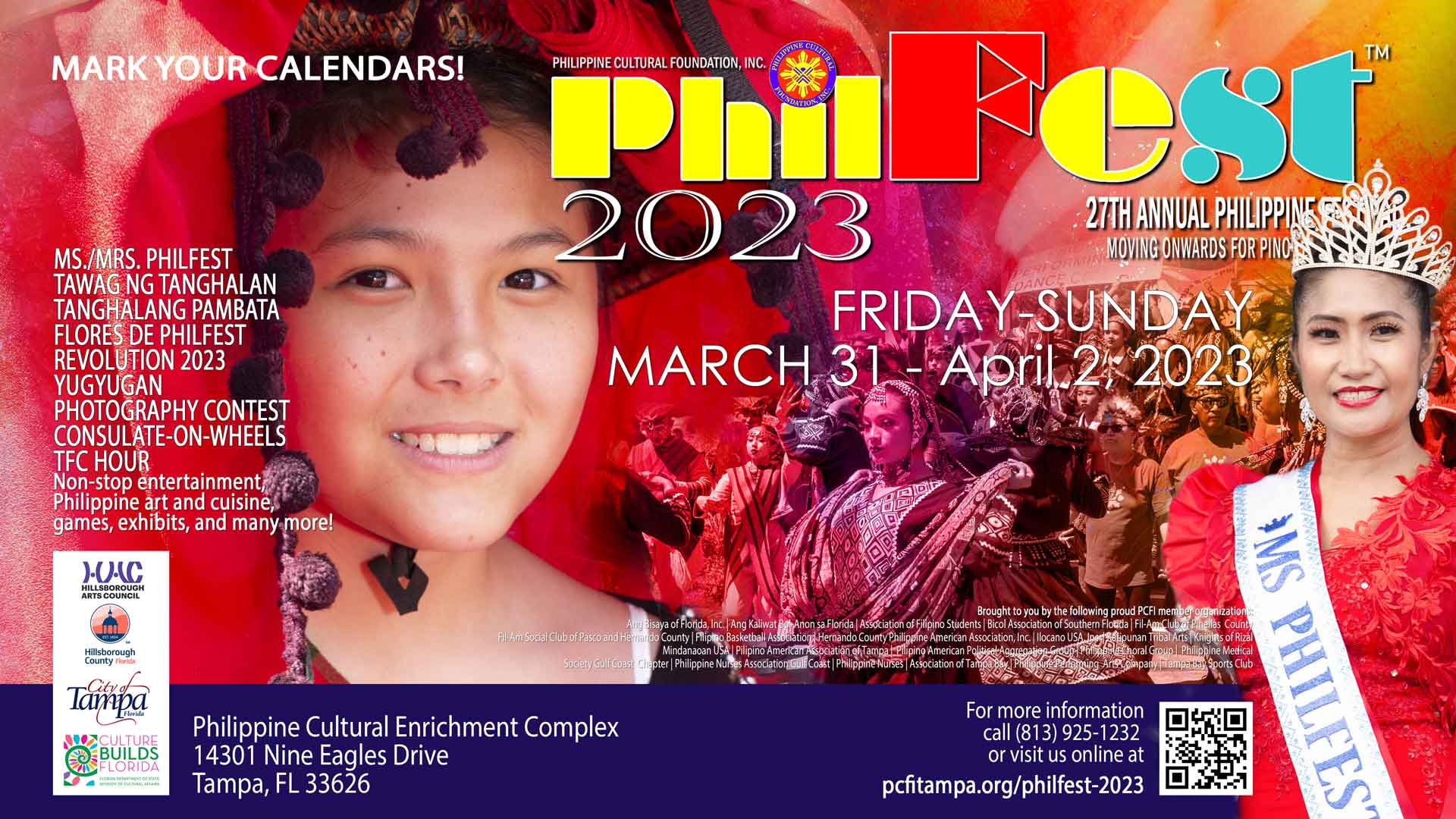 The Philippine Cultural Foundation, Inc. brings you PhilFest 2023 from March 31 to April 2    Mark your calendars for another Philfest coming in 2023! PhilFest 2023 continues the tradition of having Filipino food and merchandise and non-stop entertainment featuring Tanghalang Pambata Talent Competition for Children, Tawag ng Tanghalan Singing Competition for Adults, Ms/Mrs PhilFest […]
2 events,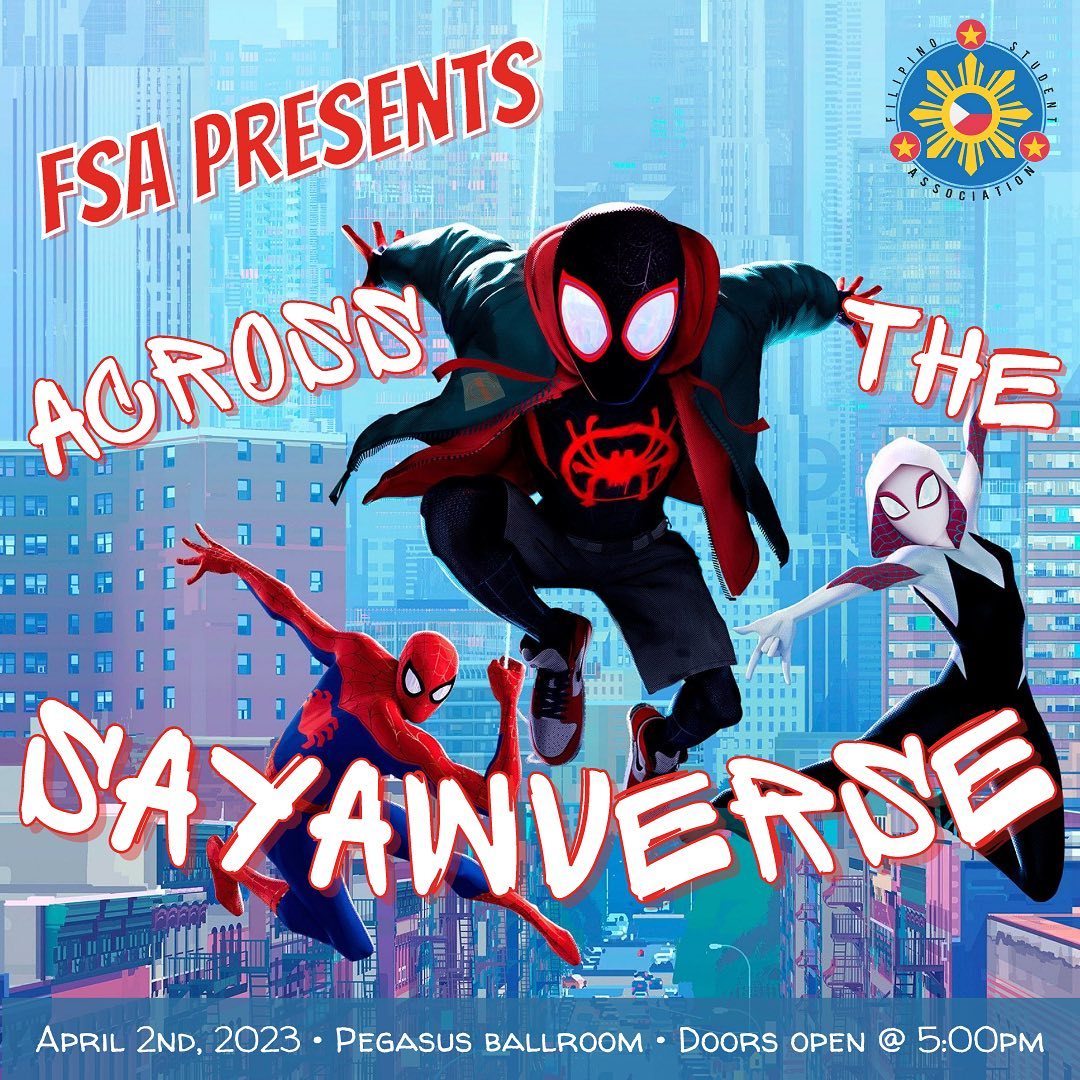 The FSA at the University of Central Florida invites you to celebrate the Annual Sayaw Cultural Showcase: Across The Sayawverse SAVE THE DATE: APRIL 2ND 2023 WHERE: Pegasus Ballroom WHEN: DOORS OPEN @ 5PM ************************************************** This event will be free to EVERYONE so invite your family, friends, to join us!