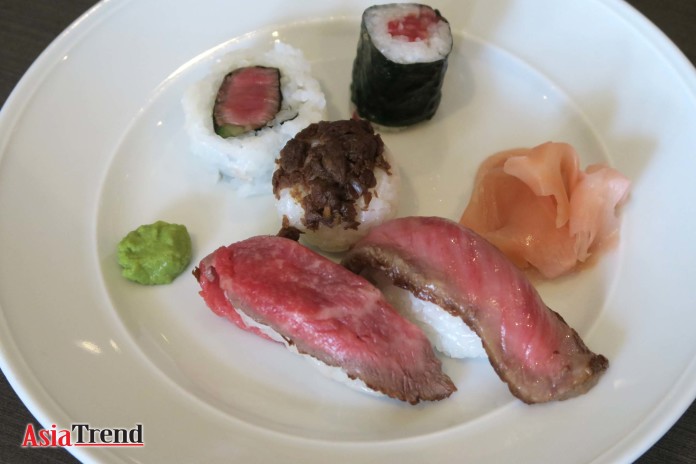 The week leading up the Valentine's Day was a special week for the Four Seasons Resort Orlando as the hotel prepared for a delegation from the Mie Prefectural Council for the Promotion of the Export of Agricultural, Forestry and Fisheries Products and Food. Like the hotel, I was making my own preparations for a special tasting of Matsusaka Beef. I researched Wagyu Kobe beef and sampled it in several restaurants with various preparation methods so I could make a comparison between the widely known Wagyu Kobe Beef and the Matsusaka Beef.
Matsusaka Beef has a high reputation among several Wagyu brands. Understandably so, this special breed of cow is fed an original mixture of soybean meal, wheat bran and barley. All Matsusaka Beef cows are assigned a "birth certificate" which contains a 10-digit identification number with their nose print from the time of birth. The certificate includes a total of 36 items including the producer and the pedigree of the cow tracing their bloodlines several generations back. Additionally, each Matsusaka beef cow is brushed daily by the farmers, sometimes using shochu (alcohol) to ensure the fat disperses evenly to result in a sweet and soft meat with exceptional marbling. At times, the cows are fed beer to stimulate hunger as part of the fattening ritual. These cows are coddled by their farmers for a minimum of 900 days. The farmers treat these cows like their children and lavish loving care and attention on them. It is no wonder that among the already high-quality Matsusaka Cattle, the Special Grade Matsusaka Cattle fetch an unbelievable price each year at the Annual Cattle Show where the highest auction price to date was in 2002, where a cow sold for 50,000,000 Yen, approximately $500,000!
During the tasting, Matsusaka Beef was presented in various preparation styles. My favorite was simply pan-fried beef with a touch of salt. This simplistic preparation style allows the diner to taste the true flavor of this exquisite beef. The moment the beef is placed in the mouth, the slightly sweet flavor of the fat instantaneously dissolves as if the beef just melts away.
Both the Kobe and the Matsusaka beef are highly rated, top-quality beef in Japan. The biggest difference between the two is that Kobe beef comes from steers and Matsusaka beef comes from virgin female cows. It is perceived that female cows have a slower fattening process so this allows the meat to have a higher fat content and marbling. No matter how you slice it or cook it, the Matsusaka Beef is one of the best epicurean experiences I have ever encountered.
Article: Nina Yon
Photos: C.K. Lau (To view the photo album, visit www.facebook.com/asiatrend)
Comments