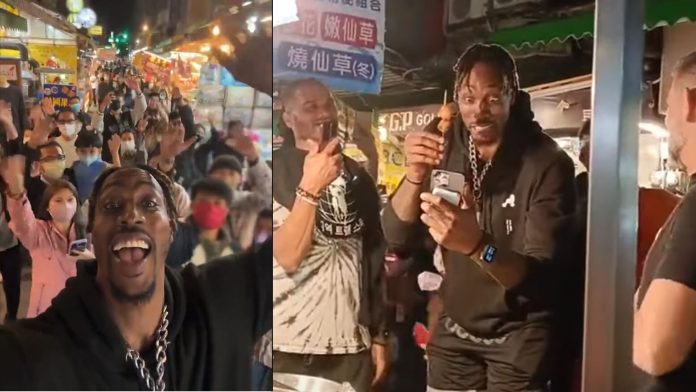 Taipei, Nov. 15 (CNA) Former American NBA star Dwight Howard, who recently joined Taiwan's Taoyuan Leopards, toured a local night market on Monday evening where he got to try some of Taiwan's popular street foods, including chicken butt to his surprise.
"Chicken ass? Chicken ass? Oh s**t!" Howard exploded in surprise after he was told that the chicken on a stick he sampled from a food stand was that of a butt.
His tour of the Taoyuan night market was streamed on a 52-minute video via his Instagram account.
Howard, who was touring the night market with some friends, did not show any disdain after finding out about the chicken meat.
"I just ate some chicken ass y'all. This is some good ass chicken," he said, laughing it off.
The video also showed him sampling chicken filet, oyster omelet, and fried sweet potato balls. He also tried his hand at several popular games at the night market.
Howard arrived in Taiwan on Nov. 10 to much fanfare after the T1 League's Taoyuan Leopards announced his signing last week.
His first game is expected to be a home game on Nov. 19 at National Taiwan Sport University Arena in Taoyuan.
The 2.08-meter-tall Howard was the first overall pick in the 2004 NBA draft and is an eight-time All-Star and three-time Defensive Player of the Year during 18 seasons in the NBA, which included winning a championship with the Los Angeles Lakers in the 2019-2020 season.
Comments