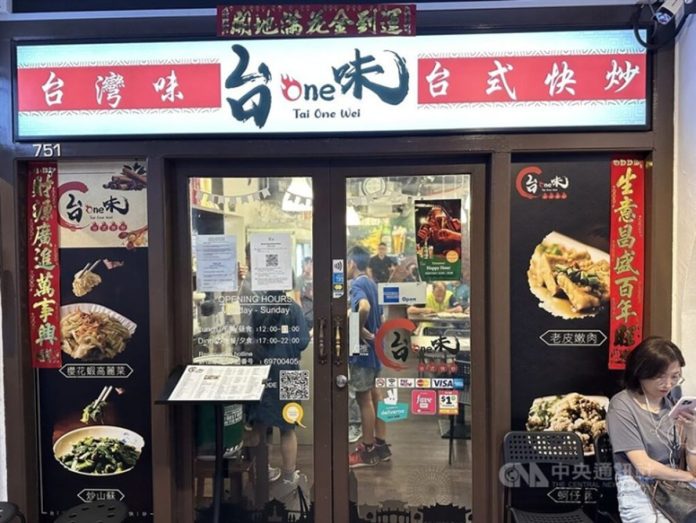 A Taiwanese entrepreneur is making waves in Singapore with his latest venture, a restaurant that brings the unique taste of Taiwan-style Chinese stir-fry to the Southeast Asian city-state.
With Taiwanese eateries popping up frequently around Singapore, Nantou County native Tony Chen's (陳志柏) Tai One Wei (台one味) restaurant is one-of-a-kind among the blossoming Taiwanese cuisine scene in Singapore.
Described by Chen as the "first Taiwanese quick fried (stir-fry) restaurant in Singapore," Tai One Wei has been giving patrons a taste of Taiwan since June 11, 2022, thanks to Chen's choice of Taiwan-style decor combined with the hometown fragrance and flavor the eatery offers.
What most differentiates the stir-fried dishes of Chinese sub-cultures around the world is local ingredients, and as a result, Chen said he sources vegetables and sauces from Taiwan on a weekly basis.
He also ensures an optimal ratio of sauces used at the eatery to guarantee quality control.
On top of seasonings, fresh ingredients shipped to Singapore every week include white water snowflake stems, nest ferns and cuttlefish, as such products are impossible to find in Singapore, Chen said.
From engineer to chef
Speaking with CNA, Chen disclosed that he was originally an engineer in the semiconductor industry but his office in the city-state closed because of the COVID-19 pandemic.
He initially thought of returning to Taiwan, but instead decided to remain in Singapore and open a restaurant.
Chen's inspiration and talent for cooking comes from his grandmother who taught him to cook at an early age because the adults in his family were usually busy farming.
With the skills he picked up at a young age, Chen said he got used to cooking for himself as an adult expat and gradually developed a love for cooking.
"If there's something I crave, I make it myself," he said.
Key to a nation's heart
Currently, patrons at Tai One Wei are evenly split between Taiwan expats and Singaporeans, Chen said, adding that the customers who frequented his establishment in the first three months after it opened were predominantly Taiwanese.
The numbers has gradually evened out since then, Chen said, thanks largely through word of mouth.
Other than Taiwanese patrons looking for a taste of home, Chen said he noticed that Singaporean customers were initially servicemen previously been deployed to Taiwan for training.
Having experienced Taiwan's cuisine first hand, these individuals who served under the nation's conscription service program visit the restaurant to either enjoy the unique tastes of Taiwan or share the experience with friends and family, he said.
After a year since the restaurant first opened its doors, Tai One Wei's popularity continues to grow and serve as an unofficial bridge between Taiwan and Singapore.
Most recently, the restaurant's food diplomacy further extended its reach after Chen was invited to cater dinner banquets for Taiwan's new representative to Singapore Tung Chen-yuan (童振源), who assumed his position in May this year, introducing more of Taiwan's unique flavors to residents of the Southeast Asian city-state.
Comments