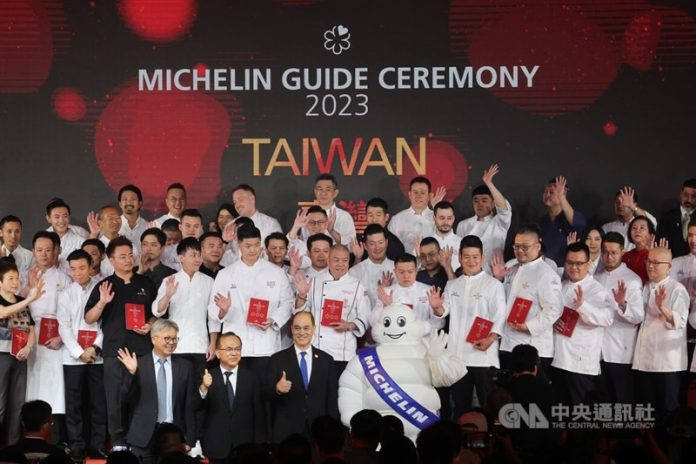 Taipei, Aug. 31 (CNA) Top-notch fine dining in Taiwan is becoming more diverse and featuring a greater variety of foods, the latest edition of the Michelin Guide shows.
On Thursday, restaurants Taïrroir and JL Studio became the latest establishments in the country to receive three stars in the Michelin Guide, joining Le Palais, which received the guide's maximum rating for the sixth year in a row.
Presenting Taiwanese, Singaporean and Cantonese cuisine, respectively, the three restaurants show the great possibilities in the gastronomy sector in Taiwan, according to Michelin Guide's International Director Gwendal Poullennec at a ceremony in Taipei.
The award presentation was also the first time that Taiwanese cuisine and Singaporean cuisine restaurants anywhere in the world have received three Michelin stars, the highest accolade in the guide, he said.
According to the Michelin Guide 2023, Taïrroir in Taipei captures local food culture in ingenious forms, underscored by Western techniques.
Meanwhile, Taichung-based JL Studio presents a set menu that pays tribute to its Singaporean roots with original creations that strike a fine balance of flavors.
"The dishes are complex, sophisticated, and understated with an element of surprise," the Michelin Guide said. "Singaporean staples are re-imagined in ingenious forms and textures that playfully subvert expectations."
Taipei-based Le Palais, which was the sole three-starred restaurant in Taiwan from 2018 to 2022, continues to boast signature dishes like crispy Cantonese-style roast duck, Peking duck and white gourd stuffed with shrimp and crabmeat, according to the Michelin Guide.
Jimmy Lim (林恬耀), the Singaporean chef at JL Studio, said he is glad to see more diverse culinary styles finding their markets in Taiwan.
"You can tell how inclusive the Taiwanese cuisine scene is by the way it welcomes people like me," Lim said.
Chef Kai Ho (何順凱) of Taïrroir said he is working to also bring other cultural elements from Taiwan to the dinner table.
"Why can't we listen to Mandarin or Taiwanese songs when we dine? Why are we supposed to only listen to Western music," he said.
Meanwhile, Le Palais Chef Ken Chan (陳偉強) expressed the hope that restaurants in Taiwan can thrive together and make the country a true paradise for gourmet food.
"After COVID-19, I hope Taiwanese families can dine out together more often," he said. "After all, it doesn't feel like really dining with food delivered by UberEats."
This year's Michelin Guide included 44 restaurants in Taiwan — three three-star, six two-star, and 35 one-star — a significant increase from 38 in 2022.
Among them, Taipei boasts 35 restaurants, while Taichung has six and Kaohsiung three.
A Michelin three-star rating denotes "exceptional cuisine worth a journey," while the two-star and one-star categories recommend excellent cooking worth a detour and high quality cooking worth a stop, respectively, according to the guide.
For the full list of Michelin winners this year, go to https://guide.michelin.com/tw/en
Comments