A Hong Kong version of Tokyo's famous fish market opened at the Wan Chai Ferry Pier in November as both a welcome addition to the city's gastronomic scene, and a major tourist attraction. Occupying an expansive 11,000 square feet space overlooking Victoria Harbour, the Hong Kong Tsukiji Yamataka Seafood Market provides fresh seafood flown in from Japan's Tsukiji District daily as well as seasonal produce from around the world.
Billed as the world's largest fish and seafood wholesale market, the 81-year-old market in central Tokyo holds daily morning fish auctions for wholesalers and serves fresh sushi to visitors. "In Japan, the Tsukiji market is Japan's largest wholesale seafood market and a food paradise for both locals and tourists to frequent," said Branden Tong, Yamataka Managing Director. Yamataka, he said, has been supplying seafood to overseas markets for many years, including to Hong Kong, which he called the culinary capital of Asia.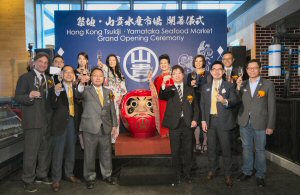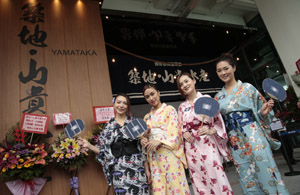 "It was time for us to expand our business, and the Wan Chai Ferry Pier location is perfect for showcasing a Tsukiji seafood market in the city."
Hong Kong residents and tourists alike appreciate authentic, high-quality Japanese food, Mr Tong continued. "Tsukiji market is a must-go for Hong Kong food enthusiasts. Therefore, it is our great honour to have the Yamataka Seafood Market opening in Hong Kong."
Different Dining Experiences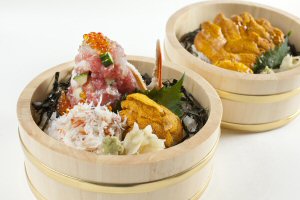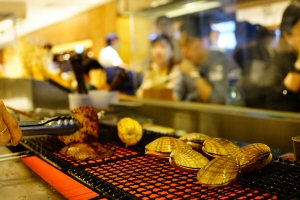 The Hong Kong Tsukiji Yamataka Seafood Market comprises different styles of dining experiences, the most impressive area being the standing sushi and seafood bar.
"Sushi chefs prepare an impromptu meal, while guests can enjoy the marvellous harbour view. In addition to the standing sushi bar, guests will be fascinated by the Donburi (sashimi bowl rice) and Hamayaki (barbecue) areas." The operation of these areas is separate and independent, allowing diners to enjoy distinctive delicacies at specific areas.
Apart from dining, fresh tuna-cutting demonstrations are a highlight of the visit. Merchandise is also available for sale. By sharing the success of the company's parent operation in Tokyo, including wholesale and retail services, "we hope to deliver good food, dining experiences and ambience on par with those of Tsukiji in Japan," Mr Tong added.
Jimmy Chiang, Acting Director-General of Investment Promotion at Invest Hong Kong welcomed the market to the city. "Tsukiji is such a famous brand that almost everyone in Hong Kong has heard of it," he said. "We are very happy to see it coming to Hong Kong, which is a testament to our city's appeal as an international tourist destination."
Imports Expand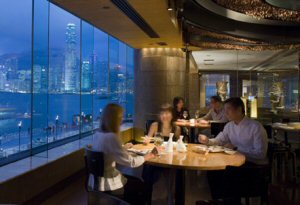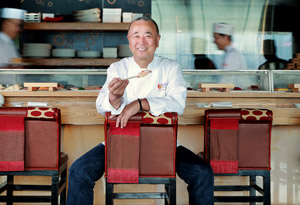 The launch of the Tsukiji market highlights the city's longtime appreciation for Japanese fare and Hong Kong's importance as a prime destination for Japanese produce. Indeed, Hong Kong is Japan's largest export market for foodstuff, according to HKTDC Research. In 2015, Japan's exports of foodstuff to Hong Kong amounted to US$1.48 billion, accounting for more than 24 per cent of Japan's total exports of the category.
When it comes to restaurants, Hong Kong boasts some of Japan's finest. The acclaimed Nobu – by celebrity chef Nobu Matsuhisa – is housed at the InterContinental Hong Kong, showcasing signature dishes from the celebrated culinary brand, as well as new creations using local ingredients.
Ginza Iwa, serving sushi and grilled specialties; chicken specialist Yardbird; Ronin in Sheung Wan and Shiro with three outlets (Taikoo Place, Hysan Place and Pacific Place) are listed on gourmet guides as among Hong Kong restaurant experiences not to be missed.
Diners are also spoiled for choice when it comes to Japanese restaurants. It's been estimated that Hong Kong has about 2,200 Japanese eateries, not far short of the some 2,500 native Cantonese outlets, according to listings on restaurant web guide OpenRice.
It's also easier than ever to cook authentic Japanese dishes at home in Hong Kong, thanks to supermarkets that deliver.
Comments